our work module

 

-

 what you get
Our "Quick start Implementation" lasts for 3 weeks.
For 2 weeks, we implement a portal that is suited to your company's needs. 
The last 1 week is an INTENSIVE TRAINING for your staff on HOW TO USE THE SYSTEM EFFECTIVELY.

studying how you work
BUSINESS ANALYSIS
We conduct 2-3 video conference meetings with your managers to understand how you work. We determine your goals and expectations from the project.
This is to ensure that our Goals are in alignment with yours, and to enable us offer you the best solution for your company.
tuning your portal to the requirements of your team
configurations to enable teamwork
We set up a unique portal with your company structure, set up a common disk for company files, set up work/project groups, synchronize employee work and personal calendars, and create templates for tasks and checklists for monitoring. 
We also configure the portal for project management and reporting.

Setting up your portal to work with clients & leads
CRM configuration
We configure sources of transactions, contacts and companies, transaction entities and stages.
We remove unnecessary menu items, and keeping only what you use, simplifying your work with leads and clients.

telephony, website, mail, messengers
Connecting your sales channels
We connect all your sales channels to your bitrix24 portal. Every single email, call, or message will be saved automatically to your portal. 
We rent and connect your telephony, add users, configure call processing and queueing, and lead creation logic,
We configure access to your shared mailbox, set up auto signatures, and auto lead creation from emails, 
We connect chat and your webforms to the CRM, or replace them with CRM forms.

Alerts and notifications to clients and managers
automating your sales processes
We set up automatic task formation, depending on the stages of transactions, alerts for customers about the processing status of their applications, and alerts for managers about transactions that have been in particular stages for long.
You will not forget about clients or keep them waiting for long. 
teaching your staff how to utilize the crm 
training
 We conduct a ONE-WEEK intensive training to teach your staff how to use the portal for day-to-day activities, and how to use the Customer Relationship Features to ensure better client satisfaction.

WHY CHOOSE US?

 - WE ARE THE BEST

– Over 15 years of experience working with complex systems
– ALL Necessary Competencies, verified by Bitrix Inc.
– Recommended by other partners of Bitrix Inc. We are well-known in our industry, and have a good reputation
– Bitrix Inc. trusts and recommends us for the most complex projects.
– We train others. We curate training materials, commissioned by Bitrix Inc.
– A clearly defined and detailed implementation checklist.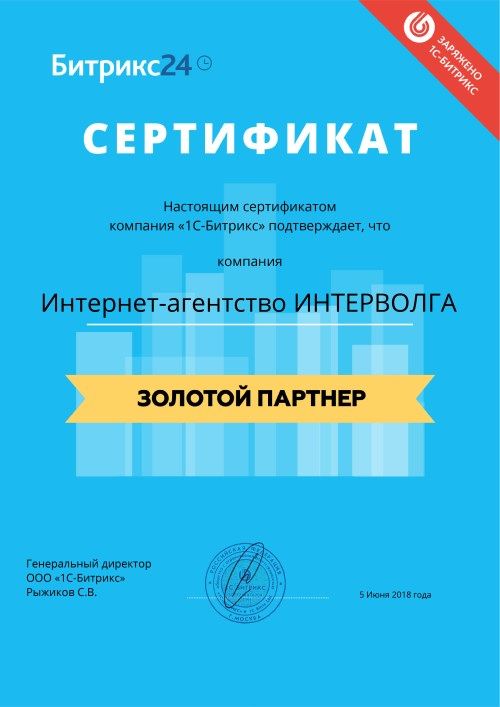 Gold Partner of Bitrix Inc.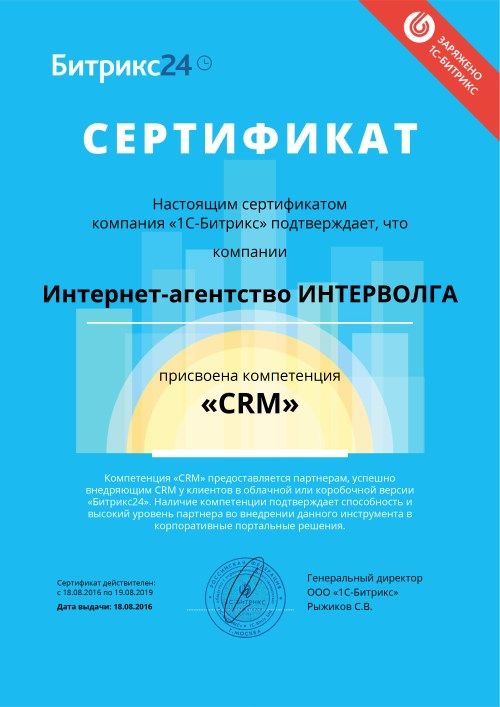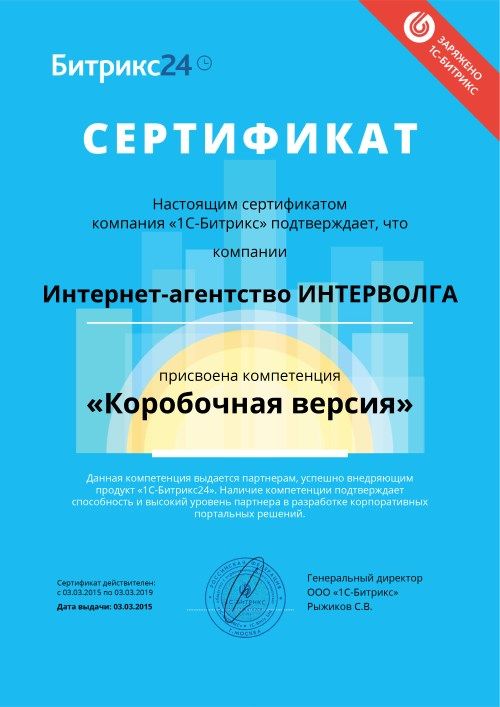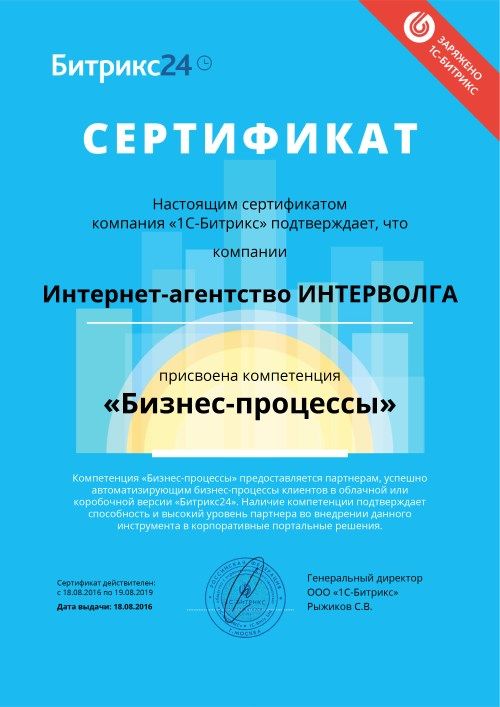 Business Processes competence
a few of OUR implementation projects
3 weeks
2 weeks Implementation
1 week training
€ 2438
Implementation + 1 year License for a team

Reviews of our customisation
The Midas-group company thanks INTERVOLGA web agency for the successful implementation of Bitrix24 CRM system. Thanks to the implementation of CRM, it was possible to speed up the internal processes in the company when working with clients, reduce time delays in approving documents, and simplify task management. 
All work was carried out in a short time and with high quality.
In case of changes in the company's work, all adjustments in Bitrix24 were carried out promptly.

Elena Romantsova
General Director of Midas-Group LLC