Bitrix24 is an electronic environment for the company's operation
Are you interested in pricing? See the price list of Bitrix24 implementation
Further is the description of services and possibilities.
What Bitrix24 is
Bitrix24 is a modern corporate web-based system that helps to build workflows, organize sales and manage the company. Bitrix24 allows to create the operating environment, due to which the efficient work of the company is established.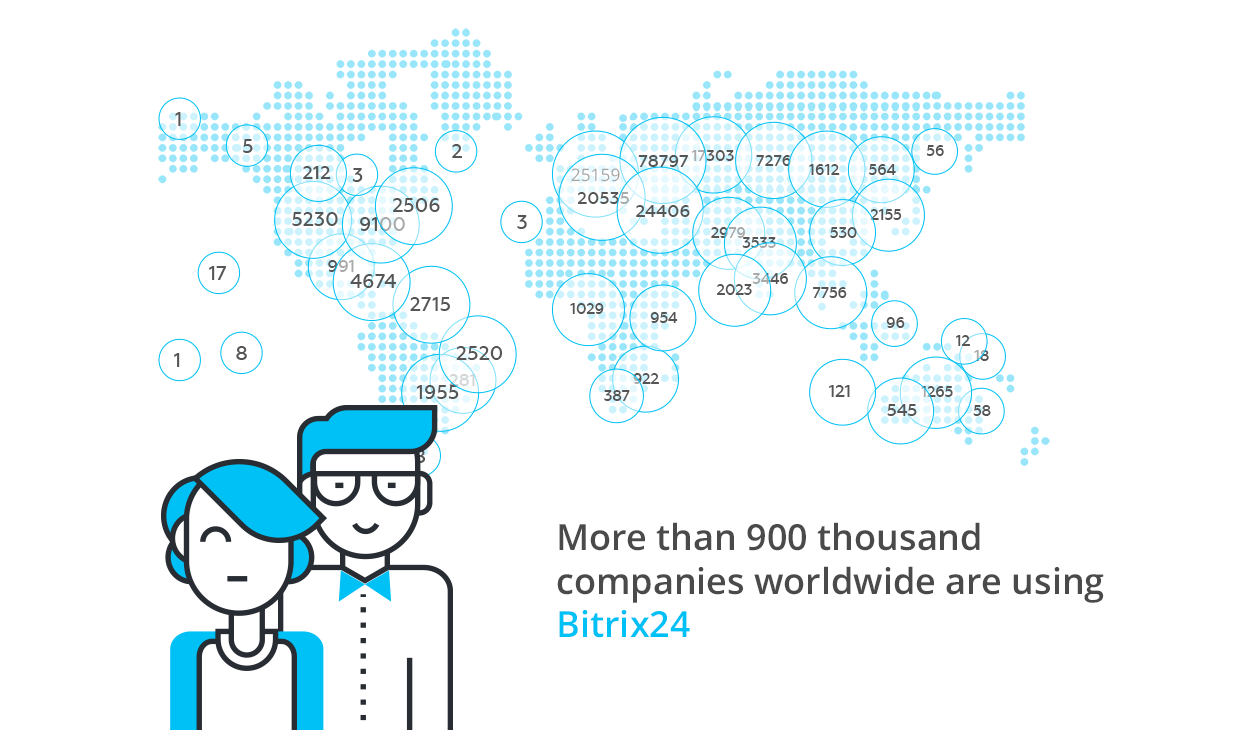 To start using the system it is enough to register at the bitrix24.com site and invite employees. Up to 12 people – for free!
The possibilities of Bitrix24 are various and their proper use requires experience.
| | |
| --- | --- |
| | INTERVOLGA is professionally engaged in implementing Bitrix24 in the Customers' companies. We have all the facilities for the successful implementation of the system in any company: competency confirmed by the developer, experts, reviews and satisfied customers. |
Services of Bitrix24 implementation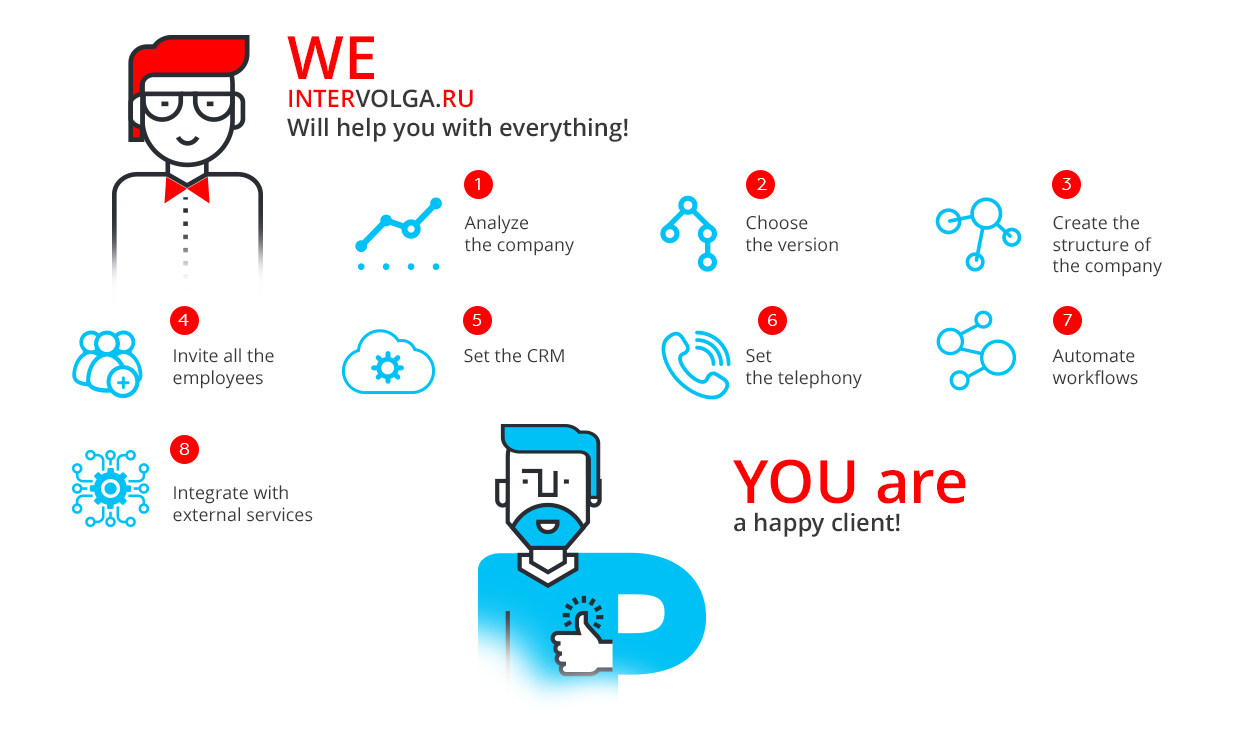 How we can help:
1. Provide a consultation about cloud or box version, set the access rights, configure the CRM for your company, import contacts, install the system on the server (for the box version), integrate with Active Directory or 1C: Salary and HR Management.
INTERVOLGA, which is a Gold Certified Partner of 1C-Bitrix, can do all that and has the legal rights for maintenance.
Price: from $250. Price list.
Order a consultation regarding installing and using Bitrix24
2.
Conduct corporate training on Bitrix24. As a rule, 5 hours are enough for the expert's work with the company's senior executives.
Providing training to the line employees is scarcely required.
Price: from $300. Price list.
We recommend you to study our articles regarding the start of works with Bitrix24:
1. Manifesto of Bitrix24 implementation
2. Creation of the world in the company by implementing Bitrix24
Order a consultation on Bitrix24 training
3. Conduct personal consultations on the issues of "how to use this or that tool" or "how to solve our management tasks by using Bitrix24".
Depending on the size of the company, complexity of workflows and tasks it will take from 10 to 30 hours of consultations.
Price: from $400. Price list.
Order a consultation on the proper use of Bitrix24
4. Set the Bitrix24 workflows and launch them in our system. Workflow is a mighty tool that requires a thoughtful analysis and an experienced specialist. A client can scarcely puzzle it out. But we can.
Price: from $400 for the development, implementation and setting of one workflow. Price list.
We advise you to study our articles:
1. Where to look for workflows in Bitrix24 and how to manage them
2. Workflows in the CRM of Bitrix24
Order a consultation on automation of Btrix24 processes
5. Integrate Bitrix24 with ERP systems. It is one of the most crucial tasks. Contact us, we will help you.
Price: Price list.
We advise you to study our articles:
1. External integration and information exchange with Bitrix24
6. Integrate Bitrix24 with the external information system, adjust the bidirectional data communication.
The system has build-in connectors to AD and ERP systems (for example 1C: Salary and HR Management), calendars and address books. If that's not enough for you, it will be necessary to perform serious work on a big implementation.
We know how to do it.
Price: from $1500. Price list.
We advise you to study our articles about external integrations, big integration and updates in Bitrix24:
1. Big implementation and setting of CRM Bitrix. External integration
Order a consultation on Bitrix24 integration with the external information system
7. Development of external applications for Bitrix24. There is technical possibility to integrate the company's own pages with extended possibilities into the cloud system.
In such a way you can add completely new functions, as well as make your own tools of work with Bitrix24 data (tasks, reports, CRM).
We know how to do it.
Price: from $3000. Price list.
Order a consultation on the development of an external application for Bitrix24
Our Bitrix24 experts
Stepan Ovchinnikov, Mikhail Filippov, Dmitriy Teskin.
Cases of Bitrix24 implementation
Our experience:
Bitrix24 implementation at a big manufacturing enterprise.
Clients implementing Bitrix24 with our help
Customers' feedback about Bitrix24
Assistance in setting Bitrix24 for the WebGK company, Tula (Nikolay Elatontsev).
Development of the workflow "Harmonization of documents" for the advertising agency Red Keds, Moscow (Vitaliy Bykov).
Development of a module to display comments from subtasks in Bitrix24 for the company "Gagnidze Dynamics", Perm (G. Gagnidze).
Development of automated workflows at the portal of the MYBOX company, Volgograd (Anton Goykhman).
Оставьте заявку