Bitrix24 and Kenya's eCitizen portal integration
INTERVOLGARU has completed the Bitrix24 and Kenya's eCitizen portal integration for AfrikaLoan.
The Kenyan government's eCitizen portal provides such services as booking a driver's test with the National Transport Safety Authority, applying for a passport from the Immigration Department and others. So the portal collects a lot of data about Kenya's citizens.
Kenya's eCitizen portal also allows financial institutions such as banks and insurance companies to check and verify whether the information and identification documents provided by their clients are legitimate.
The task was to verify clients' personal ID data at Bitrix24 with Kenya's eCitizen portal.
Solution
In order to verify client's data eCitizen service requires to fill in the fields ID Number and First Name as per ID. The form is below.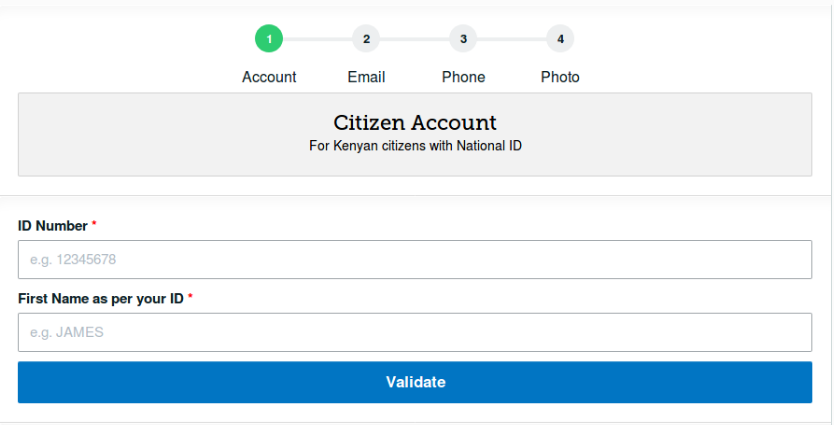 Kenya's eCitizen service can display one of the following results:
The ID is Already Registered — ID Number and Name are valid

The provided name does not match the ID — the ID Number is valid, but the stated name is not right.

The provided ID Number was not found — ID Number is not valid.

Cannot recognize ID Numbers — if there were wrong signs.
We defined the following options for Bitrix24:
ID Number not found (has not registered or contains a mistake in signs).

Does not match the name on the existing ID.

ID has been registered.
In case a client sends valid data, the loan workflow at Bitrix24 stops. The information with the searching status from eCitizen service is saved at the Bitrix24 Deal as Stop-factor.
As we wrote earlier African customers have several names: christian name, tribal or original name, father's name, surname. The names can be written in an ID card randomly. That is why we check each of the names as the first name on eCitizen portal.
For example, at Bitrix24 there is a request from Moses Mike Kipkoechich, ID Number 11223344. So we check the name "Moses" then "Mike" and then "Kipkoechich" for ID Number 11223344. If no one of the names matches then Stop-factor appears at Bitrix24 Deal.
If the loan request was stopped and the client sends a new one we send such a request for additional verification so that to exclude the case of fraud when the client just made a mistake in data spelling.
Result
INTERVOLGARU made the automated customers' ID verification via the eCitizen portal.
Bitrix24 automatically sends a request to Kenya's eCitizen portal to verify client's ID Number and Name.
If the data is correct the field Stop-factor at CRM Deal is empty.

If the provided name does not match the ID then the Deal field Stop-factor shows "The provided name does not match the ID".

If the provided ID was not found the Deal field Stop-factor says "The provided ID Number was not found".
If a client sends a renewal loan request, the Deals with the sign Stop-factor need additional manual verification.
24.06.2019

Elena Fedianova