Developers of cloud-based CRM Bitrix 24 are quick in reacting to changes in demand and often release new versions. Another large-scale update was presented in spring, 2018. Let us go over all the new features in detail.
CRM Bitrix24 in 2018
Developers of cloud-based CRM Bitrix 24 are quick in reacting to changes in demand and often release new versions.
Another large-scale update was presented in spring, 2018.
Let us go over all the new features in detail.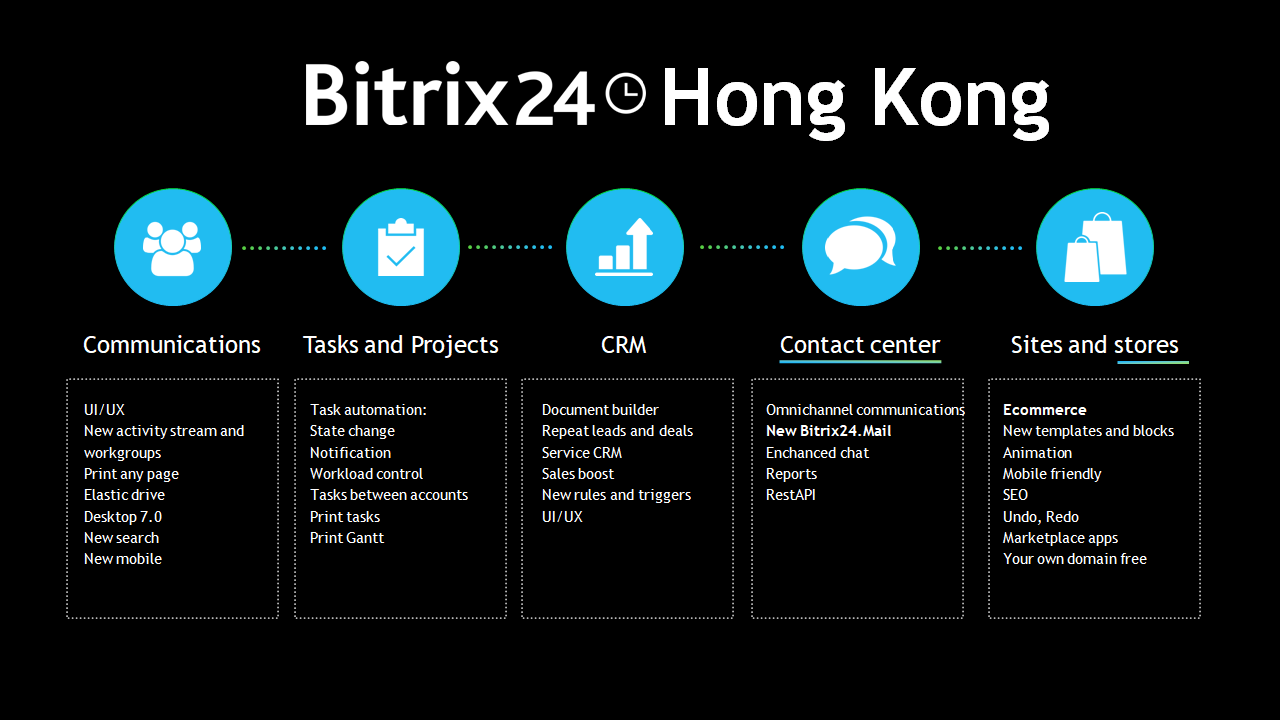 In this article:
What is the most important thing about the Bitrix24 Hong Kong update?

How will the work of clients and implementers change?

Which new market is Bitrix gaining a foothold in?
The most important question is who stands to gain from using Bitrix24? What sort of companies should adopt Bitrix24? What does the future hold?
Tasks and Projects
Task management through Groups and Tasks is one of the key capabilities of the platform. Most of our clients use them, since they are convenient and functional.
INTERVOLGA makes use of Tasks as a springboard for developing unique business processes: contract approval, standard shop launch project or house construction
Enhancing Tasks makes it easier to ensure informational exchange with other information systems – SAP, MS Dynamics, Google Analytics, and ERP-systems.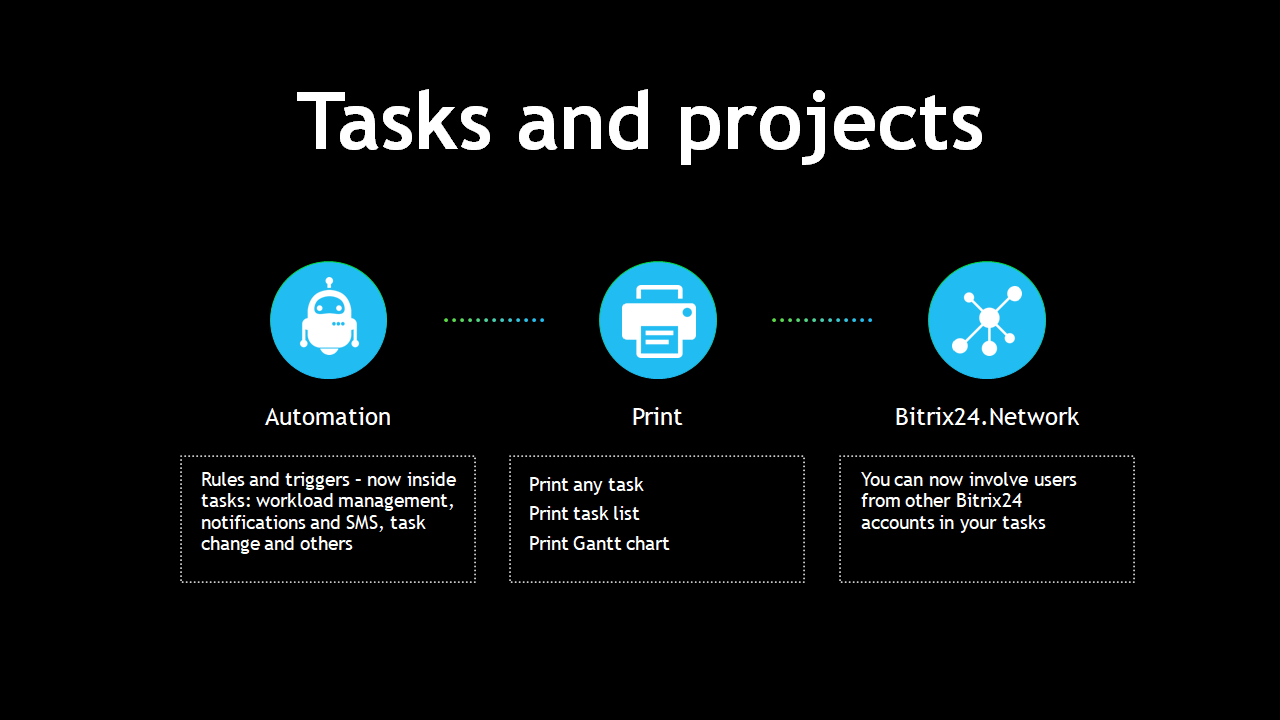 Each release gives new features to Customers. The Hong Kong release includes:
webhooks, robots and triggers in Tasks;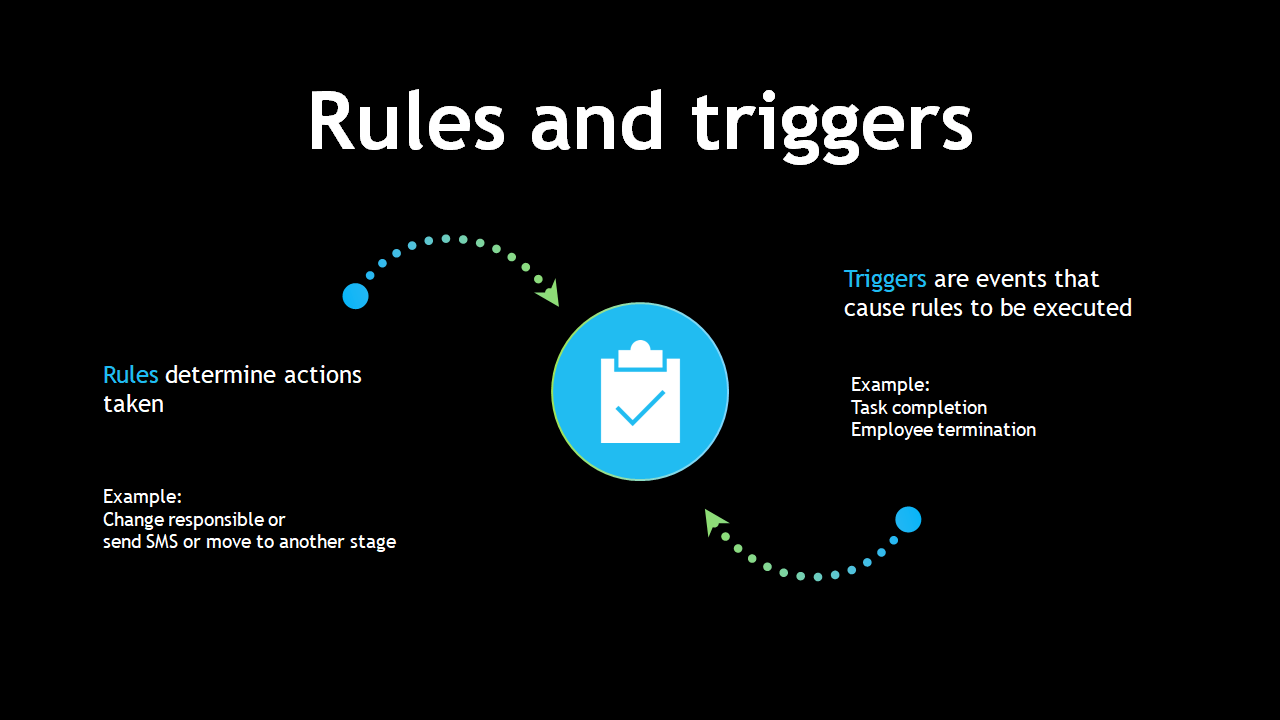 new Tasks mobile interface;

ability to insert tasks into portals of other organizations (cross-portal Tasks).
Using cross-portal Tasks is a step towards simple informational exchange of individual Bitrix24 systems with each other. It is important for large businesses to have separate interfaces, while binding them by means of dependencies: for example, using separate CRM's with a shared structure.
In the future, developers are likely to enable transfer of any entities between portals of different organizations.
Tasks robots and automation
A robot is a business process element which performs an action when the task status is changed. Bitrix24 plans to implement the most frequent operational scenarios:
Reaction to a task status change and automatic Notifications via different means;

Requiring a 'mandatory comment' when closing a task or transferring it to a different status – some INTEVOLGA projects have included such programming tasks;

Employee firing scenario – the need for transfer of a task to another person or auto-closure has been felt for a long time.
In addition, we will be able to solve new business tasks:
Synchronize tasks with helpdesk, billing or MS Project systems;

Launch any business processes;

Provide informational exchange with time control systems – ensuring informational exchange between Bitrix24 and Google Sheets used to be a laborious challenge.
More sophisticated cases have become possible, such as 'automatic task reports'; when we have completed a task, a robot is activated and all participants receive a brief report:
Task name

Completion time

Originator

Task performer
As a result, we have an official document, i.e. a task report, which all participants will receive.
What will change in working with Tasks and Projects in Bitrix24?
New mechanisms will simplify informational exchange with other systems and building business processes involving Projects, Tasks and CRM.
Interface improvements
BItrix24 is provided with a lot of functions every year, so it is important to look back from time to time in order to correct mistakes, simplify interfaces and systematize.
The Hong Kong release features numerous visual changes and improvements.
A social networking tool in the form of a chat;

Groups and almost all windows are provided with sliders;

New search results;

A few photos in the chat.
Interface unification and a more functional and user-friendly mobile app will make it easier for new users to master tools.
Custom documents in CRM and printing in Bitrix24
Despite the numerous functions and extensive client base, Bitrix24 is a very young system. A lot of its functions have not been required until enough information and experience is accumulated.
At first, there was no demand for document printing, customized detailed search, space saving in the cloud, garbage removal, etc. These are 'secondary needs' and they become required only after quite a lot of documents and files have been accumulated due to the use of the basic functions.
The new release includes Documents, Printing and Elastic disk,
BItrix24 search function
I am convinced that a new search function is not long away (so far, it has just been broken down into categories and made a little more customizable):
Elastic disk
In Bitrix24, being able to observe the virtual file structure, the user can identify on their own which files need to be synchronized.
User files are located in the cloud and only their shortcuts are seen locally. It is possible to customize selected files for synchronization and the maximum folder size.
A lot of INTERVOLGA clients store their files on Bitrix24.Disk. Due to the changes made in 2018, using the Disk and file array synchronization in particular will be easier and faster.
Documents in CRM Bitrix24 and native templates for any customization
Since its appearance, CRM Bitrix24 has been capable of printing invoices and quotations. These are the most important documents in commerce, and the developers issued them first.
Clients have been waiting for nicely-designed quotations, invoices, certificates and other types of documents for a long time.
In 2017, INTERVOLGA issued its own document design tool based on MS Word templates and other word processing software.
In the new Hong Kong release, the functionality of our solution was duplicated in the platform. This is great news for clients, as they will be able to print any documents. We will be glad to provide assistance in the implementation and refinement of the document design tool.
What can the design tool do besides creating template-based documents?
Documents can be sent by email, via the chat window or SMS link without downloading;

3 contract templates will be included in the CRM: for services, work and labour and delivery;

Documents will be numbered automatically by a document numbering tool.
The emergence of a document design tool in the platform is excellent news for everyone, if not for paid module developers.
The custom document printing function will make the CRM attractive for medium-sized and large companies, which couldn't suffice with invoices and simple quotations.
Call center = Mail + Chat, Telephony and Open line update
The BItrix24 client communication section is developing particularly quickly. The Bitrix24 open lines have brought about significant changes in the market.
A new word – Call Center - was introduced in the Hong Kong release.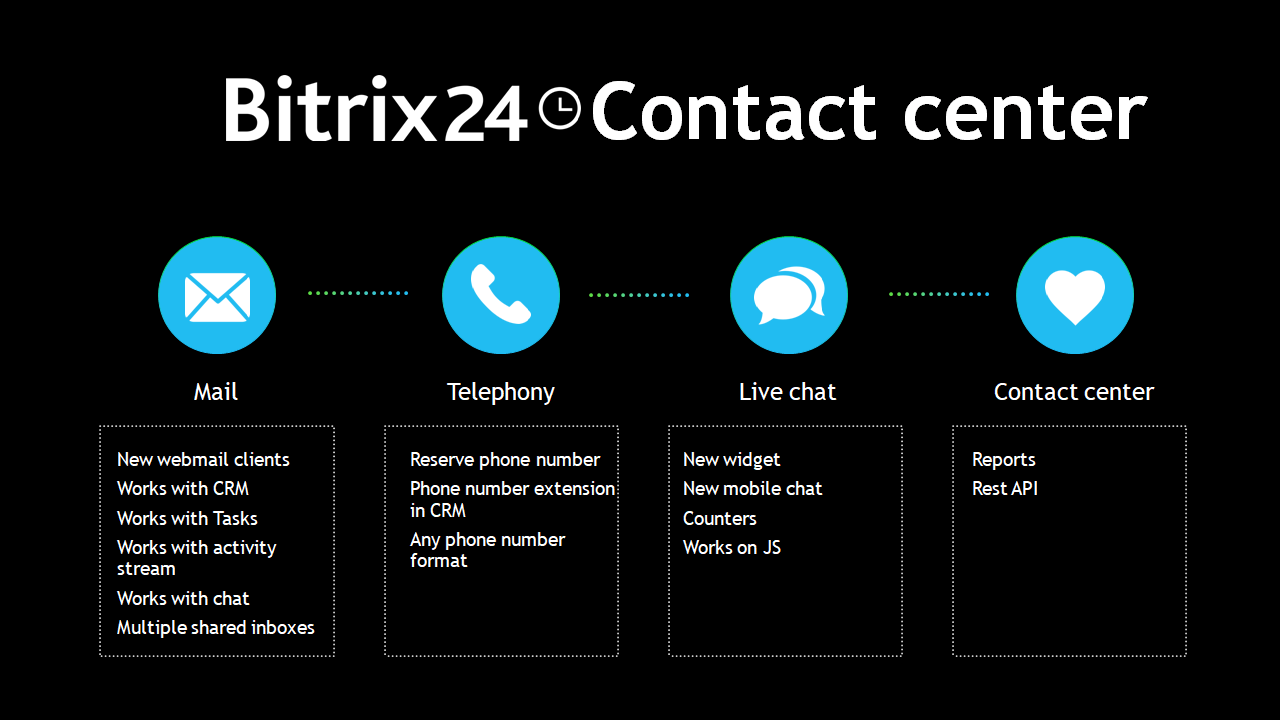 Each section alone is not a surprise, as online consultants, web telephony systems and email clients have been around for many years.
However, incorporating these quite conventional sections into a single platform makes it possible to develop an interaction sequence with a client from the time they visit the website, accumulate information about them in the CRM and interact almost 'in one window'.
We will discuss the 'long sequence' creation later, but now please note that Bitrix takes care of all needs as far as communication with clients is concerned.
The call center is here to combine all digital communications:
Email – as an email client with a web interface integrated with CRM and Tasks;

Online chat for the website and Open lines, which are very well-known in the market. (Incidentally, the mobile app chat will be able to work offline);

Updated Telephony;

CRM forms at all websites and Bitrix24.Websites,
Bitrix24 email client
A lot of our clients, large businesses in particular, were waiting for a new email client to appear. Moreover, a lot of them thought that for a system like this an email client was a must.
We have built Bitrix24 technical support systems a few times, and informational exchange with the email is a key element of such projects,
Bitrix did not rush into making 'another email client' as it wouldn't create any value, whereas ensuring informational exchange of the email with Tasks, CRM, calendar and Chats is an absolutely different story.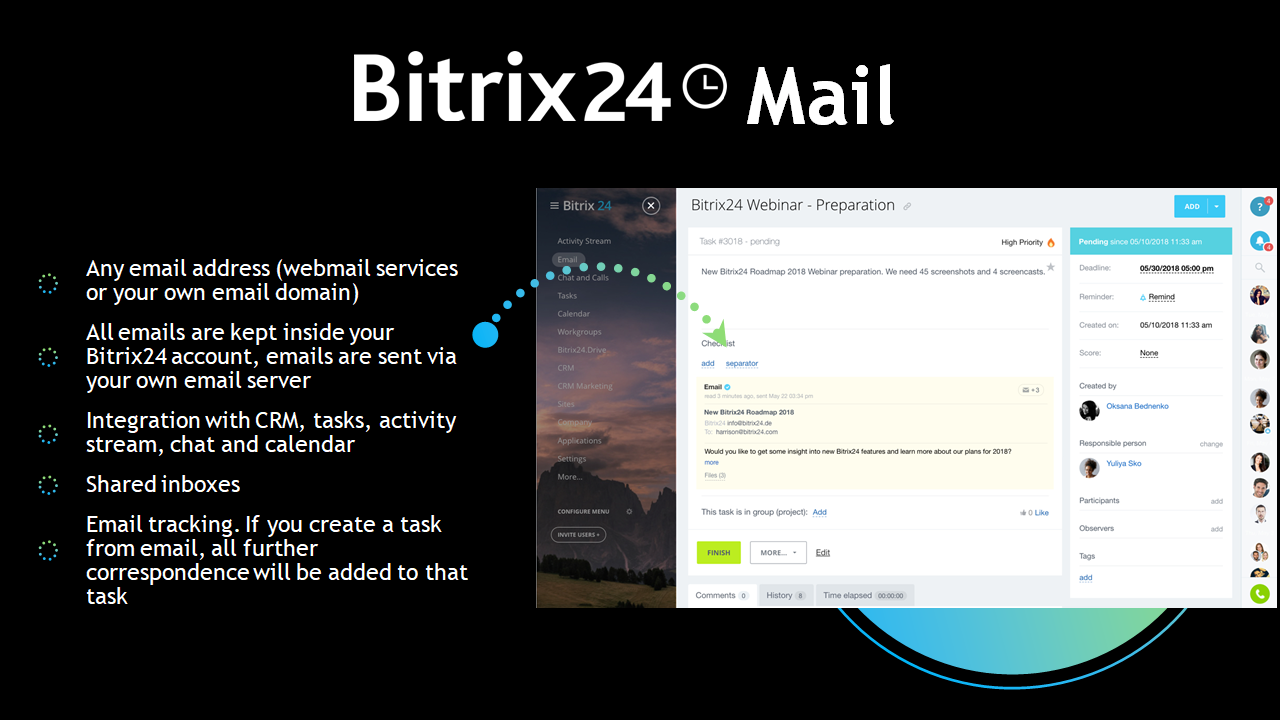 This kind of informational exchange may open up a lot of new opportunities for business:
Transferring managers into a single program (switching between interfaces is a painful experience for many);

Reducing the time for copying information between CRM, tasks and email;

Eradicating information losses "between systems".
A task can be set straight from an email. Previously, we had to do it by forwarding to the resource mailbox or connecting an email tracker.
It will be possible to:
connect external mail services and corporate email via IMAP (your system administrator will be glad);

provide informational exchange with CRM, Taks, Chat, Social Networking and Calendar;

track emails: if a task is set from an email, the entire correspondence will be attached to it.
New design and chat scenarios
The developers have performed a light face lifting operation on the chat. To be honest, we have hardly had any chat development requests from our clients, but the offline mode, higher stability and speed are nice,
Russian users are not familiar with WeChat, but the addition of the possibility to connect just under a billion people is at least interesting.
Updating telephony
We are going to see the following changes in the 2018 spring release:
Extension number in the CRM card;

The telephone number is recognized in any format (a lot of clients have been asking for this feature);

Region codes are not required now;

A backup number has been added, where calls can be transferred if there is a problem with the regular telephony system.
What will change in client work after the introduction of the Bitrix24 call center?
The key thing about the call center is the mail client. It creates numerous new scenarios and is definitely a big step forward.
The other changes are minor, though useful.
CRM Bitrix24 update in 2018
The CRM section is developing further. The most important new features in 2018 are the CRM for Services and real-time REST exchange announcement.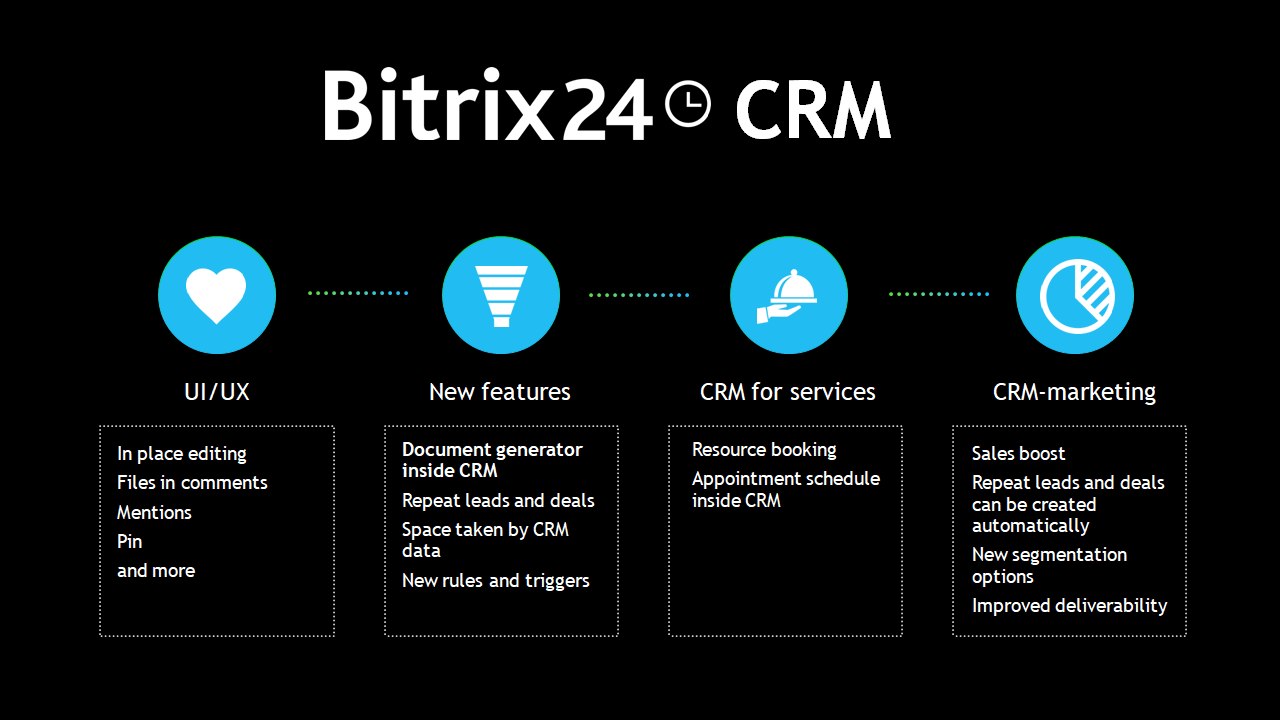 New CRM capabilities of robots and triggers
The key point about Bitrix24 is the capability to provide minor automation of routine operations. Robots and triggers are part of a powerful business process system.
The data from Contact can be inserted into a deal or a lead;
Date and time operations;

User-defined robot name;

Reversing the stage;

Taking into account the work time calendar when planning deadlines (we implemented a similar function while performing Bitrix24 project management automation);

The robots can now send clients information about their managers;

Tracking the email read status and reacting to it;

SMS length control;

Template-based task setting.
Repeat leads and deals in the new CRM card
We have already written about the new Bitrix24 CRM card. Gladly, it is becoming better and better.
All fields can be edited 'on the spot', without having to switch over to the editing mode;
Marketplace24 apps in the CRM card;

Fixing elements in the history;

Extending comments: editing, file attachments, references;

Deleting to-do items from the history;

Support of repeat leads and deals.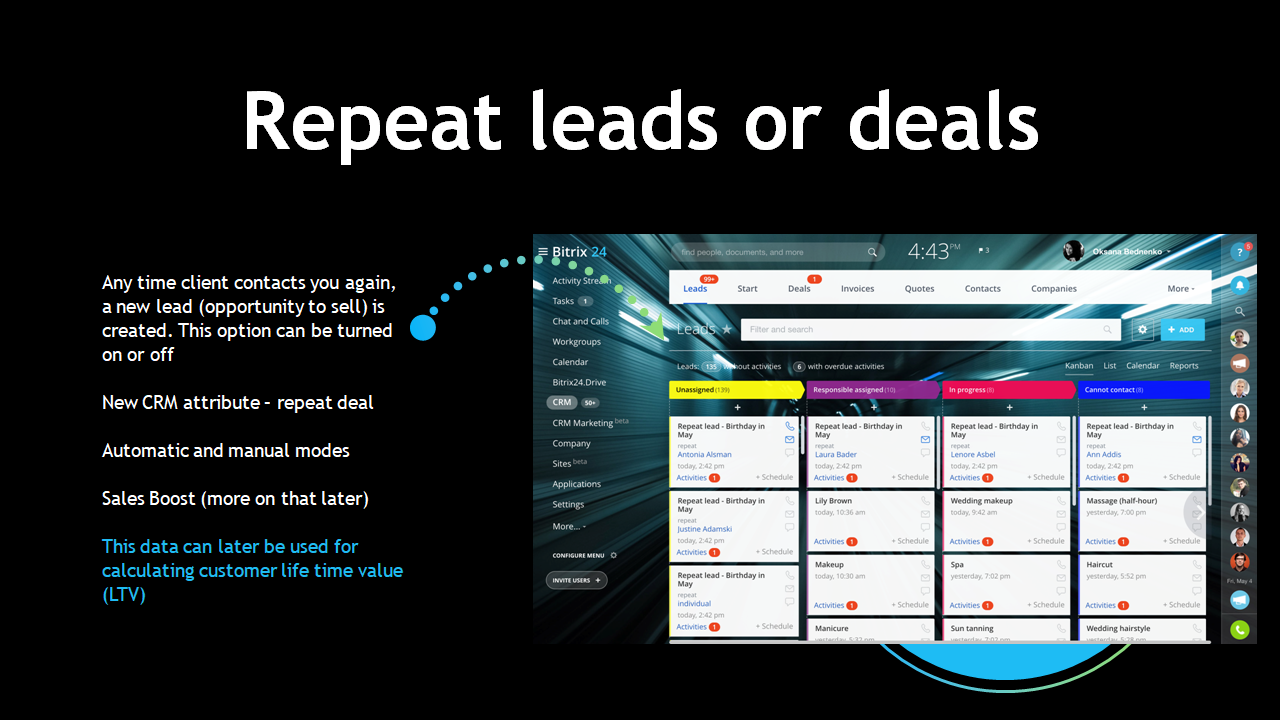 Tracking request sources and repeat leads creates a basis for the announced end-to-end analytics.
End-to-end analytics will enable making management decisions regarding efficiency of adverts, goods, managers and sales outlets, See below for more details.
CRM for services
As clichéd as it may sound, each company uses its own sales techniques. Bitrix24 is well-suited for 'project sales' with long cycles, numerous communications and all contracts being unique.
The CRM Hong Kong release becomes more user-friendly with regard to 2 new types of clients – vendors of calendar bound services and online shops.
This is the right move.
Examples of companies selling services are restaurants, car washes, beauty salons, car dealerships, doctor's offices and law firms.
BItrix24 developers have announced a clever mix of traditional deals and a calendar-based resource booking system. It looks like a sound idea. Let's see how brilliant the implementation will be.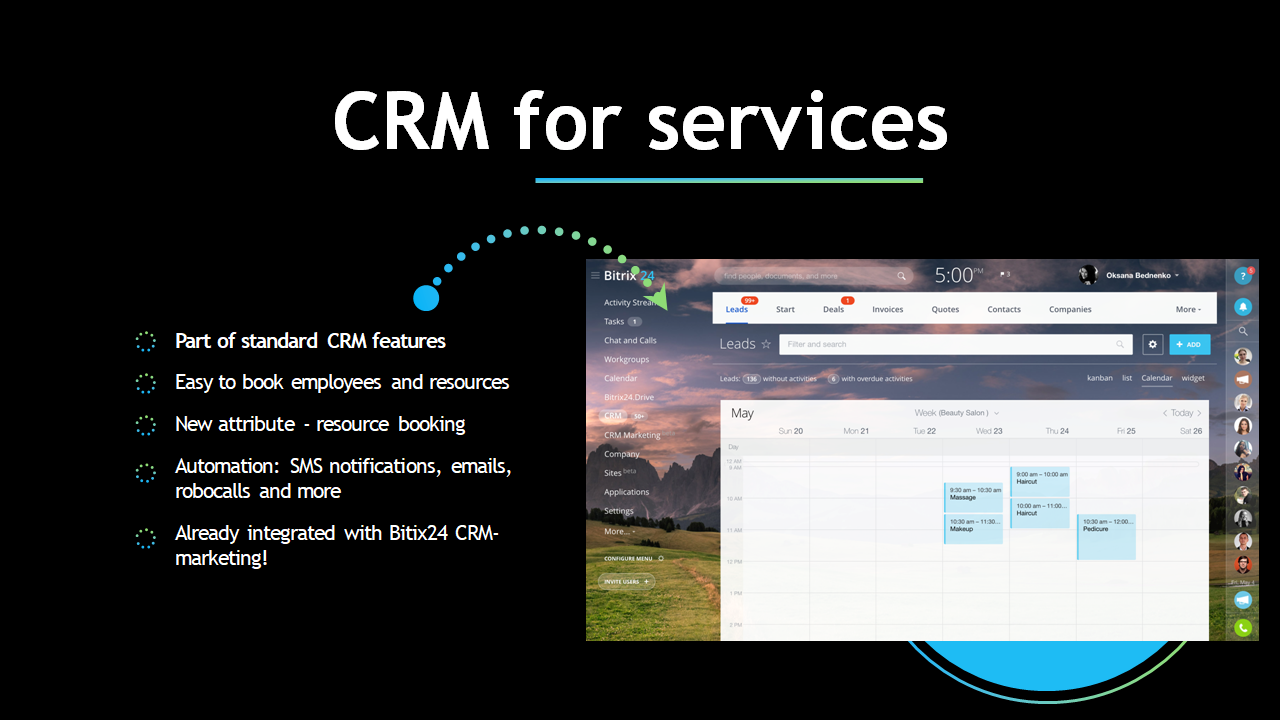 There is a CRM Calendar feature for services.
Managing services and booking are facilitated by the new 'booking' feature and new 'resource' notion. A resource can be both people and equipment. The available functions are:
Listing staff;

Setting service time (length / period);

Making a customized list of company resources.
Emailing
INTERVOLGA has been dealing with email marketing, attractive mail templates and conversion emailing, as well as creating trigger notifications, for many years.
We know how difficult it is and we are pleased that Bitrix24 pays so much attention to emailing quality and email opening indicator.
It is great that the new CRM robots and triggers will learn to track these indicators.
According to the Mail-tester email quality comparison service, the Bitrix emailing quality is very close to that of MailChimp - one of the segment leaders, and now reaches almost 9 points.
Sales generator
Sales generator is another new feature of the Hong Kong release.
This name hides an interesting development of the client base segmentation idea. Now it is possible to select clients based on criteria and create new leads and deals with the 'repeat' attribute based on the segment.
To be honest, it does not look like a killer feature. Questions arise with respect to whether such automatic generation makes any business sense, tracking links and efficiency (e.g. even now it is impossible to 'close' or 'convert' more than 5-10 deals).
Nevertheless, this is a sound idea and it is easy to come up with scenarios where it will be useful. Let's wait for its implementation.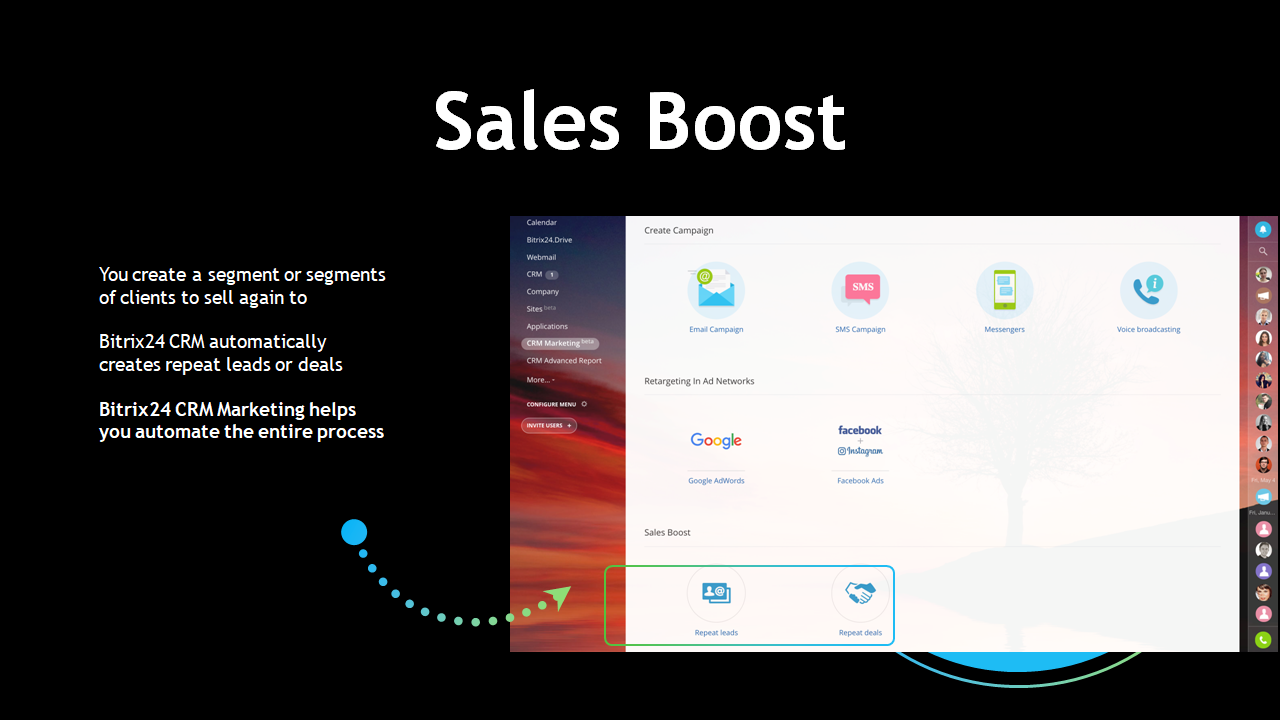 In the future, the sales generator may become an important section in the client work sequence and another step towards operational end-to-end analytics.
CRM reports
Reports are another 'delayed' requirement. There was no need for reports before businesses have accumulated sales data and leads on a mass scale.
People who are used to working with more mature systems are sometimes surprised – oh dear, where are the reports? Well, here they are.
So far, the first fruit has been announced – open line reports. Creating such a system will require a mechanism for collecting report data and a graph construction system.
Since it is much more difficult to create reports in cloud systems than in conventional ones, experienced commissioning companies welcome this step.
Bitrix24.Websites – Websites and Shops now
Bitrix24.Websites launched in autumn 2017 added new quality to the product but did not break the web-design market, like it was feared.
Numerous updates were made in 2018 – new sections, new designs and animation in old sections.
According to official statistical data, more than 23 thousand Bitrix24.Websites were published as of spring 2018.
There are a lot of minor improvements:
SEO optimization possibility (this is practically a business-critical requirement);

'Cancel' and 'Repeat' buttons, which make editing comfortable;

"Make notes" function for each unit right in the builder's interface – the developers do this to ensure quick testing and debugging of important sections;

Binding a domain is now free.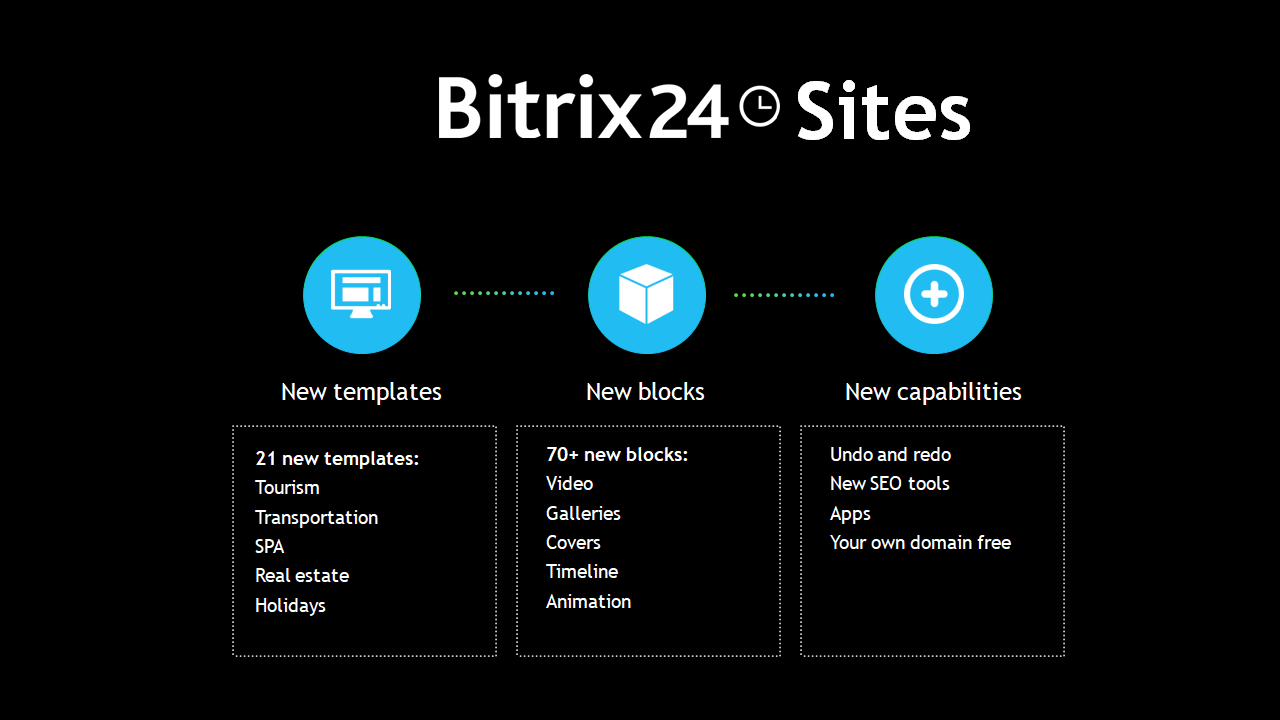 Bitrix24.Websites provide a platform for new clients. But what is really interesting:
Bitrix24.Online-shops
The developers have created a simple page builder for Websites practically from scratch (we have had to develop a landing page builder for ourselves, so we understand how difficult the job is).
Judging by the presentation, the online shops have been tackled quite differently as practically all Bitrix: Website Management capabilities have been adapted for cloud interfaces.
The vendor's logic is simple – if there is a neat solution for launching online shops as well as a popular cloud-based CRM platform, it is possible to combine technologies and acquire a multitude of new users.
The enhanced CRM interface will be used as a system for managing products, orders, discounts and warehouses.
Orders from the online shop go directly to the CRM;

The client can see the entire order history in their personal profile in the shop;

All communication with the client is conducted in the CRM and saved in the history
It is unnecessary to write at length about Bitrix24.Online Shops because the Bitrix Framework product is well-known to clients all over the world.
Its appearance in the cloud is nearly a revolution. Why nearly?
Because the cloud will not have the most important thing which makes clients choose self-hosted Bitrix products, i.e. openness to enhancements and a wide selection of designs.
The new Bitrix 24 product will create opportunities for those who just want to try e-commerce almost without any investment of time, money and competencies. It's a 'crouch start' for newcomers. This is an interesting move bearing in mind that the website market is quite saturated with players and solutions.
Now it is possible to combine client work techniques from the CRM system (e.g. calling from cards) and conventional order processing methods. Our clients wanted something like this when they asked for "informational exchange between the CRM system, online shop and accounting system".
It is possible to build client segments based on online shop orders.
It is important to realize that the new online shops in the cloud are given full functionality, whereas most competing solutions can only dream of such elaboration depth:
Robots and triggers as in the CRM;

Full-scale exchange of products and orders with accounting systems (it will work in real time in the cloud);

Transfer of products from Instagram or VK;

Warehouses, discounts, SEO, smart filter;

Single product – CRM+Shop;
The new product will work not only in the cloud because the vendor plans to issue a new self-hosted version of Online Shop+CRM.
This solution is of particular interest to integrators and large companies.
Owners of the Small Business and Business versions will be provided with seamless transfer to the CRM-version.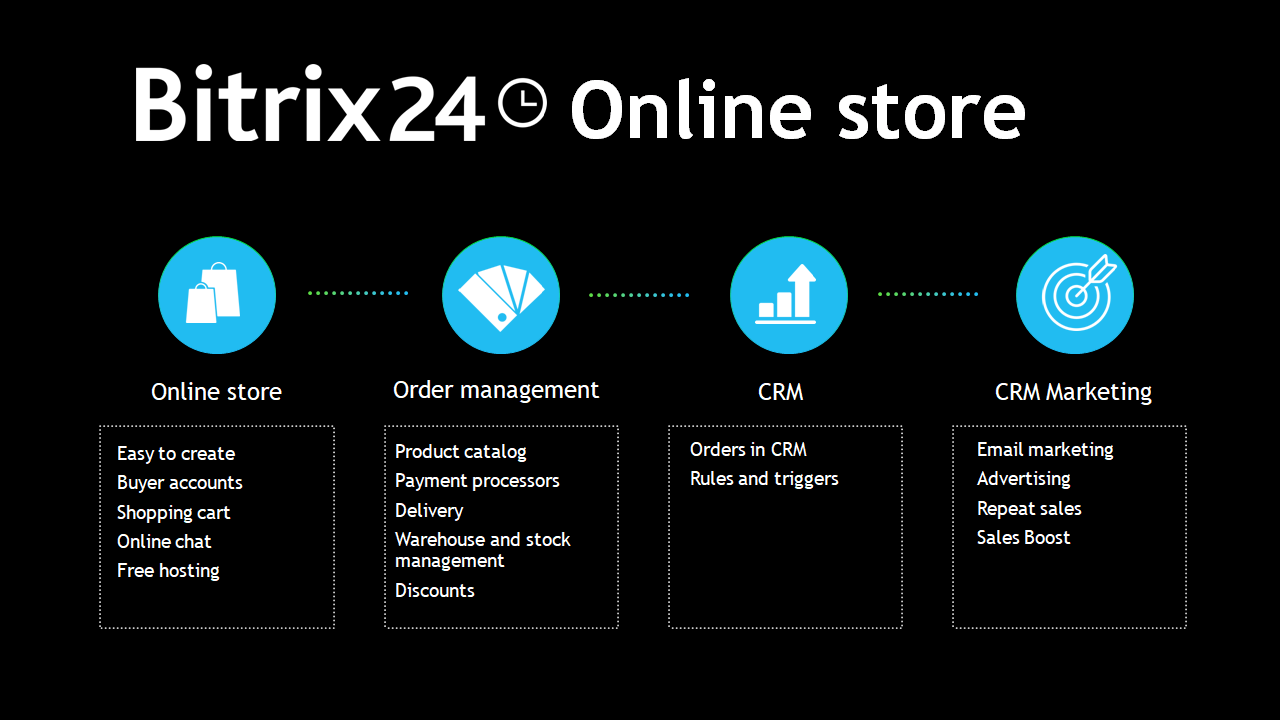 The most important things about the Hong Kong release
The Hong Kong release features a few dozen updates. The most important of them are:
Appearance of a Bitrix online shop in the cloud-based CRM;

a new Bitrix24 exchange mechanism with accounting systems;

a mail client inside the cloud-based Bitrix24 CRM.
These functions open up new opportunities for clients and commissioning companies.
Who is Bitrix24 suitable for after the Hong Kong update?
Online sales for microbusinesses and micro-entrepreneurs
It is possible to obtain the full functionality of an online shop using Bitrix in the cloud for a modest fee (remembering that 50% of online trading platforms have been built on the basis of this system. Bitrix holds the first place in Russia in terms of its market share).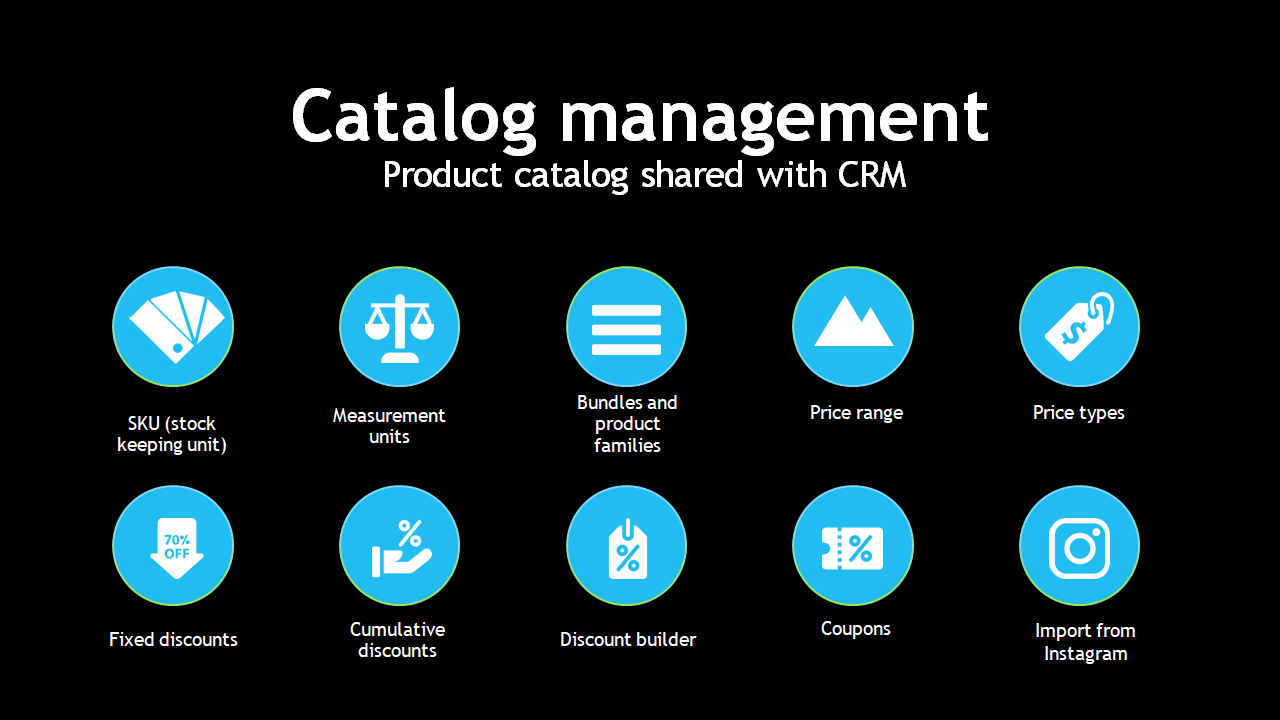 The possibility to manage online shop orders directly in the CRM system is an excellent move. This Bitrix product interface simplification will definitely please new users.
Selling services in small business
Developing a new CRM card and new types of deals, repeat sales and sales generator are a big step towards sales departments in different types of business:
car dealerships, car repair shops and car washes;

beauty salons, massage rooms and private clinics;

bars, restaurants and hotels.
Clients often come to INTERVOLGA and ask: how can we use the CRM? With new scenarios, there will be more satisfied customers. A good number of businesses will be able to improve their client work and save money on getting it all up and running.
Automation in medium-sized business
Bitrix is a functional platform for building in-house IT solutions.
The self-hosted and 'as is' functions do not meet everyone's demands, whereas the opportunities for creating extensions, business processes and integration sequences are immense.
The new release will let us have real-time exchange with accounting systems, as well as automation of Tasks and Sales Generator.
There are numerous clients who like the platform, but they need to tailor it to the specific features of their business. Automation and open program interfaces are a huge step forward.
Most INTERVOLGA projects are just like that – we modify the platform to suit the needs of our clients.
There will be more capabilities and fewer limitations, while exchanges and integrations will become more readily available for businesses.
What will happen to Bitrix24 in the future? What is next? What to expect?
Bitrix24 is creating a chain of its products.
Accounting system – website/online shop - CRM – marketing (client base analysis, conversion emailing) – repeat sales – end-to-end analytics.
The emergence of a new single technology with fully elaborated scenarios is capable of up-ending the market.
Bitrix has all separate sections to solve this task. In the next one to one-and-a-half years all informational exchange features will be finalized and we will see a single open platform solving business tasks holistically and opening up new opportunities for integrators.
The task of building such a system is very laborious. I may presume that some pilot scenarios will start working at the beginning of 2019, and at least one more year will be needed for adjustments.
There will be a lot of work for integrators and partner developers.
Bitrix24 end-to-end analytics
End-to-end analytics is a new key word for Bitrix24.
This function allows businesses to reasonably manage advertising channels, warehoused stocks and resources and plan their steps.
INTERVOLGA has been dealing with this area for many years. We have published articles on advertising efficiency calculation and conversion measurement, and we have developed and maintained conversion measurement and e-commerce modules.
We can build end-to-end analytics systems on websites and in online shops, and provide their informational exchange with CRM. Although we believe in Bitrix and wait for new capabilities, we do not waste time.
We are here to help.
Order Bitrix24 implementation
INTERVOLGA is a competent web integrator. We help businesses to develop by using information technologies smartly.
We are versed in all current e-commerce technologies and are in a position to solve business tasks.
Download the Brief and leave a request for consultation or implementation.
25.09.2018

Stepan Ovchinnikov