Key benefits of "INTERVOLGA – RAE" HR platform
The key value of the RAE is that the major HR processes of staff recruiting, hiring, on-boarding and training are packaged in one
 Bitrix24 solution, giving you a seamless process in one system.

More benefits of our platform:

It is the only ready-made fully integrated HR solution for Bitrix24.
Deep integration with other parts of Bitrix24 - tasks, calendars, company structure.
No need to have a separate IT system for HR management 
The whole process of working with job applicants and new recruits is simplified, and in one system - There's no need to switch between systems for different tasks.
It is cost effective - Having a CRM and our HR management platform in one system is way cheaper than having separate systems
RAE can be customized according to your needs.
Data security - All your data is saved on your servers.
"INTERVOLGA – RAE" HR composition

Our HR platform consists of three main blocks:
Recruitment
Automation of all recruitment processes, including the storage, processing, and coordination of resumes in Bitrix24.
Adaptation
Automation of employee hiring and on-boarding processes. All accepted applicants become employees and begin their training process.
Education
Automation of employee training and development.
Recruitment automation block

The platform integrates Bitrix24 with job placement and recruiting sites, to automate saving resumes, and further work with the job seekers in Bitrix24.  HR employees can find candidates for different job openings, add them to Bitrix24, organize screening and interviews and perform other actions with simple button clicks, all in Bitrix24, and never leaving the system once.
The Recruitment block is comprised of:
Extensions for copying resumes from job placement sites.
A section with all active job openings / vacancies in the company.
Résumé section.
Reports for HR managers.
Customizable resume processing.
A procedure for candidate approval and interview appointment.
A procedure for collecting feedback from HR employees based on the results of interviews.
Extension for copying résumés from job placement site "Headhunter"

The extension is installed in Google Chrome browser. It has its own settings for field mapping and data entry for integration.

The extension adds a button to the candidate "résumé" page on the job placement site.  When clicked, the résumé is copied and saved to Bitrix24.
What exactly is copied to Bitrix24? The candidate's bio, their contact details (if set to "visible"), work history, preferred position, and other information they make public on their profile. In addition, the résumé is also copied in the form of a pdf file.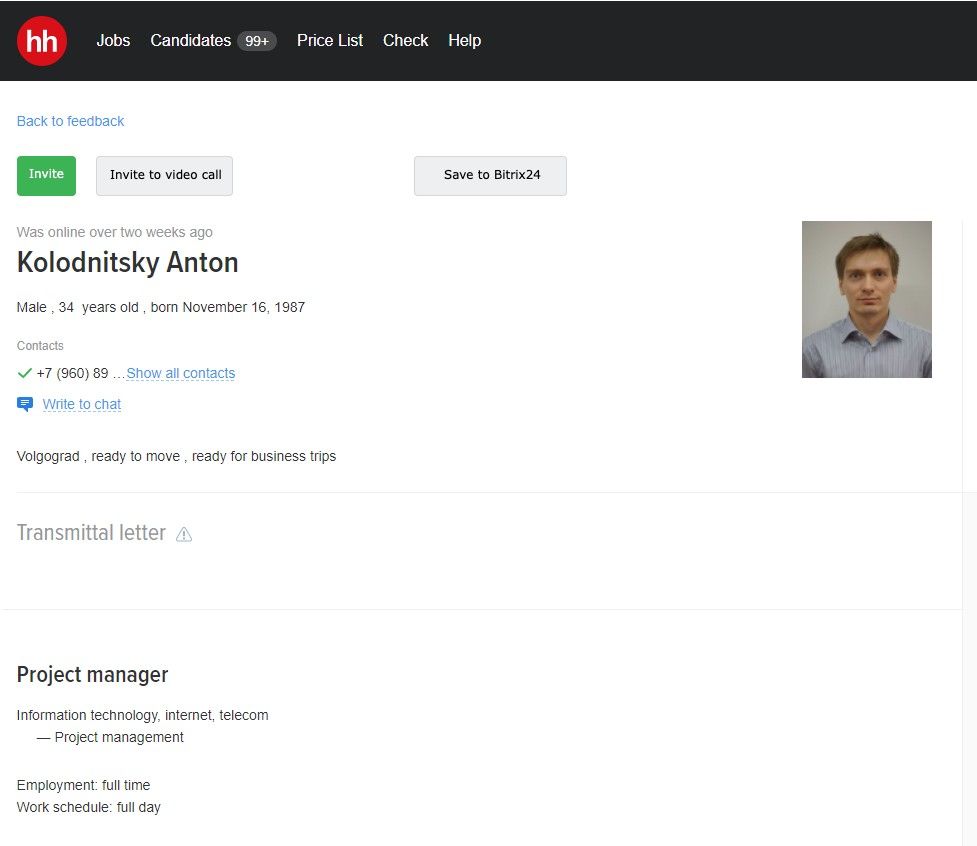 Extension for integrating of HeadHunter job placement site with Bitrix24
Job openings / Vacancies section

This section contains a list of all vacancies in the company. It has a filter feature to allow you sort and display vacancies according to various criteria - for example, display only critical positions. 

It also displays the number of résumés saved for each job opening and the efficiency.

The detailed vacancy page contains a list of résumés linked to this vacancy. From here, you can go directly to the résumé pages or change the stage. The list of résumés  can also be filtered.


Vacancies/ Job openings section in the HR platform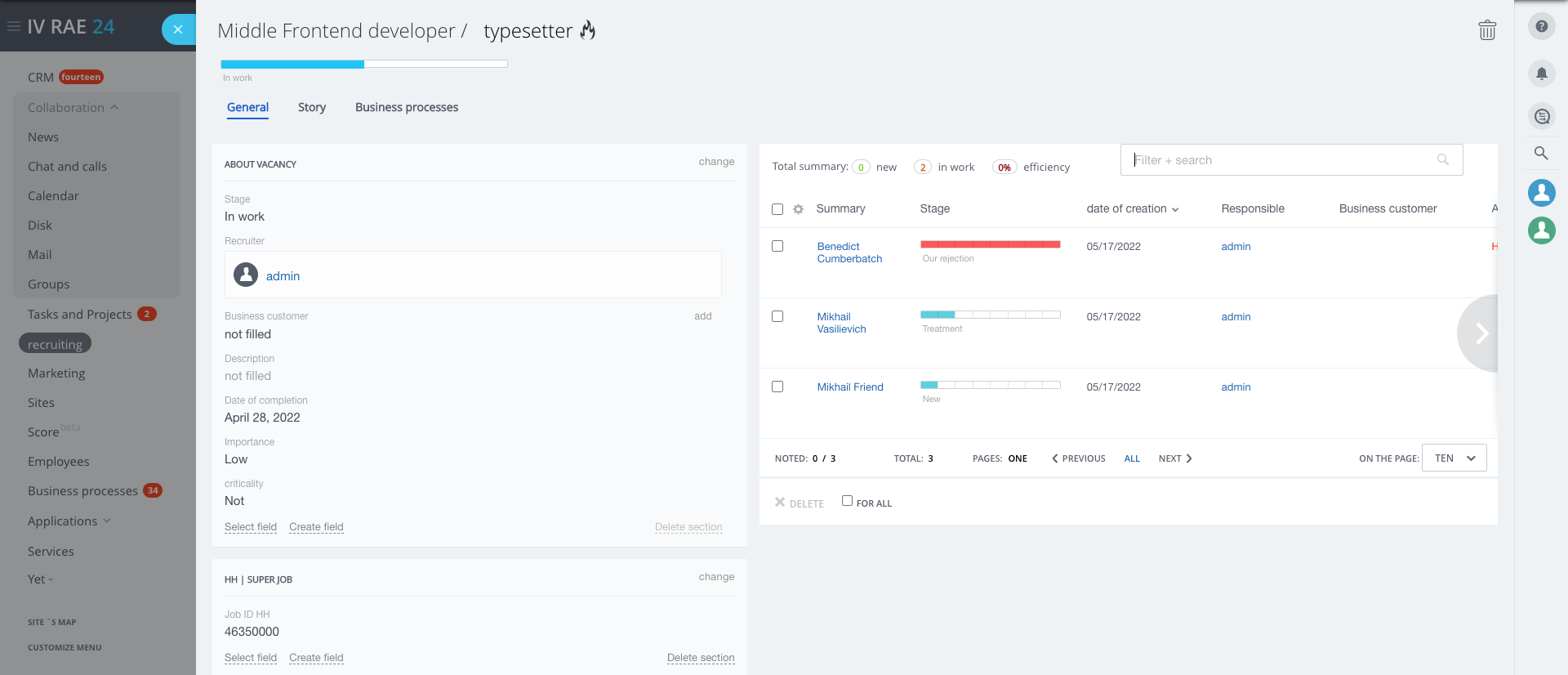 A list of candidates/ résumés attached to "Middle frontend developer" vacancy
Résumé section

This section contains a list of résumés.

Résumés can be filtered by the responsible person, vacancy, HR business customer, priority, and other parameters.
At the top of the page, there are quick links to new résumés or résumés in progress. The overall performance is also  displayed here.


The résumé detail page displays all the important information about the candidate. Based on the contact data from the résumé, a Contact is created in Bitrix24.
You can contact the candidate via call, email or SMS, directly from Bitrix24.

Some functions that can be carried out in this section include - Coordination of candidate approval with the HR business customer, scheduling an interview, and collection of feedback based on the results of the interview.


"Organize Candidate Approval" Button
The button launches the "job candidate approval" business process. The Business process can be customized to match the process in your company.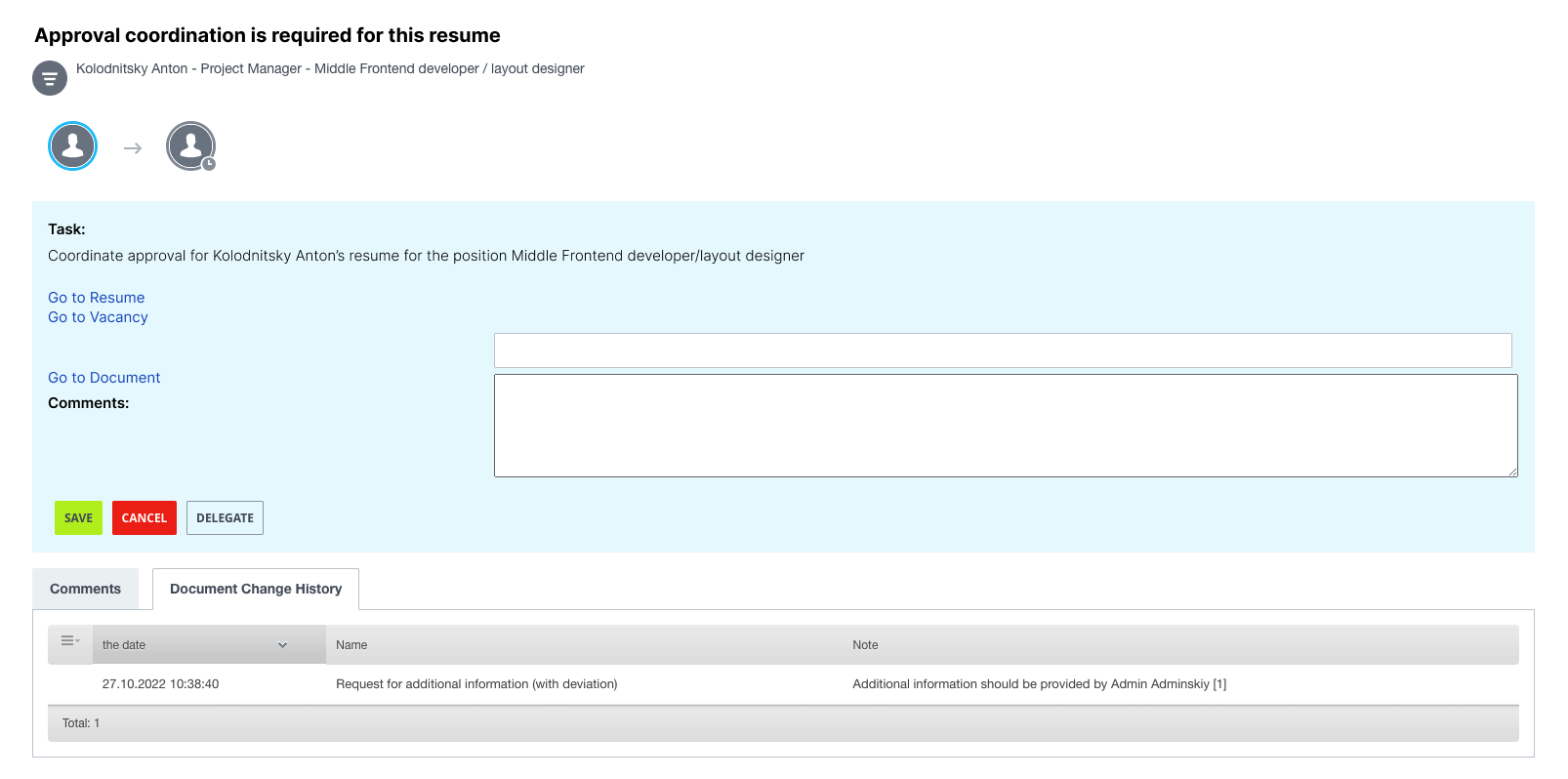 Job candidate approval business process

"Schedule an Interview" button
Clicking on this button creates a calendar event.
A job candidate can be added as a participant in the event. The candidate will then receive an email with the details of the meeting, which they can add to their own calendar.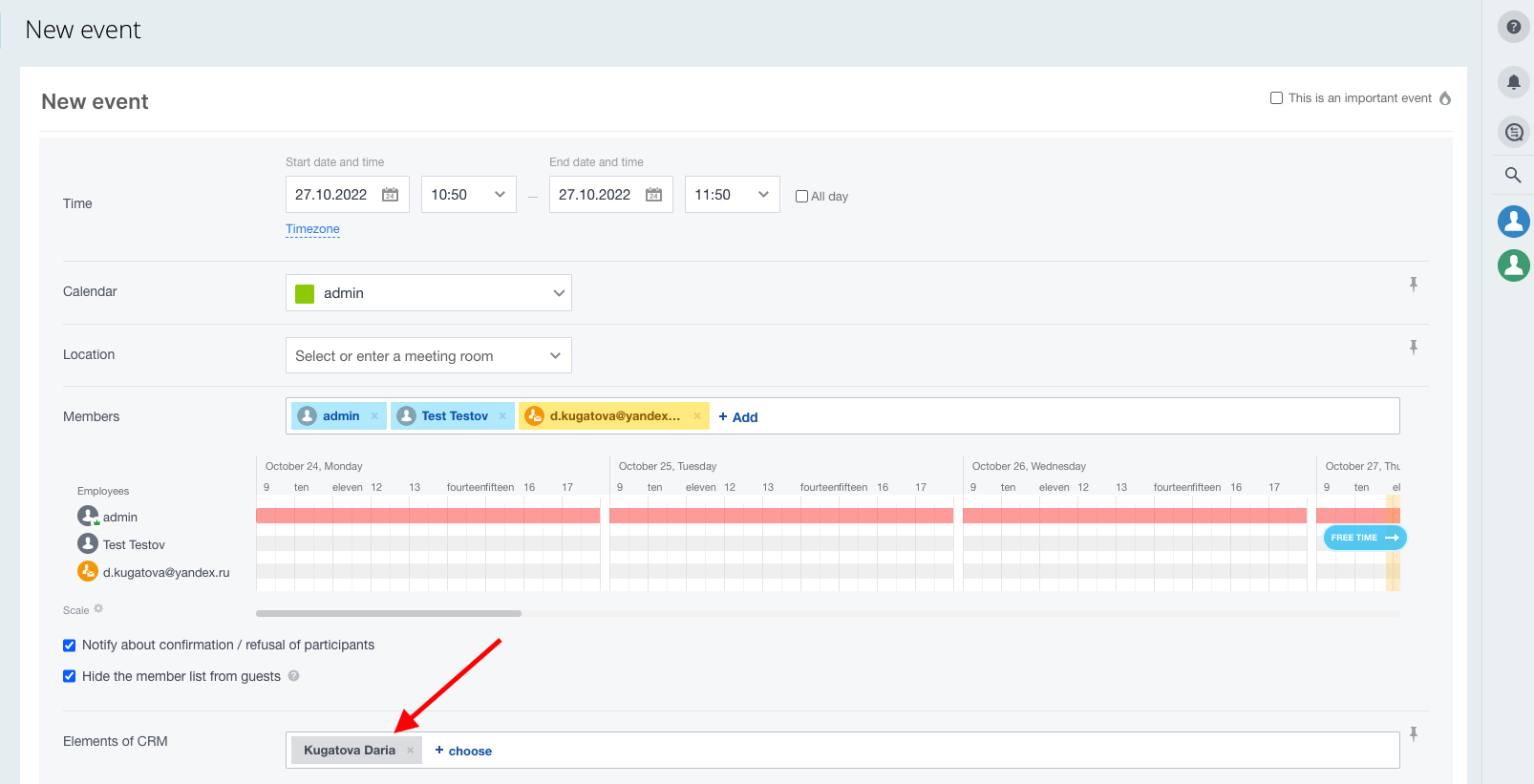 Interview results
An hour after the interview, the Business Client (HR personnel who scheduled the interview) receives a reminder to send in the interview results.
If for some reason, they postpone entering this information, then a pop-up window appears at a pre-specified time interval. Thus, interview results will always be ready when they need to be.

The result is automatically added to the candidate's résumé page and the recruiter is notified.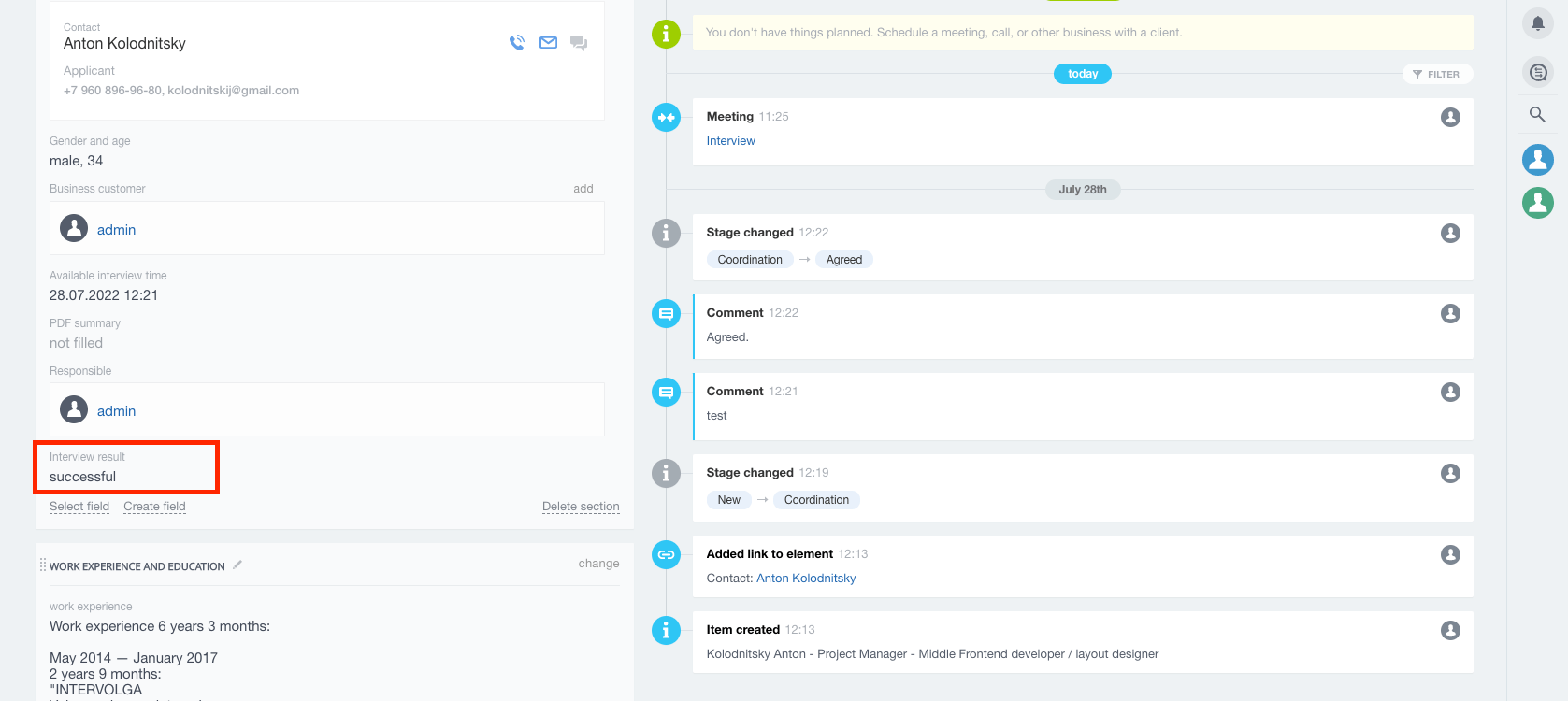 Reports

The section contains the major reports needed by an HR specialist. The results of each report can be filtered according to different  parameters - vacancy, recruiting agent, date, etc.
There are 3 implemented reports:
Distribution of résumés by stages.
Conversion report.
Stage by stage conversion report.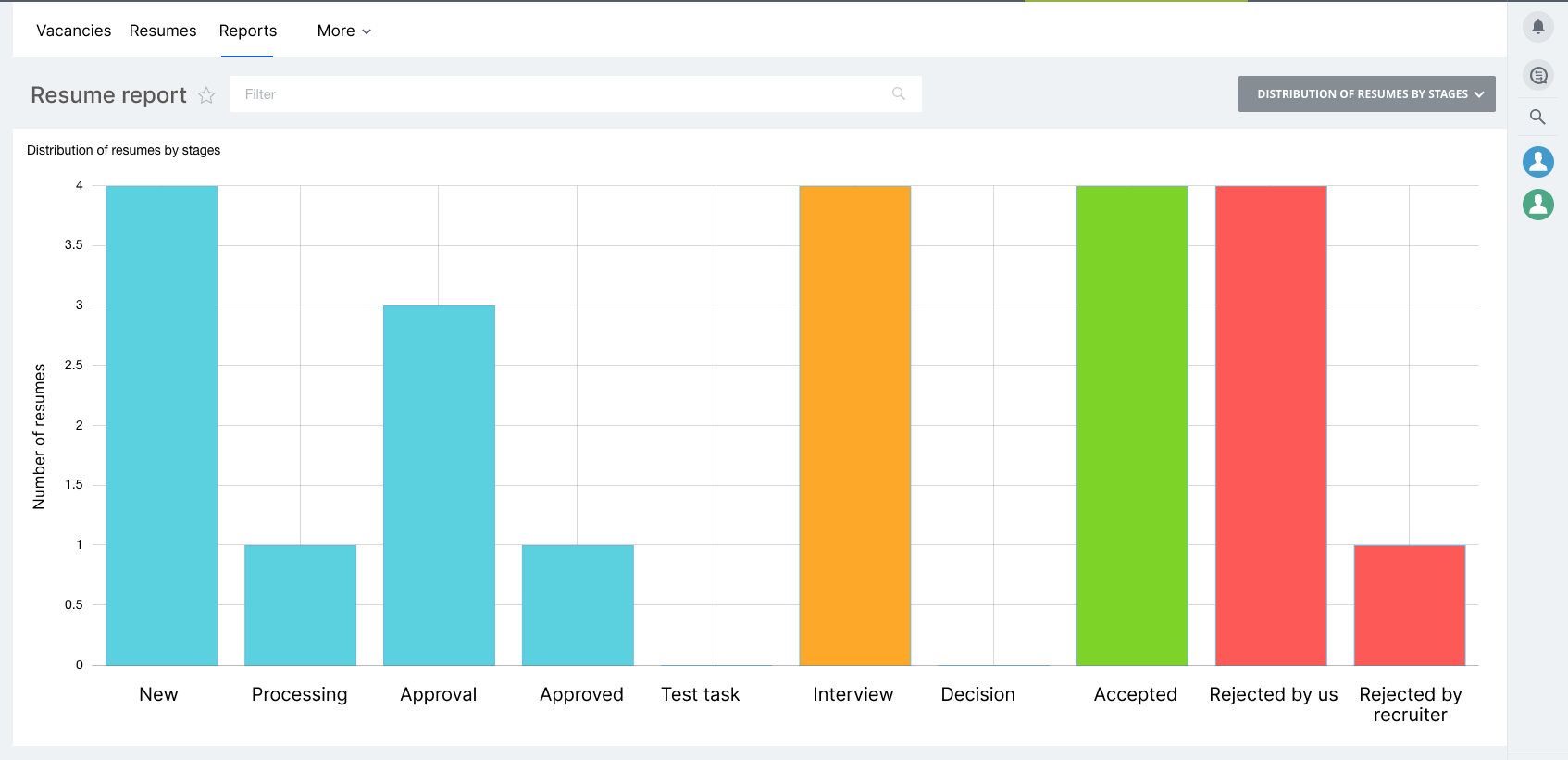 Distribution of résumés by stages.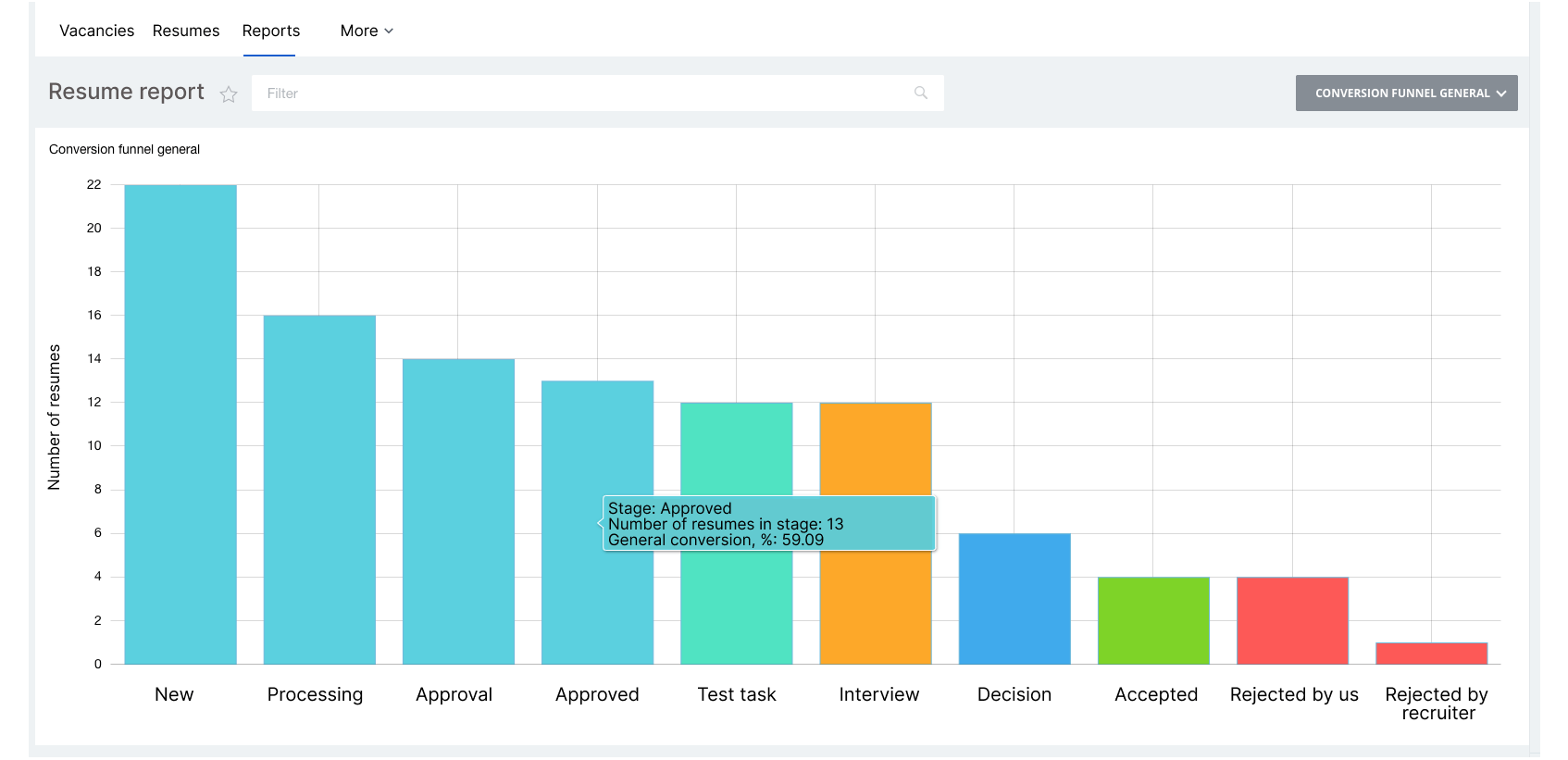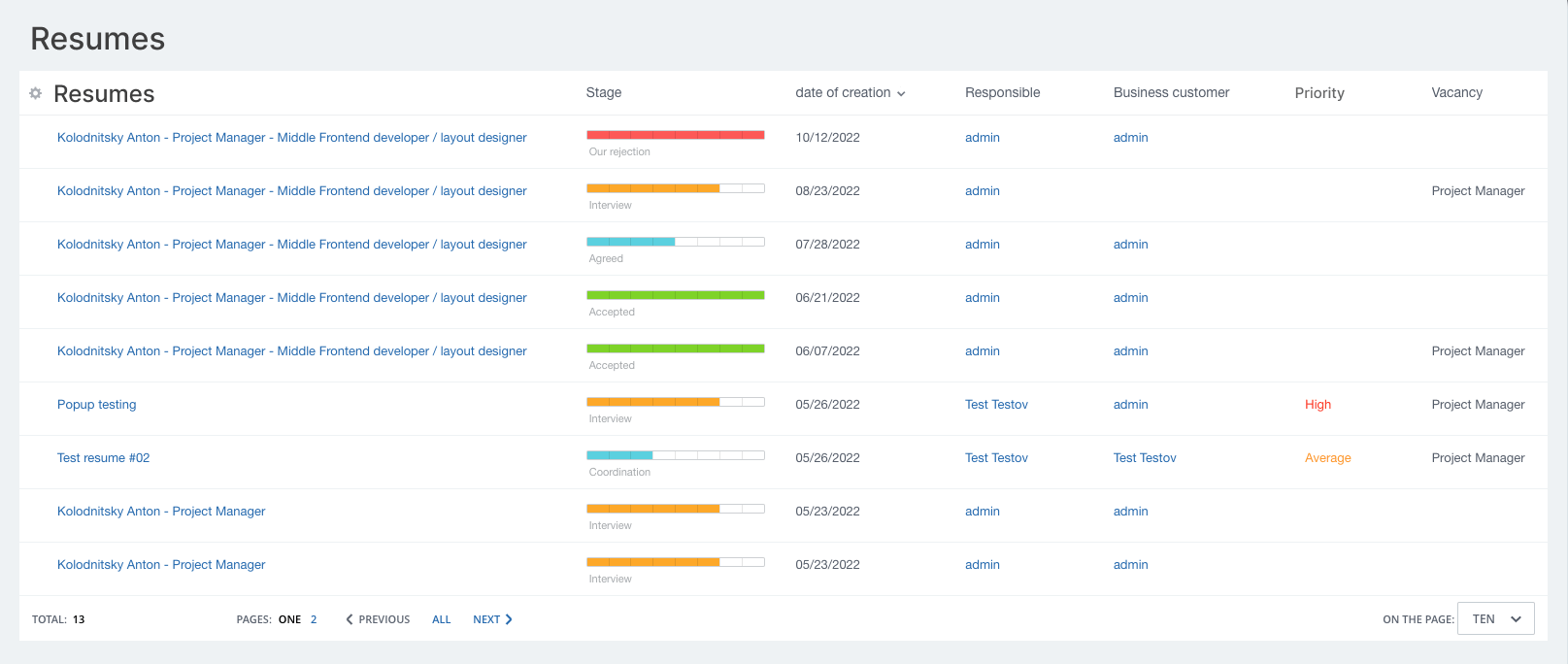 Price of our Bitrix24 based HR platform

The price of the module is
$2,500.
This one-time payment guarantees you
Lifetime access to the solution, which you will host on your private server

.

free updates for 12 months.
This price does not include the cost of a Bitrix24 on-premise license.
An important advantage of our HR platform is that it can be customized for each client. These customizations are shipped and priced separately.

Delivery method
The HR platform is delivered as a module for Bitrix24 on-premise.
Installation is carried out by our specialists. They also help with setting up candidate processing stages and basic automation.
The Browser extension (for copying resumes from job placement sites to Bitrix24) is delivered as an archive with an installation manual.
Module updates are delivered free of charge for 12 months.
Have questions? Contact us

info@intervolgaru.com