<p> MYBOX (<a href="https://mybox.ru/">https://mybox.ru/</a>) is a large and well-known restaurant, a network of Japanese and pan-Asian cuisine. The company has a presence in several dozen Russian cities and has deployed a network structure. The complexity of managing distributed units led to the need to use the appropriate instrument - Enterprise portal Bitrix24. </p> <p> The company actively applied the tools of goal setting, time tracking, scheduling meetings, internal correspondence, etc.<br> However, their work process consists of the same types of projects that require precise execution of repetitive tasks. But here is the major problems of such projects - The staff usually forget to move on to the next implementation stage, they forget to pass the baton on to other departments, and to make reports within a specified time. </p> <p> To solve this problem, we automated their Business Processes. </p> <p> <img src="/upload/medialibrary/0d2/0d2e812c0b3dff4ac494905e60f3d77f.png"><br> </p> <br>
Development of business processes for "MYBOX sushi and wok"

MYBOX (https://mybox.ru/) is a large and well-known restaurant, a network of Japanese and pan-Asian cuisine. The company has a presence in several dozen Russian cities and has deployed a network structure. The complexity of managing distributed units led to the need to use the appropriate instrument - Enterprise portal Bitrix24.
The company actively applied the tools of goal setting, time tracking, scheduling meetings, internal correspondence, etc.
However, their work process consists of the same types of projects that require precise execution of repetitive tasks. But here is the major problems of such projects - The staff usually forget to move on to the next implementation stage, they forget to pass the baton on to other departments, and to make reports within a specified time.
To solve this problem, we automated their Business Processes.


Our solution
MYBOX is rapidly evolving and constantly opens new outlets. The algorithm for opening new outlets was already in place. What was required was the automation of the process for its repetition. We accomplished this using business processes designer in Bitrix24. We developed the process template, set it up according to their specific requirements and defined data access rights.
Before the opening of any new outlet, the first task is to find an appropriate place in a shopping Mall. This process is also repeated many times and all employees perform their duties according to a template. We automated these Business Processes (BP).
The company conducts various promotions. A mechanism was needed which would be operated in the automated mode to run such promotions for the necessary duration. This mechanism became the Business Processes for promotions.
We also automated "BONUSes and Premiums" Business Process for the company's employees. Each employee's premium is automated and the managers no longer need to remember to add employee premiums to their salaries.
In all, we designed five automated business processes for MYBOX's Enterprise portal:
1) Marketing promotion;
2) Creation of Sales Department;
3) presentation of real estate rent;
4) Re-registration of legal entities;
5) Sales Department Registration sheet for Bonuses and Premiums.
The result
Organized work is often repetitive internal processes of a company. There is a register of all applications for opening retail outlets, payment of bonuses, advertising campaigns, etc, streamlined workflow that is associated with the processes.
Records are kept of all observations and comments from the start of the process until its completion.
There's Increased transparency of the actions of employees at every stage.
Summary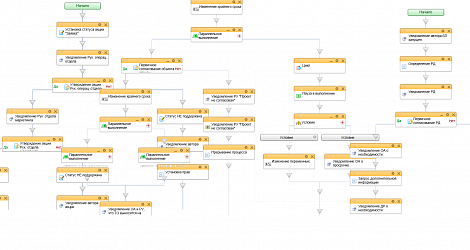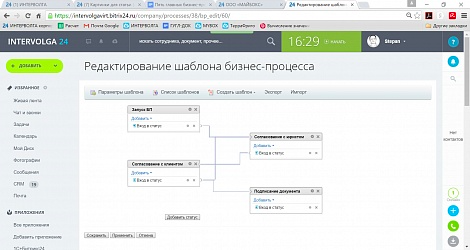 This example illustrates the need for business processes. If in the company there are a large number of repetitive domestic tasks, a good tool for their automation is the use of business processes.
To request for the development and implementation of Business Processes for your company, leave us a message
21.04.2020

Mikhail Filippov