E-mail tracking in Bitrix24: Your CRM takes your letters automatically
In latest Bitrix24 Update «Corsica» there are some new functions — Open Channels, CRM-forms, E-mail- и 1C-trackers. We have examined them and are ready to share our results. We will tell you about Email-tracker for workflow automation in your company.
Why is Workflow business process(BP) needed?
Guys from a construction company have set a task before us — to develop a business process for workflow automation in their company. The task is pretty big and difficult — Document statuses, responsible shifting algorithm, link between incoming and outcoming documents, history archiving. Algorithm occupied A3 list written by small hand.
We are not going to explain you how to create a business process for workflow automation. Instead, we will show you how to solve the exact task — how to automate the addition of new requests received by email to the existing Workflow.
We will show how to save tons of oil time sorting out the mess in your e-mails.
Bitrix24 presetting
For this task we will use Email-tracker and the ability of Bitrix24 to run Business Processes when creating or editing Leads. Place for info storage — Universal list Workflow.


Tracker flow chart
Step 1. E-mail tracker settings
Before to start, be sure that you have rights to create Leads in CRM.
First of all, bind your email box to Bitrix24. Go to "Email integration options" in your personal menu in upper right corner. Choose E-mail Services and click your email service icon.
We tried Yandex and Google. Yandex.Mail is integrated very fast. Google is worried about safety and doesn't allow insecure applications to authorize. In order to start to work the tracker has to be set first.Open permission for "insecure" applications on your Google account settings page.

Advice. We recommend to create a separate folder "Workflow" in your email box so that the track would work only with this folder. If you tune your tracker for all your incoming mails you could get "garbage" in your CRM from service notifications. See, the example below.
+1 advice. During the first connection don't check "Take data for last 3 days" or you will get a huge headache sorting out your CRM ;(


Don't forget to set the folders from which the tracker should collect emails.
Test the tracker by sending an email to yourself from another email box and if everything is okay go to the next step. The result of tracker work would be a new Lead in CRM with contact data from the other account.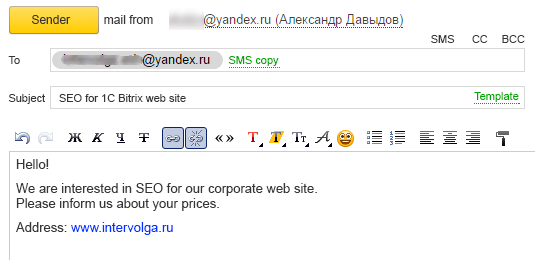 The letter, that have been sent to a service email address is below.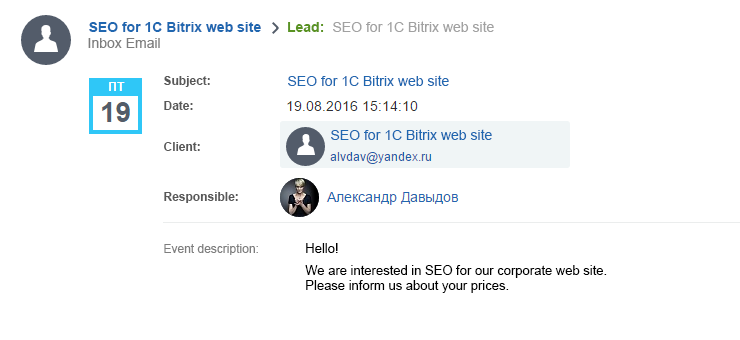 The letter is transformed to the Lead without any user participation ;)
Step 2. CRM settings

When Leads started to appear in CRM we have to set rules how to interact with them. Before we explain how to create tasks for new leads. Now we have to set the similar process — record addition into universal list «Workflow». The business process is very similar to that explained in the mentioned article, we will explain only nuances.
First of all, the Universal List has to exist in order to receive records.
Secondly, don't forget to add a condition that determines which leads you want to add to the list. We have limited only those which have "E-mail" value in the "Source" field.
Thirdly, think of a designation symbol for automatic records. We have decided to add «CRM» prefix to the number of a record and a date of creation. So that it is very easy to show them in a filter.


Process designer.


Elements in "Workflow" list created without any user participation.
Result

Now, any letter with a "Workflow" label creates a new Lead in CRM!
We have connected E-mail tracker for Lead collection from our e-mail box and created a new entity in our Bitrix24 portal. Business process runs when a new Lead added and saves needed date as incoming document for Workflow list. Now any letter with a "Workflow" label becomes a new Lead in our CRM system.
Task time is 20 minutes. Saved time for sorting out the mess in your emails is priceless!
For those who will share the article in social nets, we will automatically send the settings for the business process and the process itself in .bpt format to deploy it in your portal. If you don't want to set such a process by yourself, please fill out a form on our Bitrix24 integration page.
Postscript

We share the results of tracker work for one week.
Firstly, letters come to CRM not in the same instant, but with some delay. We find out about timeouts but seems to be from several minutes to several hours. The reason is not clear yet.
Secondly, if you determine several labels in Gmail letter, and set the tracker for one of them, the tracker will not be functional. Testing showed that there has to be only one label.

30.08.2016

Aleksandr Davydov