Goal: Increasing the flow of applications due to the promotion of groups in social networks on Instagram and Facebook.
Features of the promotion of beauty services in social networks. Makeup Artist Case
This article was translated automatically. We are working over improving the translation.
Please send your questions about the article to
info@intervolga.ru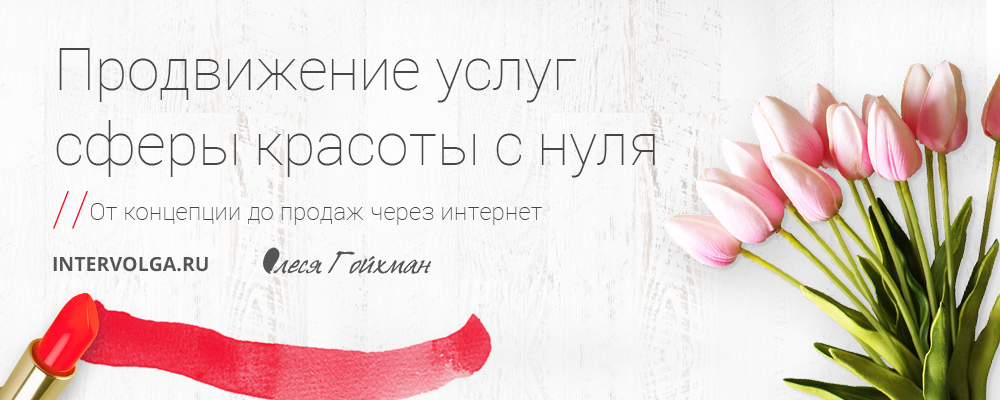 Goal
Increasing the flow of applications due to the promotion of groups in social networks on Instagram and Facebook.
Tasks
monthly increase in subscribers,

building up a loyal user base for the word of mouth effect,

attracting clients to training programs

building portfolio and connections through collaborative projects.
Cost of work + budgets
30,000 rubles / month.
Progress
Analysis
At the initial stage, we had neither a corporate style, nor a concept, nor UTP (a unique selling proposition, that is, what distinguishes your services / products from similar ones in the industry in the eyes of customers), because Olesya was a novice make-up artist.
Tip: if you do not know where to start, start with an analysis.
It was the study of market density, the pros and cons of competitors, as well as the systematization and conclusions from the information received, helped us draw various ideas and inspire our own chips. We have drawn up a SMM promotion strategy. This is the zero stage before creating a content plan.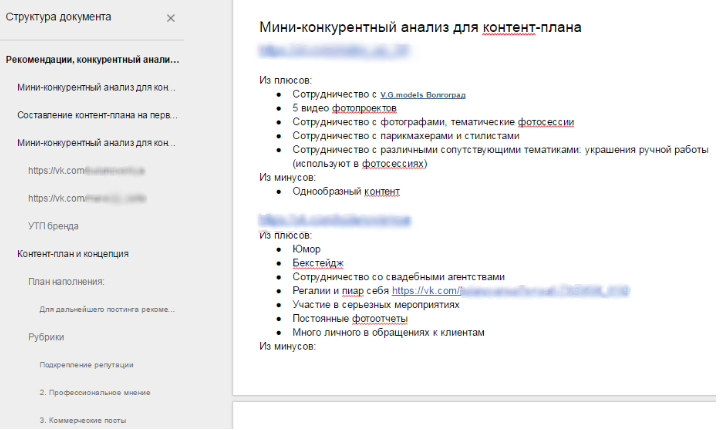 An equally important step was the study of search queries on the subject of visage. This analysis gave dozens of informational reasons for our content plan.
In the next quarter, the strategy was as follows: work out each site in turn a little more than the others. In the first month, the focus was on Instagram (as the most promising source in our opinion for our subject), in the second: VKontakte, in the third Facebook. Next, we agreed to take stock and make adjustments to the work plan.
Next, we developed the requirements for the design of posts. Of course, the work of our SMM specialists with post branding will not replace the full development of corporate identity, so it's best to take care of branding in advance. However, if you are just starting your business and there is no extra budget yet, you shouldn't give up and put off marketing for later. Where do you still get the money for the full support of the brand, if not c applications? And where to get the application? That's right, with advertising :) In our case - from social networks. We allocated some time for the project to work as a designer, the rest was done by the SMM specialist himself.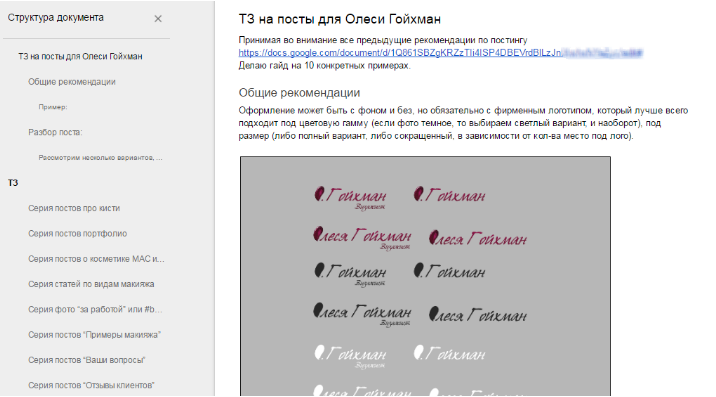 Registration and content groups
Making groups made in the same style: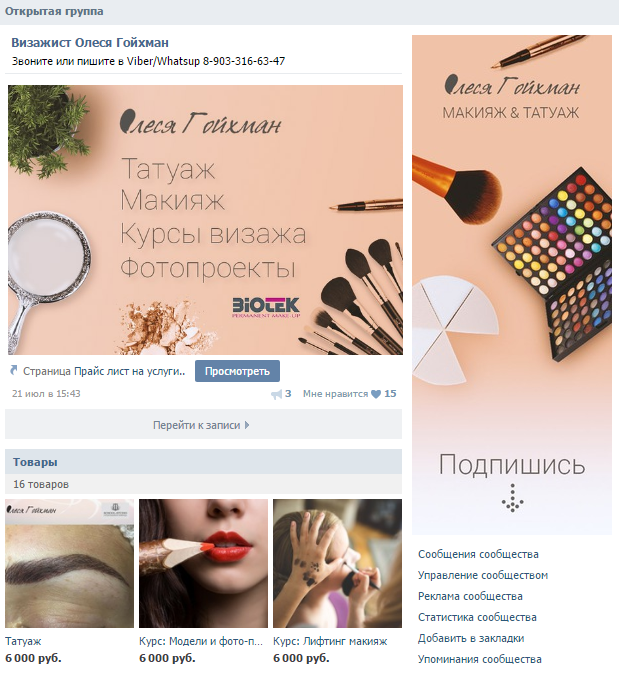 As you can see in the screenshot above, we added Facebook products-services.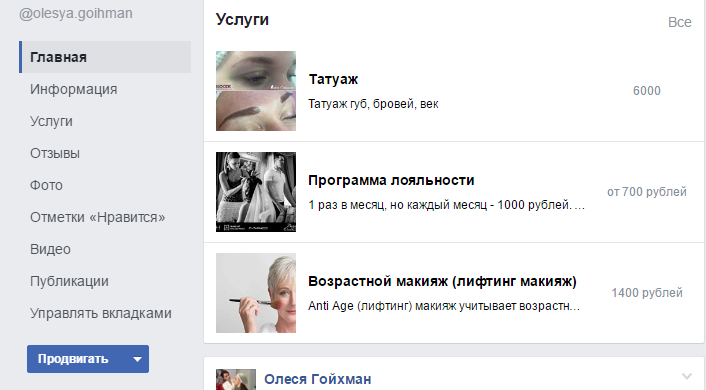 Olesya had a lot of photos of the works, we chose the best and took up the initial filling of the groups. In the future, we adhered to the content plan. The main material was produced by the Customer: photos of works, backstage of photo shoots, makeup tips, etc. We followed the regularity and variety of publications, branded posts, generated ideas and tasks.
Increase number of followers on Instagram
Set up targeted advertising. We have created 10 ad groups with different targeting and several ads in them.

Adding to friends like advertising posts.

Purchase and configure a special program to increase subscriptions to Instagram.

Mailings using Instagram Direct.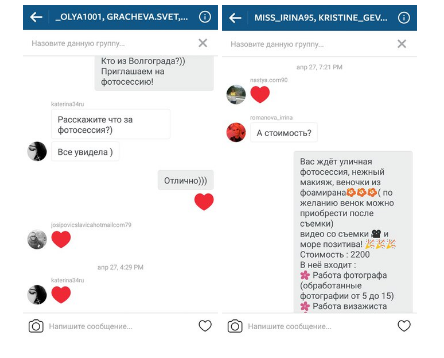 Buying advertising in Instagram accounts
Increasing Facebook Followers
Set up targeted advertising: for entry into the group, for publications and competitive events.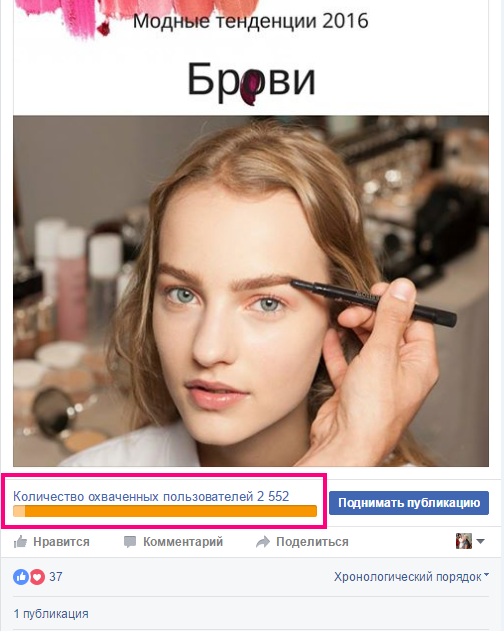 invitations to the group manually for those who put likes on promoted and regular posts.
PR does not happen much: non-standard solutions
In addition to paid photo projects, Olesya acted as a sponsor for the intellectual game of the EUMP: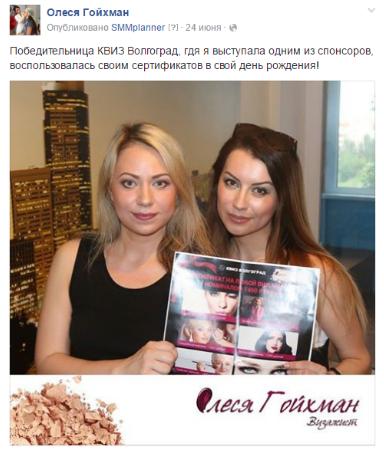 And also on one of the VKontakte mailings, an offer came to become a sponsor and make-up artist in the VolSU beauty contest. The participants of the competition presented the presented certificates again, at another VolSU competition: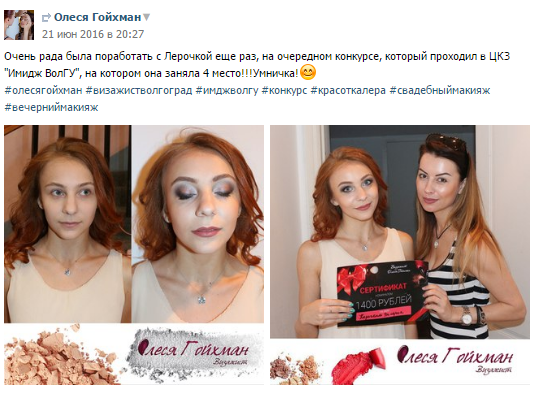 On our advice, Olesya added her services to wedding aggregators.

We searched for leads in social networks and sowed comments in thematic discussions.

We published 2 ads with a raise on Avito (gave more than 600 views).
Website creation and advertising in Yandex.Direct
At the end of the first quarter, Olesya was pleased. We decided to continue and add new methods of promotion, but for this we needed a website. Because the monthly budget is not large, we did not offer the Customer to make a website with individual development, and even a website on a ready-made solution 1C-Bitrix, which we have on the price with filling from 50,000 rubles - the client did not fit. What to do when there is no money, but the site really wants?
No, do not "hold on". And to make a site on wix.com for example, as we did: Olesyagoykhman.rf. These are 10+ hours of operation along with filling, optimization, installation of analytics counters and setting up targets, screwing the domain. Having a decent platform with concentrated information and the ability to analyze, you can already order contextual advertising. At this stage, we are in the process of gradual implementation of the Republic of Kazakhstan, but the site is already working and gives the first results.
Figures and conclusions
4 months of work, about 100 hours of specialists is a serious approach aimed at creating stable Internet channels that will bring profit to the Customer not only in real time, but will also have a good deferred effect with proper support.

Olesya herself shared with us the data on bids and paid orders. We calculated on their basis such indicators as:
ROAS — Return On Ad Spend , "Advertising revenue" or "payback on advertising expenses" is not uncommon, counted as a sum of transactions / advertising budget (62000/30500=2,03). It turns out that for every ruble spent on the advertising budget, we received ~ 2 rubles of turnover.

Marketing ROI — The ratio of the difference between the turnover from paid orders and advertising budgets to advertising budgets, we get: (62000-30500)/30500*100%=103,27%
In addition to profitability indicators, we can highlight the following numbers:
1000+ subscribers in all groups

2 photo projects with paid participation

2 collaborations as a sponsor and makeup artist
The dynamics of brand references is also important to track. Statistics service data for queries (2.5 months ago there were 0 impressions, now - 15 items).
At the same time, the combination of the name and surname "Olesya Goykhman" is so rare that they simply cannot look for someone else in the Volgograd region, we checked the issue :)
Also, positive feedback includes 10 reviews from customers in addition to comments under posts, which also attracts the attention of users and can play a role in the design of the application.
Tip: be sure to collect feedback (no matter how difficult it is), motivate customers to leave them. This is not just a feedback, it's word of mouth generators and silent sellers of your competence.
Findings
Now we see a clear trend that SMM is no longer treated as a very cheap and dubious work, and it is nice. Fewer companies are turning to schoolchildren for maintaining social networks, although for some small start-up companies, freelancer services, because of their accessibility, are more suitable than expensive agency services. But in this case, you should be lucky: the freelancer should perform his duties consistently and in good faith, not disappear for a couple of weeks, adhere to corporate style, be able to think strategically, and not just perform standard manipulations.
Of course, many companies hire full-time marketing / PR specialists and trust them with everything: from creating a layout for print ads to social networks, and this hodgepodge has not done much good to anyone. Specialization is important, the social network is not easy to conduct and it must be taken for granted.
There are also extremely rare cases in which a company can afford a dedicated specialist only on social networks. On the one hand, a staff member better understands the specifics of the company, it is more accessible in communication. On the other hand, often the "maintenance" of social networks comes down only to the publication of news, since The employee's technical knowledge may not be enough. And if there is enough creativity, responsibility, and knowledge of technology, this is a very expensive specialist and the price for his services even in Volgograd costs at least 50,000 rubles a month.
The ideal combination is when there is a specialist from the Customer's side who generates 70% of the content and acts as a project manager, and has its own designer, or at least a developed corporate identity, and the agency assumes everything else. Thus, we have been working for almost two years with the city's oldest cosmetological clinic.
The SMM market is changing, Internet literacy is on the rise, and increasingly, customers are making meaningful, profit-related goals, but not directly. We have heard in our practice: "I want to develop the social network so that, in combination with the rest of the advertisement, I get a good effect", "I want to have a platform for feedback and work with reviews", "I want to see that my company is lively and active" etc. Correct, but ambitious goals give birth to the right approach to the strategy of social networks. That, in turn, gives good results.
If you have a goal to make a profit in the shortest possible time, then you do not need SMM. Keep contextual advertising. If you have an online store - fill in the goods on the trading floors. If there is a database of emails - get busy with mailings. Frustrating SMM is easy. This is a lot of work that will bring profit sometime later, exceptions may be such industries as:
beauty (beauty salons, nail service, cosmetics),

food (delivery, cafe, catering),

event sphere (agency of holidays, animators, registration).
And some other exceptions. But if you have a plant for the production of gas blocks, you need SMM only if: a) it is facebook and linkedIn, b) only for image purposes and for the purpose of establishing business contacts.
Want an SMM offer from us? Write dav@intervolga.ru
Would you like to receive TOP15 tips on the best tools and methods to save the budget and increase conversions from social networks from our SMM experience? Share this article in social networks and fill out the form below.
This article was translated automatically. We are working over improving the translation.
Please send your questions about the article to
info@intervolga.ru
13.06.2019

Alisa Erofeeva