In recent years, we have seen client requests change from "I want a lot of traffic" to "I want to be in the TOP-5". We share what you should do to achieve this
SEO Promotion - walkthrough
This article was translated automatically. We are working over improving the translation.
Please send your questions about the article to
info@intervolga.ru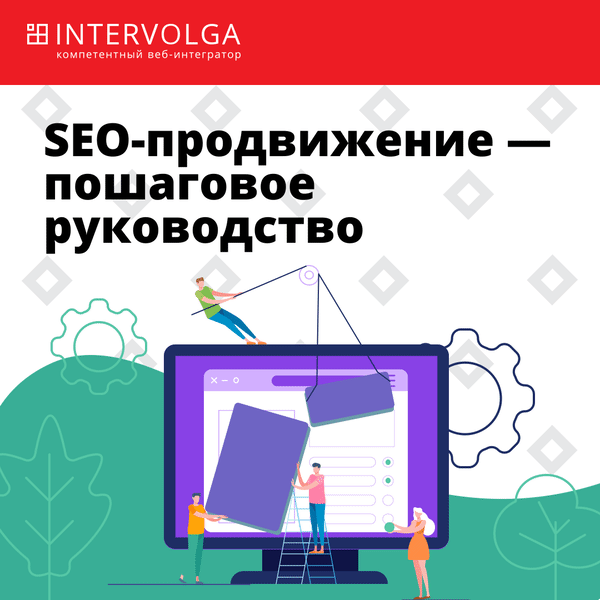 Our article on SMM promotion is the most popular in the blog. We realized that this format is interesting to readers. Therefore, inspired by the results, we decided to continue and write a step-by-step guide to SEO promotion. The plans - the same article about contextual advertising. Your rating is important to us - if you find something useful for yourself, please rate the article with stars :)
SEO (search engine optimization) — a set of measures to increase the visibility of the site in the search for user requests by increasing the position of the site on the results of the ranking of search engines.
The goal of SEO is highly dependent on the business and the project: for content projects - an increase in the number of visitors (traffic) to the site, for online stores - an increase in sales and conversion.
For several years, requests from our clients for SEO have changed a lot. "I want to be in the TOP-5" a couple of years ago came to replace "I want a lot of traffic", now - "we want smart SEO with an understanding of the project payback and work on the quality of traffic".
Over the many years of our experience and trend tracking, we can identify 10 key topical SEO postulates:
The speed of life dictates the search requirements. Adaptability and speed of loading are already required attributes. The search engines themselves provide tools for quickly loading the site on mobile devices (AMP-pages from Google, Turbo-pages from Yandex). The popularity of voice search is growing, there are more and more "quick answers" ​​in issuing, adding a chat with the company right in the search results for not having to even go to the site. All this has already resulted in a large update of the algorithms, for example, Yandex recently announced "Andromeda", and before that, Google introduced 20 significant changes to its anniversary.

Increasing the role of images and video content . First, there is more visual content in the search, pages with pictures and videos have better chances for ranking, all other things being equal. This is logical, because Canvas text read hard and not interesting.

Competitor and User Analysis is not a result, but an ongoing process. Engage, entertain - your new motto. The user becomes selective. It is no longer enough for him to see some article or just a product card, where there is information about price and availability. All this is on almost every site. Depending on the request, the stage of decision making and other factors, the user wants to see simple and high-quality information - reviews, documents, reviews, product tests, etc. In addition, it should load quickly and look good on its device. In general, you have to "dance" so that the user does not close the page. Therefore, it is now important to analyze the industry, competitors, "tails of requests", i.e. accompanying search factors and adapt it all to your resource.

Technical excellence of the project is a part of SEO. The promotion of a particular page is affected by the overall condition of the site. Technical errors should not be, so SEO goes hand in hand with technical work. In addition, be prepared for costs, if the competitors have a larger catalog, a better product card and, for example, unlike you have a smart filter, calculators, etc. If you want higher positions and more traffic - make the site better than the competition, it's simple, there is no big "push" button.

Want to top? Be able to spin. Fewer typical promotion scenarios, more individualized strategies. On the one hand, you will be supported by advertising placements, on the other - sites that are almost impossible to move (aggregators). "I want to be in the TOP-1 by popular request in Moscow" - the goal is to increase self-esteem, and not for the benefit of business. Sometimes it's impossible to compete for head-on traffic, you have to go around. In addition, what worked for one site may not work for another in the same area.

Content is king and forever. Content is important not only for article sites - reviews, research articles, detailed guides and materials with a variety of content give a good boost to online stores. Such longrids are long and expensive to do - but that's the point of content marketing as a strategic investment in future traffic.

"Best the enemy of the good". First, do the most important and urgent - then the rest in order of prioritization. Protracted with approvals lasting for months (for example, until every text is liked by all employees) dramatically reduces your chances of success. Use an iterative approach, be prepared for imperfections or lose profit.

Continuous improvement — even a perfect launch cannot be done once and for all. Previously, it accidentally "shot", especially with the old domains. Now everyone is waiting for change sooner or later, which forces site owners to constantly finish, create and invent something. There is no longer the concept of "the site is moving on a specific list of requests." LF keys affect MF / HF and vice versa. We need to act in a comprehensive manner, track several indicators at once and see the big picture. And this is not always bad, sometimes not the requests for which the bet was made initially are converted.

Integration with social networks — increasing the role of traffic from social networks, sharing of pages in social networks and other trends.

Everything for people. Request and response must be the same. Do not forget about the main goal of search engines - to give relevant relevant content, so that the user quickly received the necessary information. Sharpen one page for dozens of keys will not work, but this is not necessary. The user wants to see what suits his needs. Search engines are focused on human needs, i.e. providing the most relevant, high-quality information. The times when there were separate manipulations for search engines passed. Make the site "for people" and you will not lose.
Follow the trends well. But do not forget about the basics. If you are starting from scratch or want to systematize your knowledge of SEO, this article is for you. There is a long reading ahead, where we consider the work on the site from different angles.
Search promotion is long-term process. You can not see the result of the action for several months, and if you make mistakes, then promote the site will not work at all. For many, SEO is "dancing with a tambourine," a pool in which it is better not to dive. The article is intended for those who want to understand how search engine promotion specialists work and apply knowledge in practice.
SEO promotion consists of several directions. Consider each. The order of works is recommended as indicated below, but the priority of tasks still depends on the project being promoted.
Internal optimization
By internal optimization, we mean:
collection of semantic core;

writing meta tags;

website text optimization;

commercial components for online stores or service sites.
Semantic core
Semantic core (SC) — a set of key phrases (inquiries) that characterize the site and that the user drives into the search box.
Correctly assemble a SC before creating a site to think about the correct structure and navigation. But basically, requests are collected for a ready-made site, so often you have to redo the structure of the site to the core.
Why is it important to build a semantic core? Imagine that you are building a house and have poured a foundation for construction. SC is the foundation, and the site is your home.
To collect SC, you need to know the queries that people enter in the search. The most convenient tool for this is https://wordstat.yandex.ru. Choose a promotion region that interests you, enter a request that matches your website theme, and click on pick.

The obtained figures show how many times a given request was searched in Yandex. But! The specified number does not mean that it is the number of times the request has been entered. This number is the sum of all queries that contain the entered phrase ("iphone x" in our example). In this way, one can estimate the demand for a product or service, as well as the popularity of the information topic. To find out how many times you searched for exactly the query that you type, you need to put an exclamation mark before each word and enclose a word or phrase in brackets: "! Iphone! X". This data should be used.

The task at the stage of preparing the semantic core is to collect the maximum number of key phrases that will lead potential customers.
Services for collecting SC except Wordstat:
Free

Keyword Planner Google (Google Keyword Planner).

Analog Wordstat, only for Google. Less convenient and accurate, but you can find keywords that are not in Wordstat.

Букварикс (There was a paid rate, but the free version has many features).

Search for key phrases by which competitors in search are ranked.

Slovoeb

Free program quickly "parsit" requests from Wordstat and collects frequencies.

Paid

Multifunctional platform for SEO and contextual advertising. Allows you to analyze keywords that rank your site and competitors.

Analogue Serpstat, only there is a large database for foreign sites. More suitable for promotion under Google.

Without technical difficulties, you can quickly collect a large number of requests.

Looks like Bukvarix, only there are additional functions: the definition of relevant pages, search for competitors, etc.

In addition to collecting data from Wordstat, it determines the competition of requests by its algorithms.

Software that collects up-to-date information directly from source services: WordStat, keyword planner, mutagen, moab tools, etc. Allows you to receive information from most popular Russian-speaking and foreign sources.
There are many other similar services, choose those that are convenient for you.
When collecting data, there will be many keys, among which there will be "junk" - those that do not belong to your site (buy a boo, anecdote, free of charge, etc.). Their and requests not related to your site should be removed from the core.
Clustering
After collecting all the requests related to the site, the next step is clustering (grouping) key phrases.
Imagine that we sell televisions. We have a semantic core.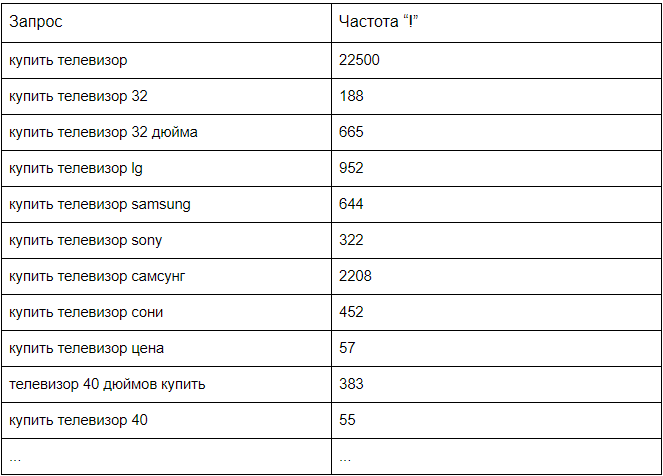 The site has a section with TVs: site.ru/catalog/televizory/. The task is to single out requests into one group, under which a separate landing page will be created. In our case it will be like this: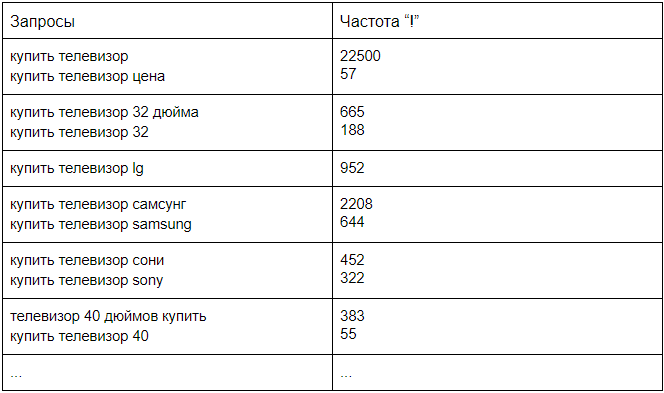 Clustering can be done manually, but if you have hundreds and thousands of requests, it is better to use automatic services. Recommend:
They are grouped on the basis of the issuance of top search engines. Manually finalizing the results is still needed, but the time savings will be substantial.
Meta Tags
Meta Tags is a part of html-code.
<title> — page title. It is displayed as the name of the tab in the browser window and as a snippet title (displaying information about the site page in search results).

<description> — page description.
In the title we recommend to include the request with the highest frequency, a unique selling proposition and a solution for the visitor. If you have two frequency requests, add the second key also to the title: after the full stop - if the words from the requests match; through the dash - if the words from the requests are different.
Examples:
Buy a set of kitchen knives - knives for the kitchen of good steel
Carpet dry cleaning - cleaning and washing with a fence and delivery in Moscow
SEO Promotion - walkthrough
Title has a limit of 60-70 characters. If the number of characters is greater, the search engine will choose which part to show in the search results. Therefore, the most important query should be closer to the beginning of the meta tag.
Title - one of the most important elements for site promotion. In 90% of cases, the one shown in the html-code is displayed. Description is either shown as text from the meta tag <meta name = "description" content = "Text description" />, or it is selected by the search engine from the text of the page, or it can combine both methods.
Correct description:
does not match the title;

contains keywords that remain unused in the title from the semantic core, relevant to the page being optimized;

has a length of about 160 characters;

describes visitor benefits on page..
Examples:
Japanese Tanto knives in Moscow in the online store XYZ. You can buy a samurai Tanto knife from us both for yourself and as a gift. Delivery across Russia.
Social Media Marketing (SMM) is the process of attracting attention through social platforms.
Dry cleaning-laundry «XYZ» - pick up and deliver clean carpets themselves. Cleaning and washing services for carpets in Moscow. Prices are on the site and ☎ 7 (495) 99-99-999.
There is also a keywords meta tag. Previously, its impact on the promotion was very strong, but now it is imperceptible. Some optimizers say that it should be filled, others leave it empty. We recommend simply to list 2-3 key keywords separated by commas.
When filling in the meta tags, we remember the rule "the best enemy of the good". If you need to do the optimization quickly and get some results already, and there are a lot of pages (important for online stores with a wide range), we recommend getting away with templates. In the future, you can work out the optimization of existing or new pages for the most interesting queries.
CTR
CTR (click-through rate) is a clickthrough rate, which is calculated as the ratio of the number of clicks to impressions. CTR influences search results: the more often people click on a page, the higher it will be in the search results (provided that the content on this page matches the user's request).
CTR directly depends on the snippet. If the meta tags are written attractively, a micro-markup is used, a chat with the company is used, then the snippet will be more noticeable than that of the competitors, which means the chance of moving to the site from the search will increase.
You can find out CTR statistics in webmasters.

Text optimization
It is advisable to use all the words from the collected key phrases for the landing page, especially those used in the title. Perfect text:
structured. Contains subheadings, lists, tables, etc .;

unique. Search engines do not need the same texts on all sites. Check uniqueness in services: https://content-watch.ru, https://advego.com/antiplagiat/, https://text.ru . With that, you need to accept the fact that the uniqueness of the text is a dynamic indicator. If the text is dragged to quotes or even completely copied - you may have to be uniquely again, but this is not always justified - the priority of the task is lower than the writing of new texts and the ideal technical condition of the site;

contains keys from the semantic core;

It benefits the reader, does not contain "water", as a diploma :-);

not re-optimized so as not to fall under the filter, i.e. does not contain a large number of key phrases. We recommend that the key density - the frequency of its use with respect to the entire text - be no more than 4%.
The amount of text depends on whether you have an online store or an information site. In the first case, it's enough to write about 2500 characters per category page, for infosites we recommend not to be limited to numbers, but to write text that fully covers the topic.
Text Quality Services:
Internal optimization can be done independently according to our recommendations, since to perform the work does not require programming knowledge. But if you need the help of SEO professionals or save valuable time, just call INTERVOLGARU.
Technical optimization
The technical part is important for search engines. A person may not see errors, but search engines check all parameters when scanning a site. We will try to reflect the most basic points to check.
Indexing and doubles
Site indexing is configured in the robots.txt file. Each site has it and is available at site.ru/robots.txt. If there is no such file, it should be created. This can be done in a regular notebook.
If robots.txt has strings
User-agent: *
Disallow: /
The site is not indexed by search engines.
Disallow directive prohibits indexing, Allow - allows. It is through them that the pages that the search engines should visit are customized.
https://www.intervolga.ru/robots.txt
About syntax, special characters and rules for writing directives in robots.txt is written in Yandex and Google certificates:
https://support.google.com/webmasters/answer/6062596?hl=ru&ref_topic=6061961 ,
https://yandex.ru/support/webmaster/controlling-robot/robots-txt.html .
Bitrix and other CMS generate a lot of duplicate pages: sorting, filters, search results, etc. To prevent the search engine from visiting these pages, the appropriate directives are indicated in robots.txt. Signs of duplicates: identical meta tags, headers, contents. You can find out if there are duplicate pages on your site using programs and online services:
All this software is paid. From the free can be identified:
Many useful free features have Pixelplus Tools.
Sometimes it is necessary that the double page is freely indexed, but does not interfere with the promotion of the site. Frequent cases: page navigation or one and the same product in different product categories. In this case, the attribute rel = "canonical" is set to a more preferred URL, which will participate in the search.
If robots.txt contains errors, this can lower the site in search results, negating all optimization efforts.
Download speed
Both users and search engines love fast sites. Slow pages lose users, and therefore do not bring profit to the owner.
Services for checking the speed of the site and getting recommendations for improvement:
Long download time is a factor of failure and return to the results of search results. The recommended download time is no more than 3 seconds. According to a study from WPO (https://wpostats.com), increasing the speed by just 0.85 seconds increases conversion by 7%. Failures are affected by any pop-ups, especially on mobile devices. In the aggregate, all factors that influence the actions of a site visitor are called user.
404 error
A page that does not exist on the site must give 404 a server response code and report this to the user on the screen. If a non-existent page gives the response code of server 200, it will be indexed and considered as a duplicate.
The correct page with 404 error should:
notify that at this address the page does not exist;

have a search form on the site;

be in the same style as other pages;

have links to key site categories.
Examples:
https://www.intervolga.ru/404/
Internal links to pages with 404 error should not be. The services listed in the item "Indexing and doubles", as well as Yandex.Webmaster and Google Search Console will help you find them.
Human-readable URL
To make it clear what it is, let's compare the address with the human-readable URL and without.
| | |
| --- | --- |
| Without human-readable URL | Human-readable URL |
| site.ru/index.php?id_catalog=74632 | site.ru/catalog/detskie_knigi/ |
In the first case, the address is completely incomprehensible about what the page. In the second you can see that the page is most likely a catalog of children's books. Addresses with a human-readable URL are preferred. But do not do perespam in the URL address. Do not allow this:
site.ru/ kirpich / kirpich- stroitelnyy/ kirpich -stroitelniy-polnoteliy/ kirpich -stroitelniy-m-100/.
Sitemap.xml
File sitemap.xml is site map for search robots. We can say that it is its content, which lists all pages of the resource. The sitemap.xml file allows the search engine to quickly understand what pages are on the site. As a rule, the file is located at site.ru/sitemap.xml, it is necessarily indicated in robots.txt.
https://www.intervolga.ru/sitemap.xml
Sitemap.xml is responsible for accelerating and completing the site indexing. Sitemap.xml and robots.txt should not contradict each other: all pages excluded from robots.txt are also excluded from sitemap.xml. A frequent problem is the simultaneous work on the site of programmers and seo-specialists, especially when a new site is being developed. Some changes are erased by others, the presence of "fish" pages - as a result, unnecessary pages are indexed, and the necessary ones are not included in the site map. Therefore, periodically it is worth checking which pages are listed in the sitemap.
Primary mirror
For a person there is no difference what the address of the site: site.ru, www.site.ru, https://site.ru, https://www.site.ru - any of these options can be entered in the address bar. However, for a search engine, these are four different sites that have the same content.
Determine which site address will be the main one, and set up 301st redirects from the remaining addresses to the main one.
Micromarking
Micromarking (or semantic markup) structures the data for search robots, increases the attractiveness of the snippet in the output by displaying additional data and improves the appearance in social networks.
OpenGraph is used to beautifully display information when "sharing on social networks".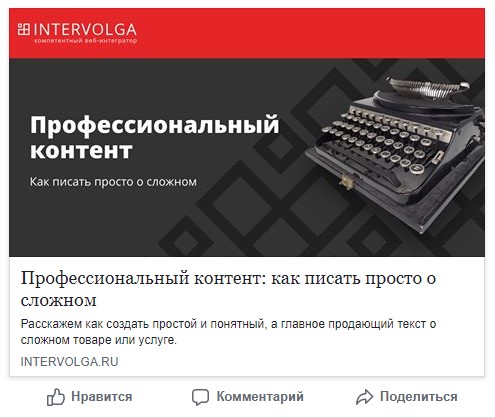 Schema.org is most often used for contacts, merchandise, bread crumbs, articles. But this markup can also be used for recipes, films, reviews, etc.

For example, for medical clinics reviews strongly influence the decision on treatment. Therefore, they should be well developed, incl. have a micromarking. More about SEO promotion of medical clinics can be found in our article.
HTTPS
The presence of a secure connection protocol is primarily intended to encrypt users' personal data (names, phones, bank card numbers). Connecting an SSL certificate will not allow fraudsters to intercept this data, therefore it is a plus to the ranking for search engines. The advantages of https in ranking are officially announced in Google blog.
When connecting HTTPS, it is important to configure 301 redirects from http pages to similar ones with https: site.ru/catalog/telephone/ will be redirected to site.ru/catalog/telephone/.
Server Answer Headers
The page with which everything is in order gives the response code 200. All other values require an analysis of the problem.
Most common:
answer starting with 4. Indicates that the page is unavailable (404) or deleted (410);

a response starting with 5 indicates a server problem;

the answer with the number 3 at the beginning indicates the redirection of the page.
You can check the server responses in webmasters, as well as in http://mainspy.ru/otvet_servera и http://simple-seo-tools.com/ru/headers .
Mobile Optimization
According to Yandex statistics, more than 50% of Internet users access websites from mobile devices along with computers, and one fifth use only a telephone to access the Internet. Google has already begun to consider the mobile version as the main one.
Check whether the site is optimized for mobile search, help the search engines themselves: https://search.google.com/test/mobile-friendly?hl=en- at Google, https://webmaster.yandex.ru/site/tools / mobile-friendly / - from Yandex.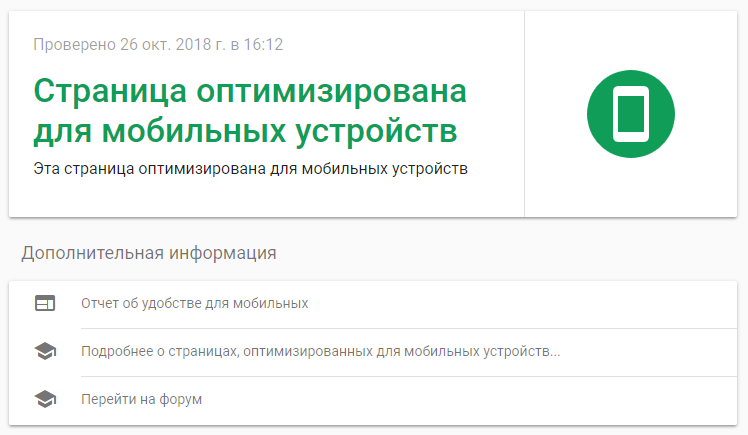 We have broad competence in working with 1C-Bitrix. This CMS is a complex technical system and requires optimization. Order website development from us and be sure of the correct technical setting of the resource for SEO.
It is often enough to develop a website on a ready-made solution, adapt it to the corporate identity, transfer content, make basic optimization, and traffic will start to grow.
External optimization
According to the search engines, if one site refers to another, then it considers it to be of high quality and reliable. The more such links to a resource, the more authoritative it is. Therefore, we must strive to increase the external link mass, but the quality of links is more important than quantity. One link from a thematic high-quality resource, under which there will be conversions, is preferable to several links from sites hung with advertising with low traffic.
Strategy
Buy links do not mindlessly, because you can hurt yourself by thoughtless purchase. Link building today requires a certain strategy. To make a plan for the growth of external links, you need to analyze the competitors from the top 10:
how many external links they have;

which pages link to;

how many links appear per month;

sources;

type of links - anchor, bezankornye, brand.
Tools for analyzing the external reference mass of competitors:
How to get external links
After developing a strategy, you can begin the process of obtaining external links.
Links are:
purchased;

natural - when someone liked the page and shared it.
Buying links is wrong from the point of view of search engines. There are algorithms that track this process and impose sanctions. But there is no easier way to get an external link to the site. Purchases are made on "exchanges", for example, https://gogetlinks.net. On such resources, site owners provide services for placing links to other sites on their pages. The method is more complicated and costly - directly find and negotiate with the site owners. This method is better because The site for link placement will be of higher quality, which means less chance to get under the filters.
With natural links at the same time easier and more complicated. To get them, it is enough to make content on the page with high quality, so that people like it and they want to show it to others. This is a long and laborious process, but it gives the best results.
To increase brand awareness and for low-frequency queries, a tool called crowd marketing is suitable. It includes links from forums, question and answer services, social networks.
Commercial factors in SEO
For commercial sites, an important role is played by the reliability of the company, the usability of the site, the quality of the services provided, and a wide range. There are a lot of commercial factors of ranking, we will highlight the main ones:
Detailed contact information. The more information about the company, including the location map, all means of communication, several phones, the higher the confidence of users and search engines;

availability of accounts in social networks. Popular social networks with real subscribers and a certain frequency of filling with useful content are taken into account: VKontakte, Facebook, Twitter, Instagram, Youtube;

lack of advertising. Ad units, third-party resource banners are rated negatively. A commercial site should earn by selling its products or services, and not by third-party means;

variety of assortment. The times when there was one product on the shelf remained in the Soviet past. Man needs to be given a choice. The sales volume of a large retailer is higher than that of a small convenience store near the house, due to a wide range. A large number of product categories, positions and services will give a significant plus to the ranking and increase in the number of sales;

itemization card product. The buyer should offer to "touch" the product: photos from different angles, video reviews, 3D models, reviews, popularity rating, detailed description, information on availability and delivery;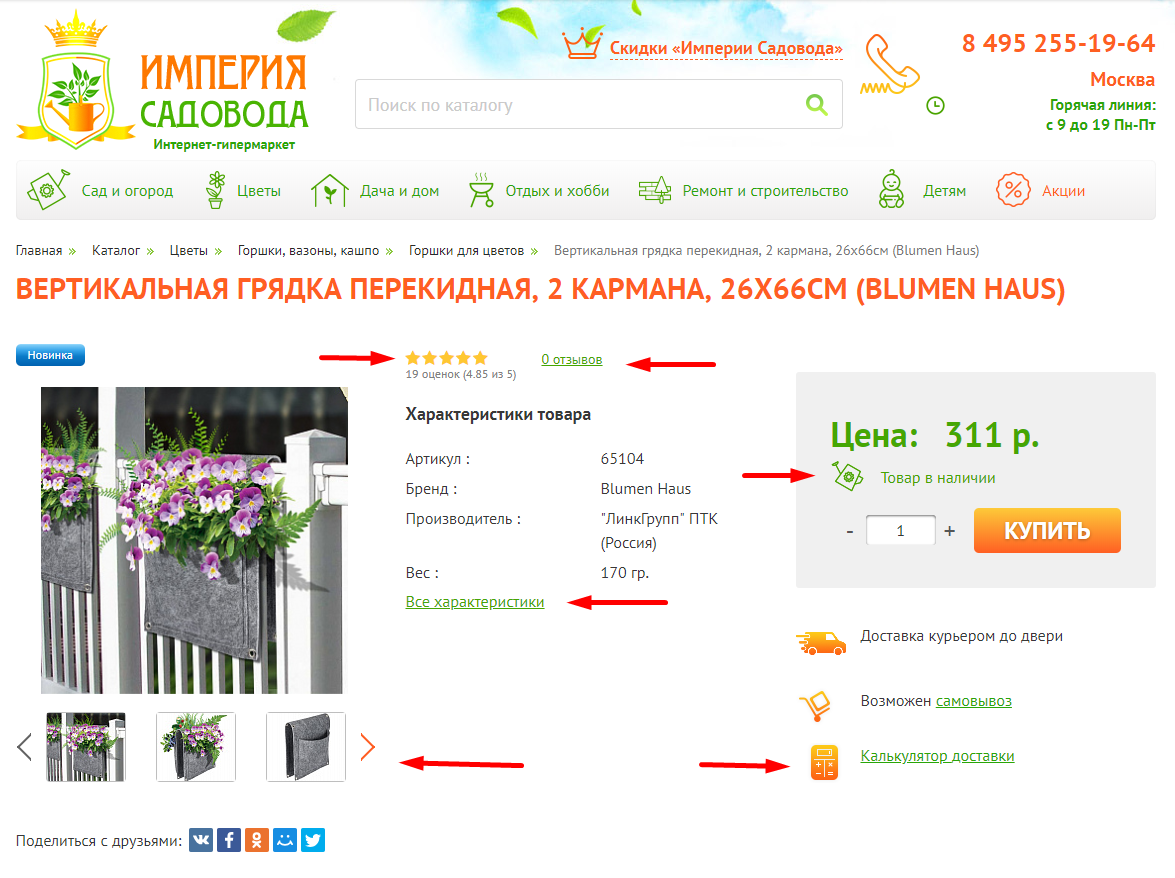 availability and convenience of delivery. Delivery methods, terms, whether it is possible to pick up, in which regions delivery is carried out, how much it will cost - these items are important for a potential buyer and should be on the site;

availability of customer support. This includes telephones, the "Help" section, FAQ, CallBack, online consultant;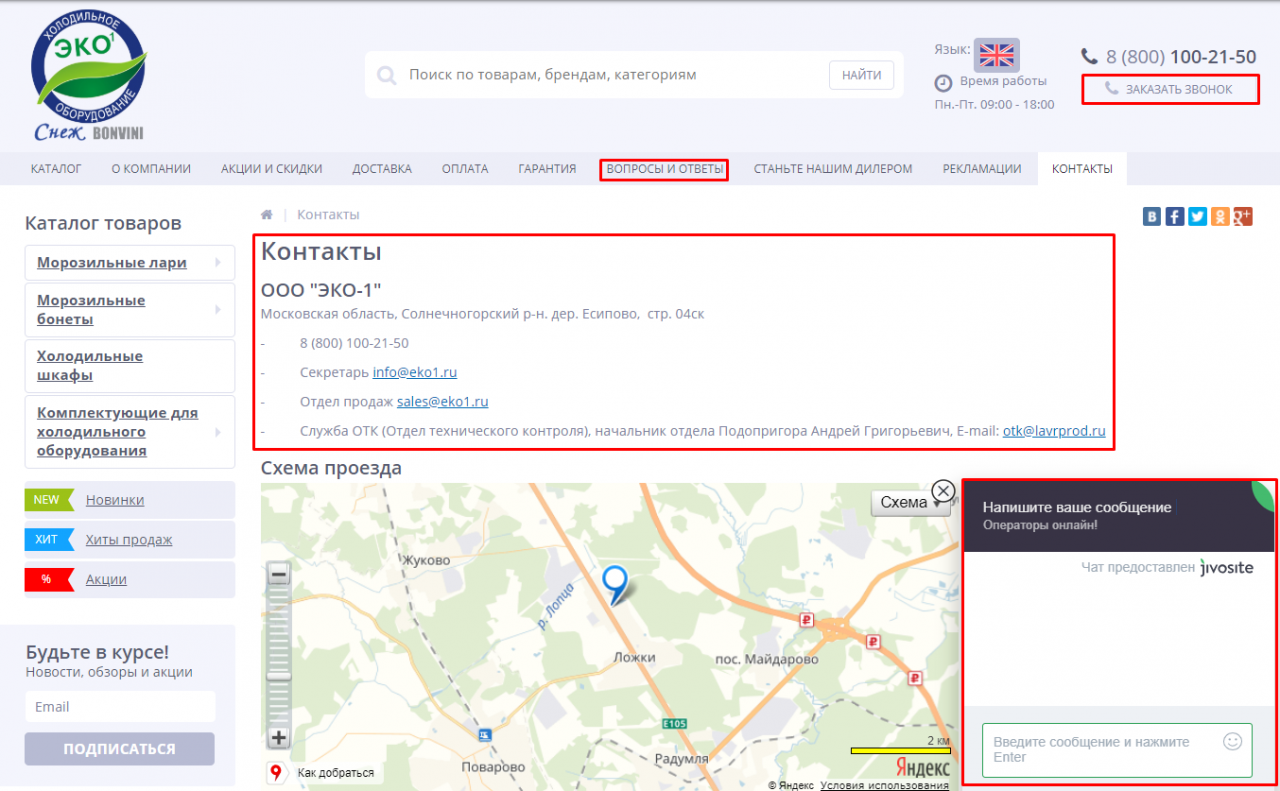 discounts, promotions and sales;

readability of the domain: it is remembered and affects the brand awareness and repeated visits to the site;

average length of the URL page of the site. The address should be clear, readable, not bulky without re-spamming keywords. For example, site24.ru/product/khimchistka/odezhda/verkhnyaya/kurtka/;

consistency of title and content. If the title says prices, there should be prices on the page. Do not fool users;

average page nesting level. Ideally, any page should be located at a distance of no more than three mouse clicks.
Local promotion
The site of a company that works only in Moscow should not be shown to users from other cities. The geography of advancement influences trust from the search engines: it is better to show in search a large company that sells or provides services throughout the country than a company that may close in a week.
The determination of the regionality of the site in Yandex and Google is different.
In Yandex, a region is assigned via webmaster panel or via Yandeks.Spravochnik .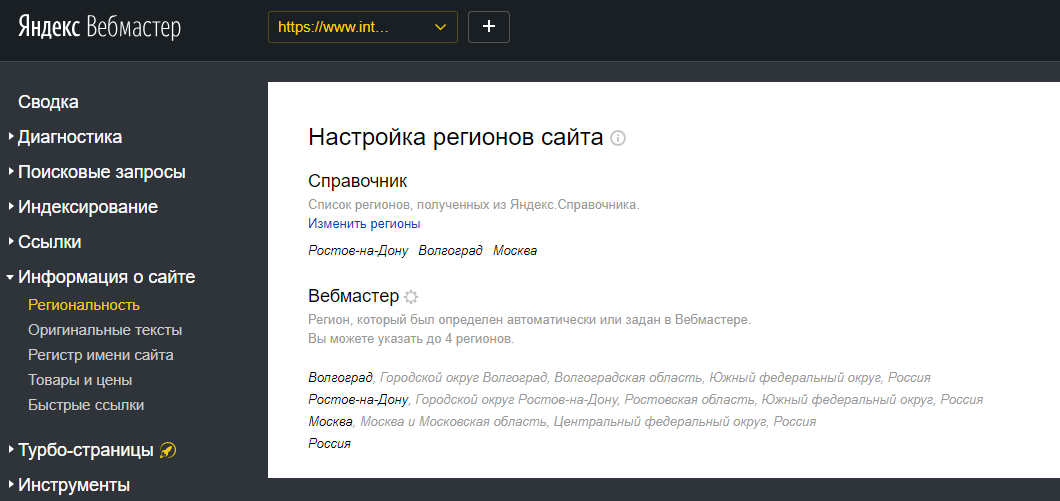 Google has no tools for manually assigning regionality. But there are ways to help him identify a region:
add a site to Google My business is an analogue of Yandex.Reference;

write in the city meta tags;

receive links from city portals;

mention the region in the text on the page.
If the site is promoted in several cities, it is not necessary to list them all on one page. With multi-regional SEO promotion, choose one of three ways.
Way

Advantages

Disadvantages

Using subdomains:

moscow.site.ru

spb.site.ru





So recommends to do Yandex, and it really works in Yandex.




Each subdomain in the webmaster can be assigned a region.

Google pessimizes the main site for duplicating content on subdomains. Therefore, subdomains in Google are closed from indexing.




Subdomains are separate sites with their own history and reference weight.




Create separate content for each subdomain.

Using folders (sections):

site.ru/moscow/

site.ru/spb/

Easy to create and optimize.




Reference weight is not lost.

Cannot assign a region directly.




Create separate content for each section.

Using GeoIp

Generation of content depending on the selected city.

Difficult technical implementation.




Cannot assign a region directly.




Creating separate content for each city.
Conclusion
Works on SEO consist of several stages, each of which consists of nuances. You can promote the site yourself, but it is better to entrust it to the optimizing experts who have the appropriate knowledge for this. Leave a request for SEO-promotion and get more applications on the site from the search!

This article was translated automatically. We are working over improving the translation.
Please send your questions about the article to
info@intervolga.ru
29.07.2019

Aleksandr Kizima

Alisa Erofeeva