Telephony Asterisk and Bitrix24
This article was translated automatically. We are working over improving the translation.
Please send your questions about the article to
info@intervolga.ru
Introduction
Each company invariably passes certain "milestones" in its development:
accounting system,

internal and external electronic document flow,

task tracker,

CRM.
It has arrived (and for a long time) it's time to pour calls into this controlled information flow. All the conditions have already been created: it is hundreds of IP-telephony providers (among them there are both market giants and ambitious newcomers). Every second CRM system already has the ability to integrate with PBX. And we can help you complete this integration.
Let's see what opportunities the Bitrix24 platform provides for integration with telephony systems.
Ways to Integrate Telephony with Bitrix24
In the corporate portal Bitrix24 there are two ways to work with telephony: standard and connect your own PBX. In this case, it does not matter if you have a corportal or a box in a cloud.
Immediately make a reservation.
By "standard" telephony in Bitriks24, we understand the conversation through the telephone built in the interface of the corporate portal and the operator Voximplant.

Calls from an employee's mobile phone to a customer are not related to Bitrix24, this is a direct call and is paid by the mobile phone operator.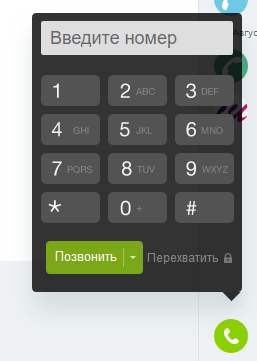 Standard Bitrix24 mode for incoming and outgoing (no PBX)
If you do not have telephony yet, the fastest way to start it is to use the built-in Bitrix24. You sign a contract with Bitrix for the rental of a room. Two dozen countries are available. For Russia there are several dozens of cities and federal numbers 8-800.
For city numbers only outgoing calls are charged, for federal ones both outgoing and incoming are charged at a special rate. You can not select another operator and other rates. All numbers require a monthly payment of 250-2000 rubles, in addition to the fee for the actual conversation, and some numbers are required to pay a one-time payment upon the first connection (up to 7000 rubles).
After connecting and setting up, all calls made via Bitrix24 "outward" from customers will come from one of the rented numbers (set in the portal settings). All calls from customers to rented numbers will come to Bitrix24.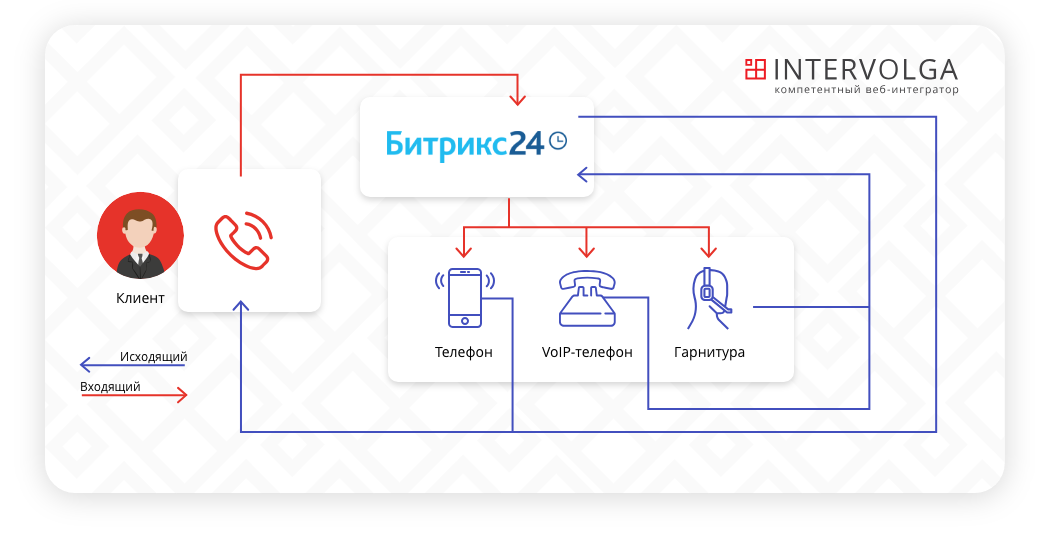 It's up to you to decide which number will be displayed to customers during outgoing calls from your employees. This can be either one of the rented numbers or a city number for your sales department. The number is bound for 3 months, then the binding must be repeated (manually). This service is free.
Own PBX for incoming and outgoing
Bitrix24 can be integrated with almost any modern IP PBX. The most popular IP telephony system in the world (1 million installations) is Asterisk, and we will take it as an example.
Method one: duplicate traffic through Bitrix24
For companies that already use a cloud or office PBX in Bitrix24, a simple integration mode has been developed. The main advantage of such a scheme: simplicity and high speed of installation.
In the settings of your PBX, a new account is created for Bitrix24.

The IP address of the PBX, login and password are entered into Bitrix24

The "SIP connector" mode is activated in Bitrix24 (990 rubles per month). You can take immediately for a year.

All calls are paid by your PBX operator.

The call processing logic is in Bitrix24.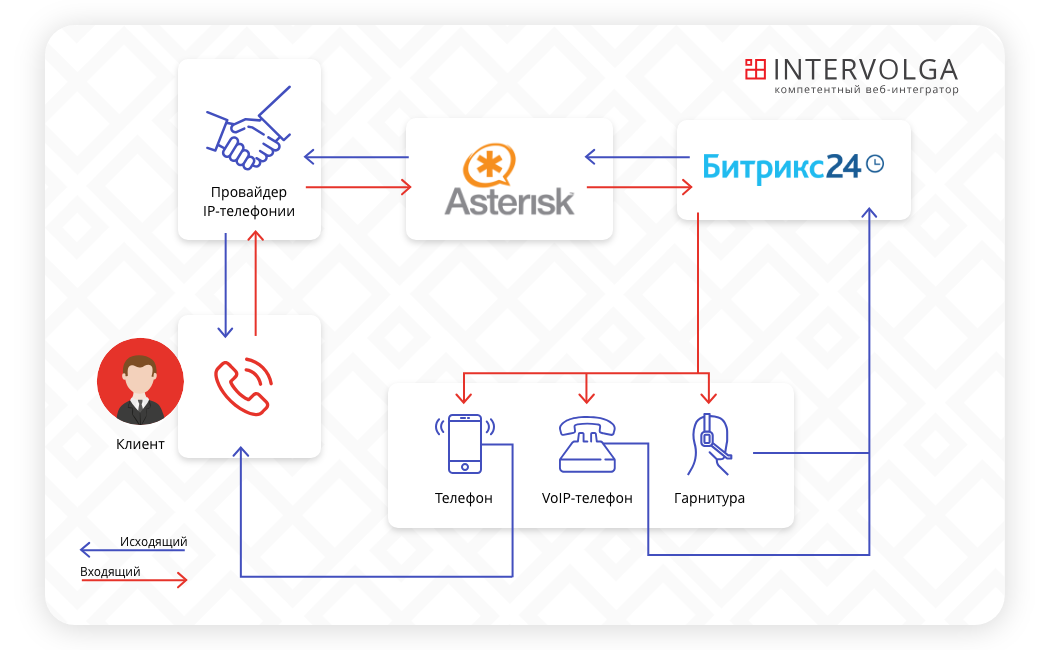 Please note: a new node is added to the classic provider-PBX-phone chain: Bitrix24. What it can lead to.
Failure in Bitrix24 breaks the telephony.

Voice traffic goes first to Bitrix24, then to PBX. If the Bitrix24 server and the server of your PBX are located in different parts of the country, it can lead to serious delays in conversation with customers.
Method Two: Bitrix24 as an "interface" to your PBX
It so happens that the PBX in the company has been used for a long time. If dozens of its rules are set up, then there is no desire to "move" with these parameters in Bitrix24. In this case, integration with the application from the Bitrix24 marketplace or directly will suit you.
All calls are paid by your PBX operator.

The call processing logic is completely in your PBX.

The standard Bitrix24 feature "conversation in the browser" becomes impossible. Requires installation of a (free) softphone on the employee's PC (aka "softphone"). Otherwise, there are no differences: for incoming and outgoing CRM cards are displayed.
How exactly to integrate telephony with Bitrix24 depends on how you have configured Asterisk. If the FreePBX panel is installed, then the Asterisk Integration application is suitable.
If you have a "naked" Asterisk, then integrate it with Bitrix24 is already more complicated, but we can - contact us.
The necessary ingredients to configure Asterisk + Bitrix24
You will need
A separate server for Asterisk with CentOS 7. The newer the OS, the better.

Asterisk capacity requirements are small. About 100–200 MHz is spent on each active conversation — based on this, you need to choose a processor. Practice has shown that for a company of 10 callers, a server with a 1 GHz processor is sufficient.

Hard disk: the more space, the more records of conversations you can store.

Bitrix24 (cloud or box). Integration with external telephony is available at all rates. Important: Bitrix24 tariff limits do not affect Asterisk. You can talk as much as you want, without restrictions. All call records are made by Asterisk.

Asterisk itself. We tested on the latest available version, 15.5.

The web interface to Asterisk is FreePBX 14 (the option is possible without installing FreePBX).

IP telephony account to get an external number. Dozens of providers, we used zadarma.com.

Softphone or physical IP phone for testing. All applications are more or less the same, we used two: X-Lite and Zoiper, and we were pleased with both.

Application for Bitrix24: Integration with Asterisk. Free, for 2 users, more than paid 1990 rubles per month. Required if there is an integration task with the FreePBX interface. For the "bare" Asterisk installation and payment of the application is not required, but you need a programmer-administrator to configure.
It is not recommended to install Asterisk on the server with the Bitrix24 "box": an accidental interruption of the site's work may adversely affect the telephony of the entire office, and this threatens a local catastrophe. A separate server for telephony is a reasonable measure. Only one compromise is possible: running Asterisk on a separate virtual server.
Integration scheme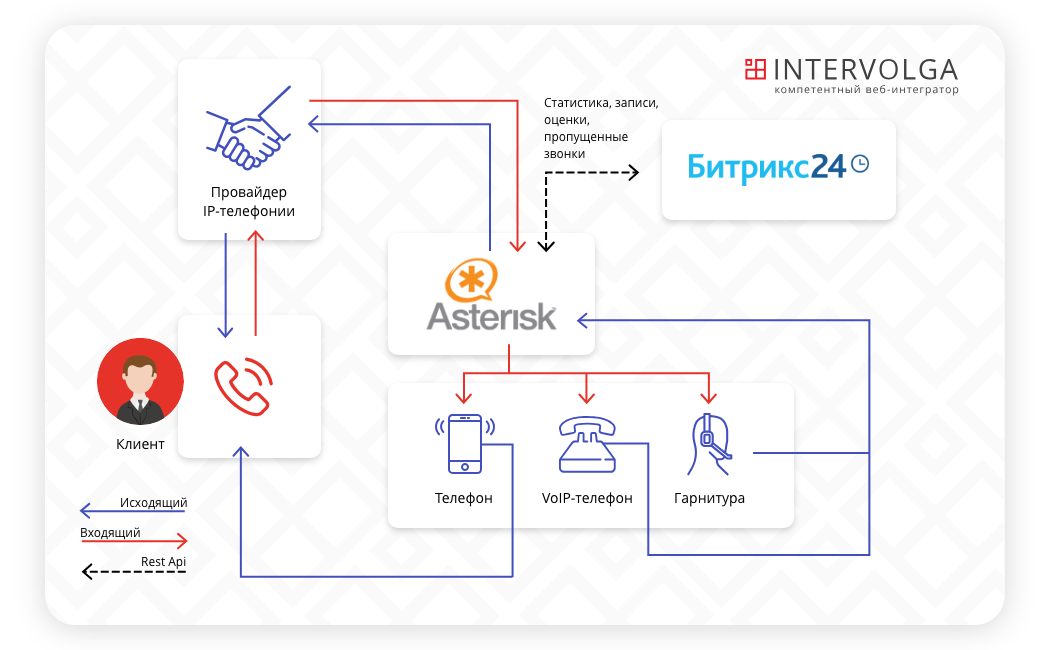 A normal call from any telephone to the number purchased from the provider will be sent to your Asterisk server. Depending on the settings (dialplan) server can.
Transfer a call to an employee's softphone or VoIP-phone.

Transfer a call to an employee's mobile phone if it is not in the office.

Enable voice menu.

Suggest to record a voice message.

Put the client in the queue if everyone is busy and counting down the minutes when they can contact the client.

Make you some coffee. Joke. Although the possibilities for expanding telephony seem simply limitless.
When a call is received by an employee, a window with information about the client will appear in his browser (Bitrix24 is responsible for this) and a call window will open (a softphone is responsible for this).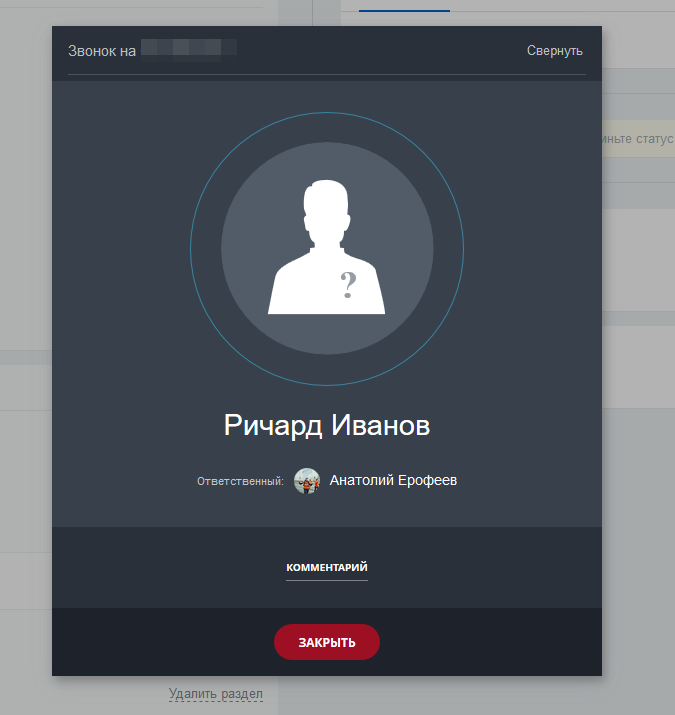 At the end of the conversation, Asterisk will write all available information about it (date, duration, recording, quality assessment and audio file) into its internal database and send it to Bitrix24. All collected statistics are available both in Bitrix24 and via the FreePBX web interface.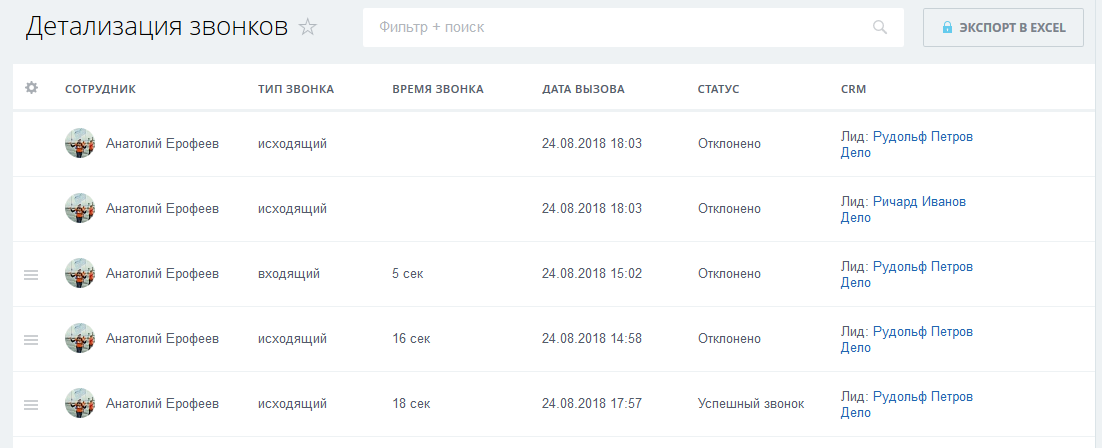 Statistics in Bitrix24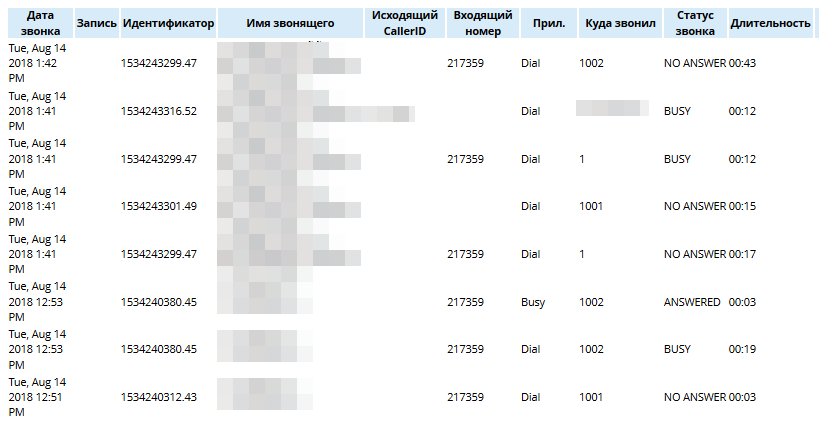 Statistics in FreePBX
Why own telephony?
The more employees involved in the negotiations, the more productive the telephony server is needed. Cloud Bitriks24 not cope.

Full data control: PBX within its own network segment.

Any complex IVR logic (voice menu) or call processing logic. Bitrix24 has its own simple IVR configurator, but it is only available in the "Team" and "Company" tariffs.

Any number of VoIP providers with their own rules (you can create different rates for calls to different cities)

Conferences and other functions that are not in the cloud PBX.

IP telephony + traditional telephone lines (it is possible to connect a standard telephone cable to the server with Asterisk).
What do we take on?
Installing and configuring Asterisk PBX is a complicated process with many additional steps. There is no universal instruction for it, so we will describe the process in broad strokes.
Install Asterisk

Installing the database, web server and php language.

Installing the FreePBX interface (optional)

Connection of the number purchased from the provider to your Asterisk.

Network configuration, security configuration.

Creating short extension numbers for employees, connecting softphones and VoIP devices. We will help you to set up the first 5 devices, we will provide instructions for setting up the subsequent ones.

Dialplan settings: call groups, queues, voice menu, etc. according to your requirements.

Integration with Bitrix24.
Important: in the process of setting up telephony, you should actively assist your system administrator. You will need to configure both routes within the network and configure interaction with the outside world. If it is assumed that employees should use telephony outside the office (increases the vulnerability of telephony).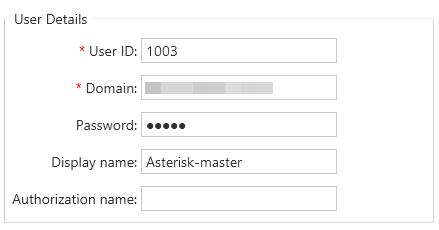 Connecting an extension to a softphone
What do we offer?
The integration of Asterisk and Bitrix24 takes 2-3 days, under certain conditions. The process can take several weeks if we do not have a clear TK and full access to the server, your system administrator and the Bitrix24 portal. If you already have an old version of Asterisk running - we install a new one and transfer your old settings to it. We help to conclude an agreement with a SIP-provider and set up calls for five employees. After completing the work, we give you instructions for managing telephony (to add new employees). The cost of the service is 40,000 rubles.
Any additional services: setting the voice menu, complex forwarding, we estimate in hours, and then execute at the current rate of an hour.
This article was translated automatically. We are working over improving the translation.

Please send your questions about the article to info@intervolga.ru
27.05.2019

Anatoly Erofeev