<img width="1000" alt="2022 HR trends.jpg" src="/upload/medialibrary/1e9/3ekcoo5mjznei4kyhrtsid1r1dxk54mu.jpg" height="400" title="2022 HR trends.jpg"><br> <p> <span style="font-family: Arial, Helvetica; font-size: 14pt;">Even before 2022 started, there was already a buzz about what HR trends to expect. INTERVOLGA keeps up with the news and new innovations in the digital sphere. </span><br> <span style="font-family: Arial, Helvetica; font-size: 14pt;"> In this article, we will answer questions about this question, give insights as to what HR activities to automate, how to automate them and show some examples.</span><br> <span style="font-family: Arial, Helvetica; font-size: 14pt;">Our aim is to help you in your decision-making process about implementing an HR portal.</span> </p>
Automation of HR processes - 2022 HR trend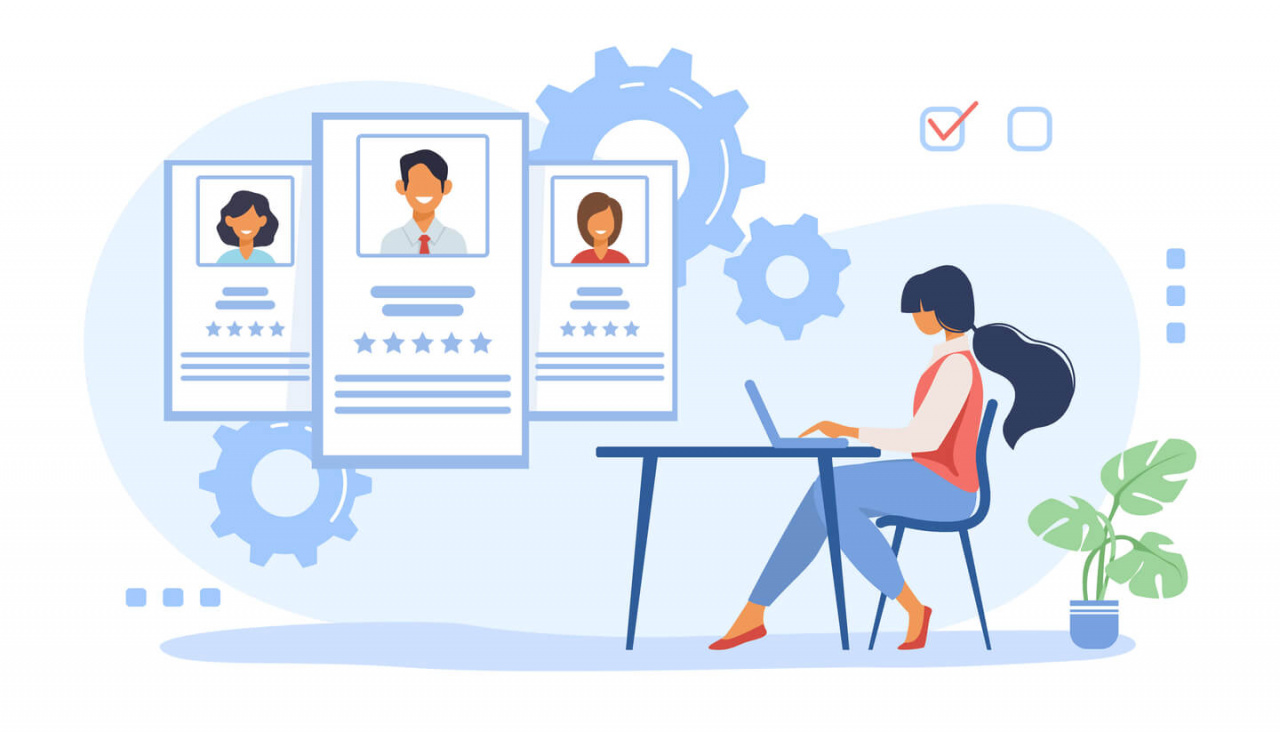 Why does your company need an internal HR portal?
Even before 2022 started, there was already a buzz about what HR trends to expect. INTERVOLGA keeps up with the news and new innovations in the digital sphere.
Progress is good, but every leader must understand:
What exactly will new innovation bring? More revenue? Will it save time? Will it create new opportunities?

What will happen if the technology is not implemented? What problems await the company?

What is the obvious and hidden cost of the implementation project?
In this article, we will answer these questions and help you make a decision about implementing an HR portal.
HR portal as a tool for automating business processes
A corporate portal (HR portal) is an online platform that simultaneously provides a unified information environment and organizes business processes.
"The stuffing" of the HR portal depends on the tasks of the company.
Examples of Business tasks that can be solved with a HR portal.
Possible structure of a corporate HR portal: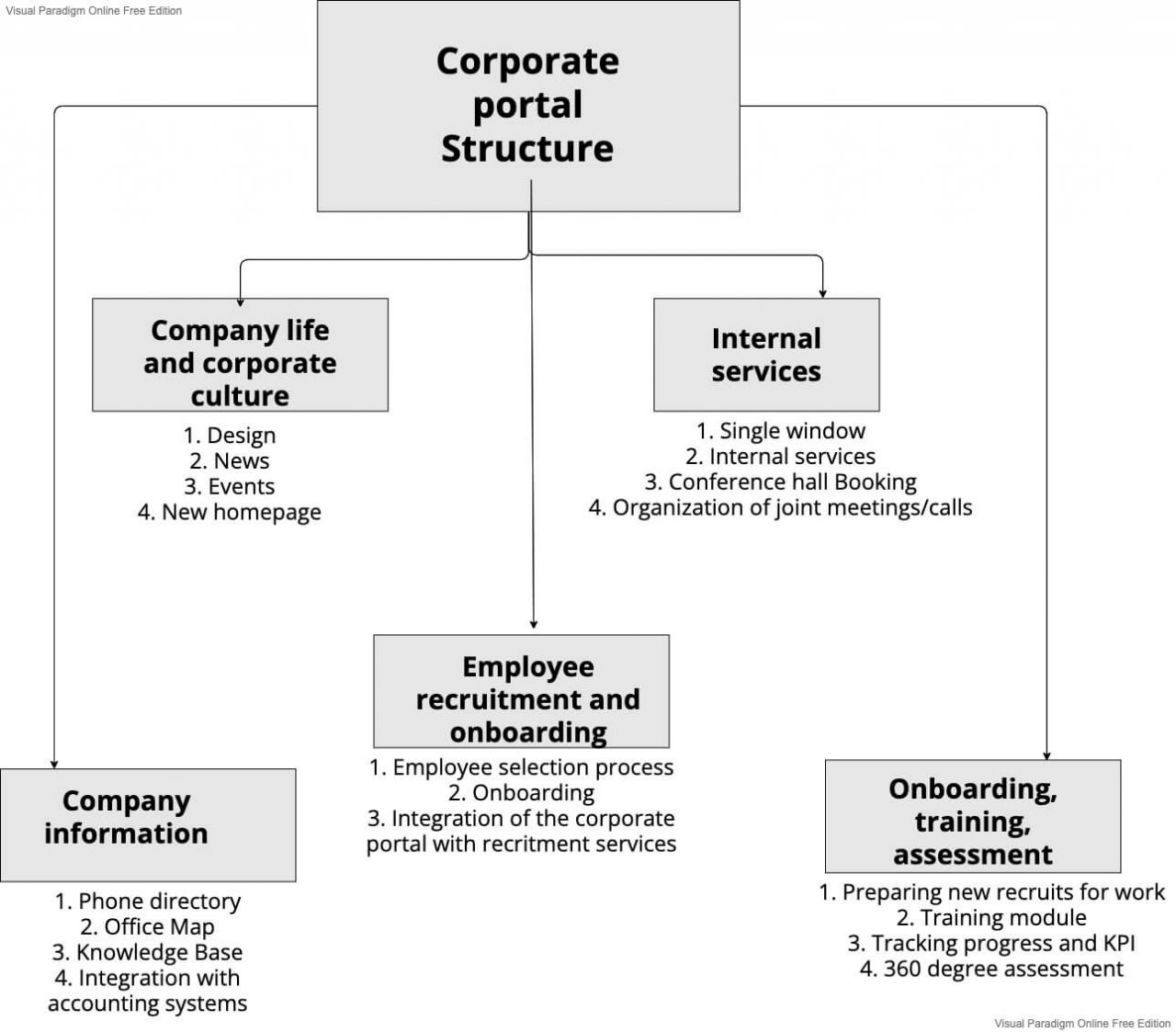 Next, let's talk about HR processes, the automation of which will bring maximum benefit.




Key HR processes
The COVID-19 pandemic affected businesses and forced them to transform and adapt to new unusual working conditions. There is now more work for HR professionals. While operational work is still valid, there arose a need for strategic work. "Innovations" had to be initiated and implemented.
Here are three major changes we experienced as a result of the pandemic:
Remote work.

Continuous support for employees in new stressful conditions.

Hiring employees capable of "hybrid" work.
Without restructuring to accommodate these processes, the company will not be able to work effectively in the coming years.
How can you help the HR department? What processes does the corporate portal automate?


Remote and hybrid work models
These formats are relevant and have prospects for development. The number of job vacancies with remote work positions increased by more than 3 times in 2021.
According to a publication by The Washington Post in 2021, although the productivity of remote workers increases in the short term, research supports the notion that in the long run, innovation and productivity of remote workers will decline, because they lack face-face human interactions with their colleagues - a process which is vital to learning and growth.
Remote workers say that they are more focused on their jobs. And this format of work suits them quite well. In support of this, analysts at Microsoft gathered the TOP 5 reasons why employees like to work remotely:

This contradiction proves that business is still at the stage of adapting the hybrid system. Therefore, the key to efficiency in the new work environment is streamlined recruitment, onboarding, and internal processes.




The life cycle of an employee in a company

The diagram shows the main stages and life span on average for all employees. Planning each stage of an employee's life cycle will help the company increase productivity and reduce turnover.
For example, the hiring process requires a lot of work: searching for relevant resumes on job listing sites or other services, creating a list of suitable candidates, interviewing and determining the best.
Oftentimes at this stage, only indeed.com or glassdoor.com are used, and this is a huge mistake. When there are more than 10 candidates to consider for a role, it's easy to lose candidates - You get tired after going through a couple resumes, and you begin to miss important details. Another problem associated with this process is that not a single recruiter is able to evaluate a candidate 100% accurately from their resume. The recruiter's opinion can be subjective or prejudiced (for example, a personal dislike for the university where the candidate studied). The hirer must be able to evaluate all candidates.
Organizing effective recruitment is not a task meant only for HR, but also for the IT department.


Hiring
In order to build a team, you first need to assemble it. As a rule, interviews take place in several stages: recruiter or recruiting company -> the customer -> Supervisor/manager. The process can take from 1 week to 1 month. It's important to be able to leave comments and ratings for each candidate, record the conversation(audio), and save the history of the interview stages.
One of INTERVOLGA's solutions is integration with one of the most popular online recruitment services in Russia - "HeadHunter". The browser extension we developed adds a "Save to B24'' button to resume pages.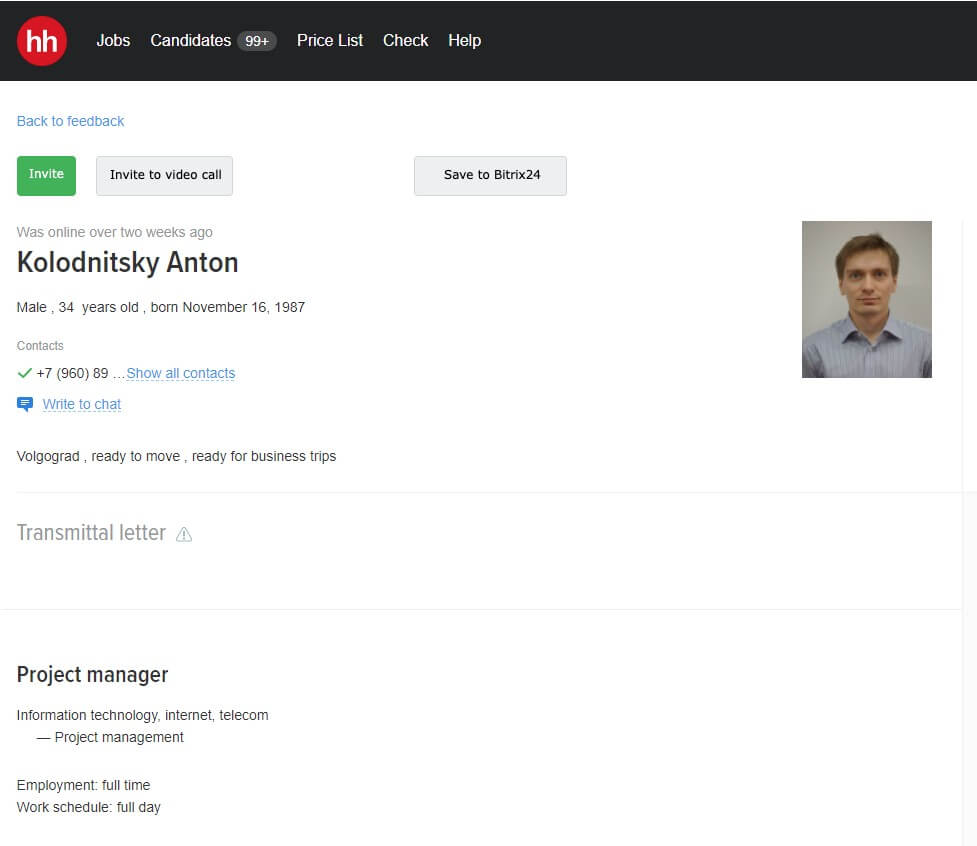 On clicking this button, a user "candidate" is created in Bitrix24 with the candidate's contact details. A deal is also created with stages to mirror the recruitment process. Correspondence with the candidate and comments about them are saved to the deal card.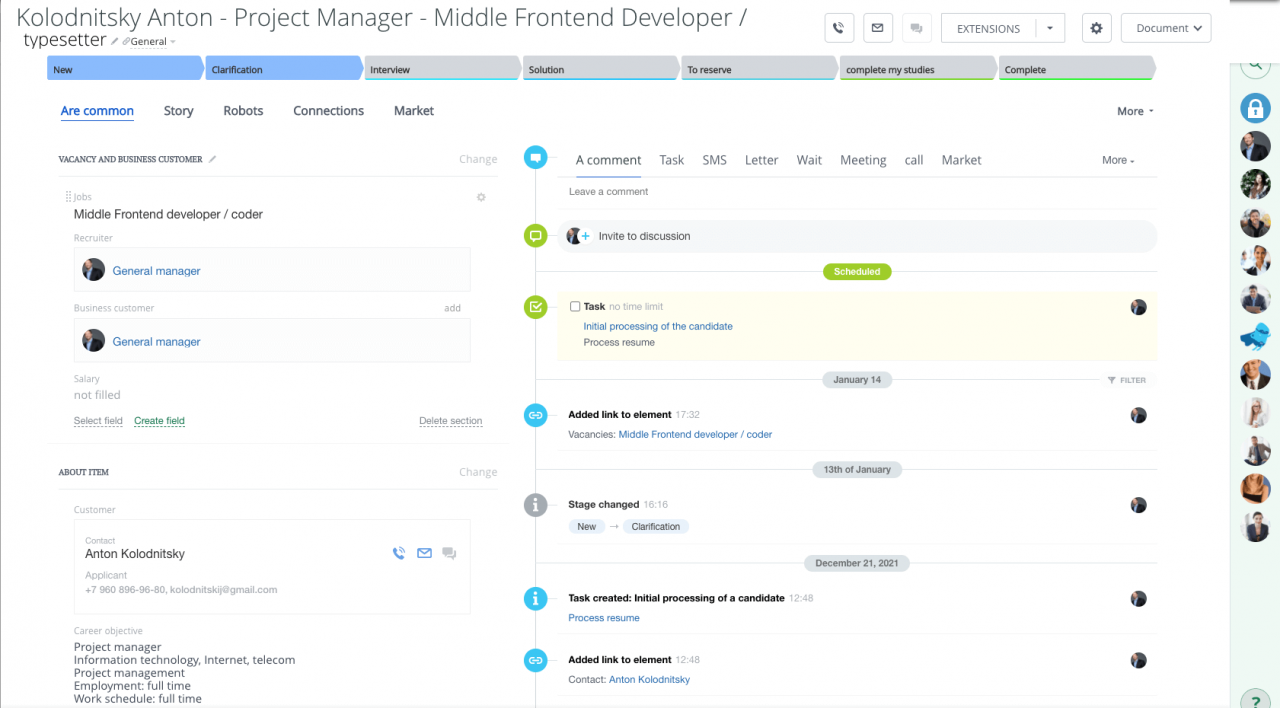 In this section, you can evaluate the candidate and take the next steps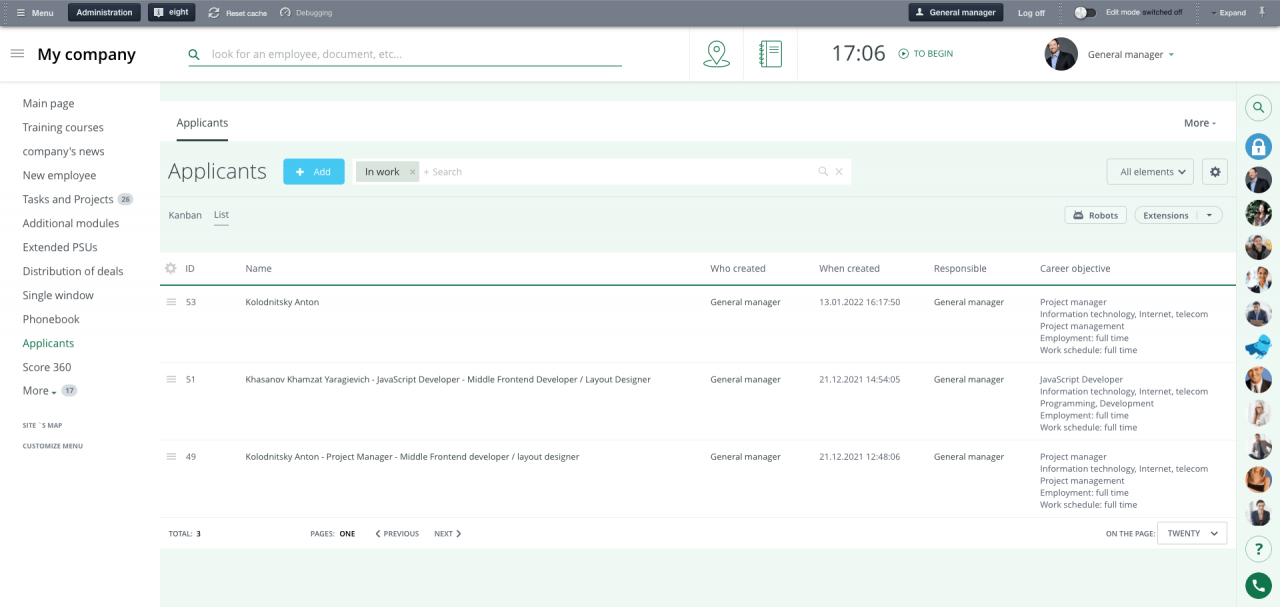 There are usually too many responses to vacancies, and HR managers just do not have the time to evaluate everyone. Our solution allows you to collect suitable candidates from different recruitment services directly into your Bitrix24 corporate portal.


Employee onboarding
The employee onboarding process can last anywhere from 3 to 6 months. Let's show how it works in a sample HR portal of a pharmaceutical company. A new employee's acquaintance with the company begins with an information page with a welcome message from the director and with gamification of the path of a "Young Fighter".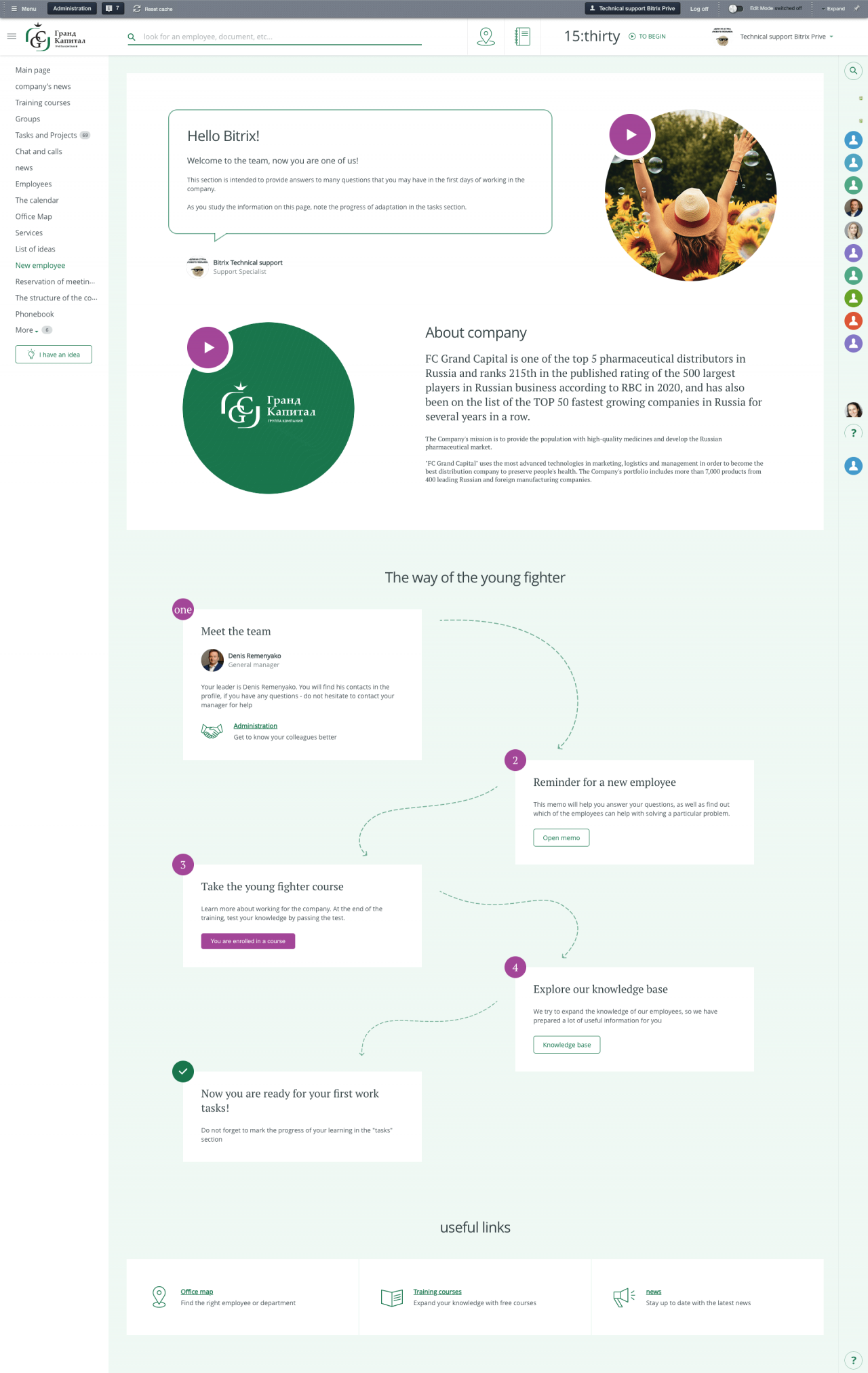 When going through the "path", the beginner gains access to a common knowledge base, passes the basic course, and proceeds to take the first tasks. The page also contains useful links.


Accounting for working hours
The time tracking system monitors the workload of an employee, maintains a timesheet, analyzes user activity, and controls the timing of tasks.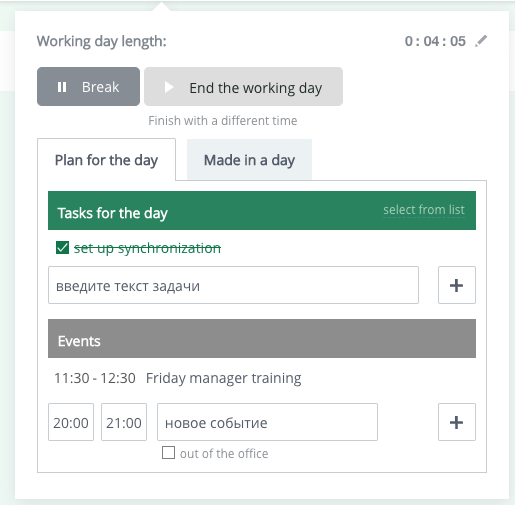 Team development
Bitrix24 allows you to connect a knowledge base and a learning module. Why is this needed?
To introduce a new employee to the company's processes and train them. This way, they can adapt to existing workflows more easily.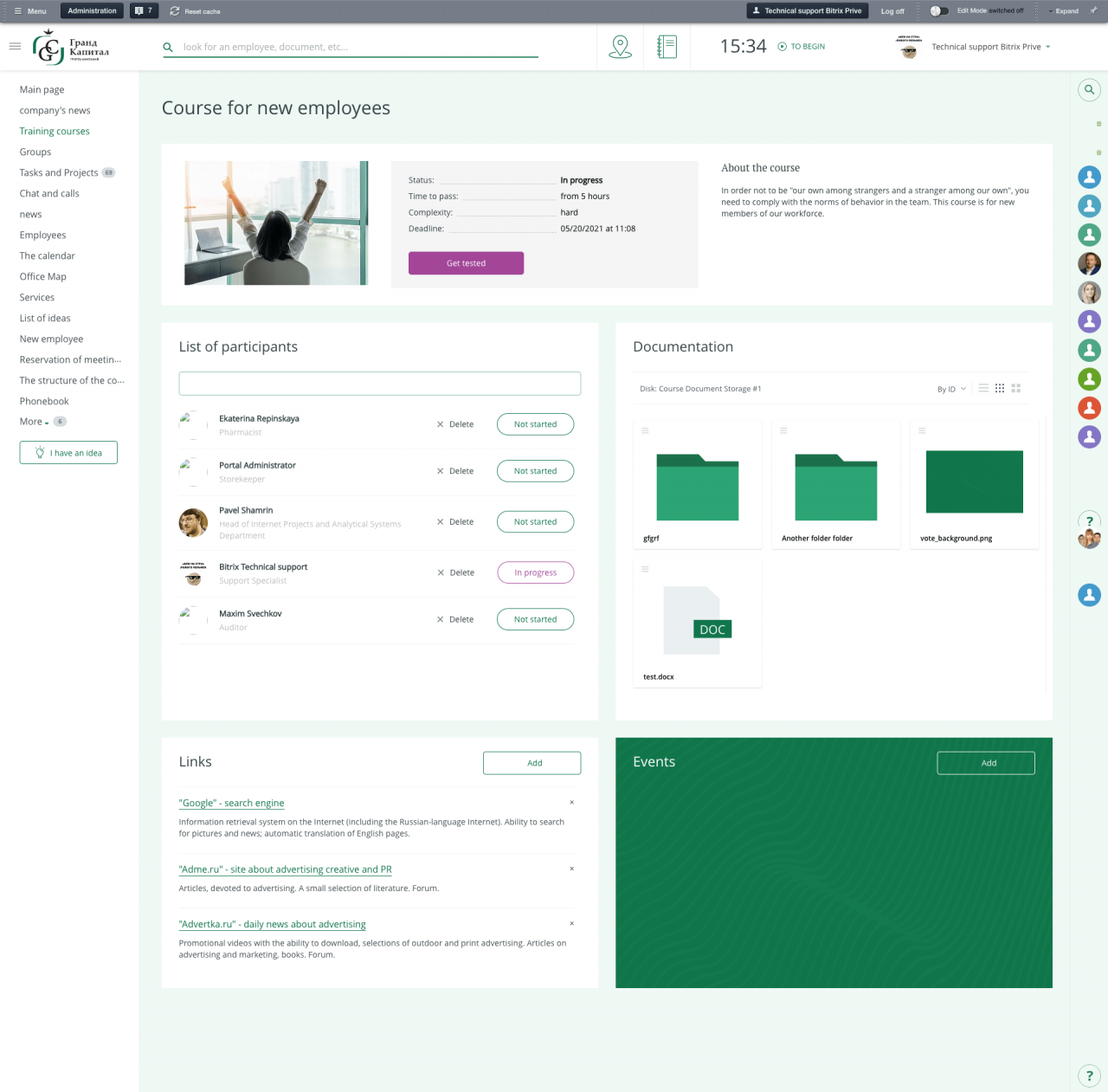 To train employees with the help of courses and improve their competency levels with certification tests/exams.


In the end, the employee receives a certificate on completion of the training module and a new stage of career growth.
Numbers as results: employee evaluation
Employee evaluation is an important step that allows you to quickly and effectively get an idea about the employee. In a previous article, we talked about one of the main methods of assessment "360 degree feedback".
Evaluate employees and teams (departments, divisions, branches, etc.). This format will help maintain motivation and team spirit, and in turn, improve performance. For example, in the portal of a large pharmaceutical company, we introduced a league table for the sales departments. Sales indicators are evaluated according to groups and quarters. So each team is constantly hopeful and motivated to be 1st on the list.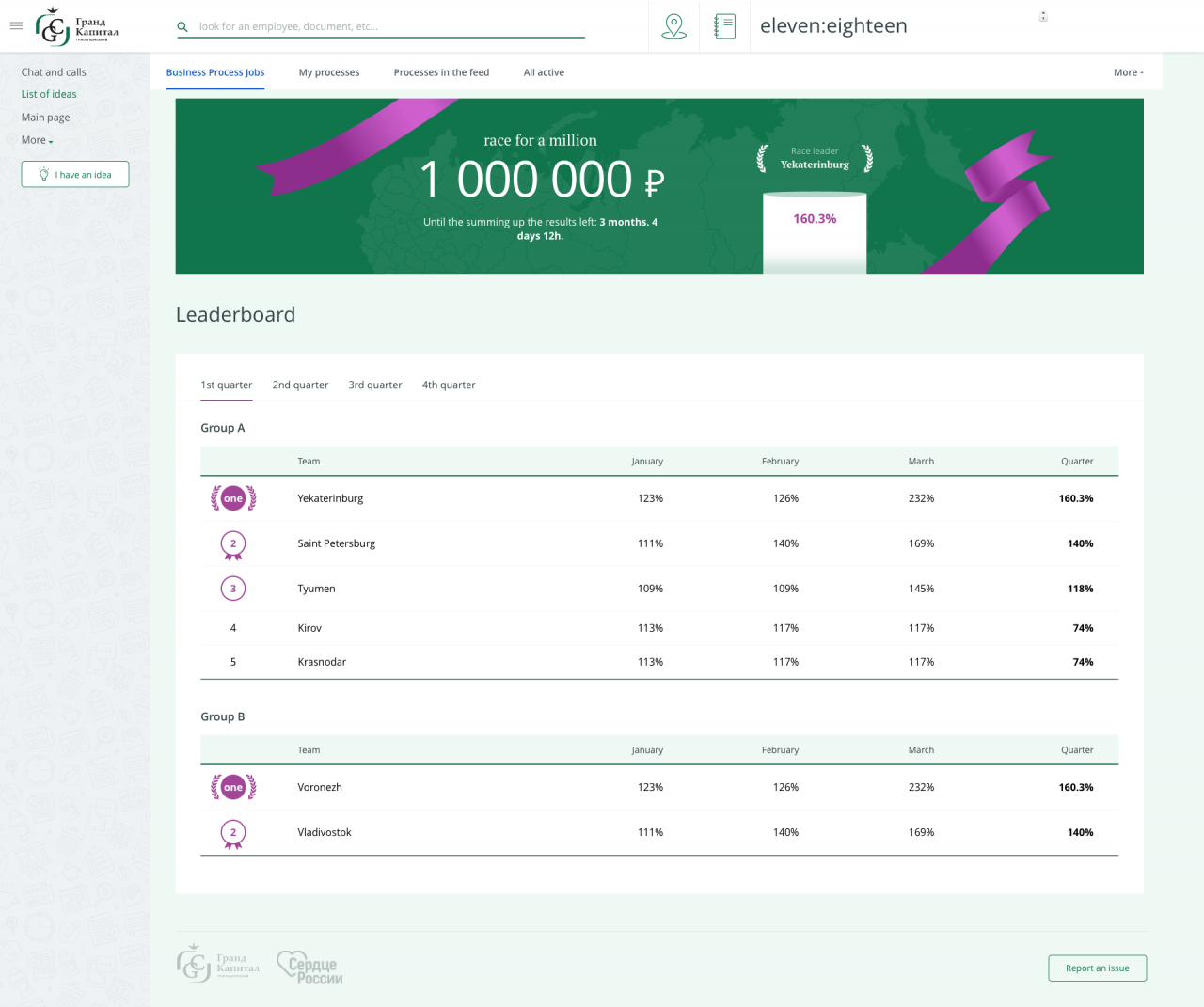 Organization of Business processes
Company processes take place all through the life cycle of an employee in a company. Therefore, it is important to automate and speed up most of the processes. In Bitrix24, within the framework of the "single window" concept and with the help of smart processes, you can set up the movement of documents in a few clicks. For instance:
Invoice payment.

application for business trips.

Budget coordination.

Organization of access to internal information systems.

Application to the maintenance department.

organization of document flow - to and from the company.

Issuance of references.

Leave requests.

Selection and training of personnel.

request for support from the IT department.

Workplace organization.

Request for a pass into company premises.

Ordering equipment and office supplies.

Application for financial assistance.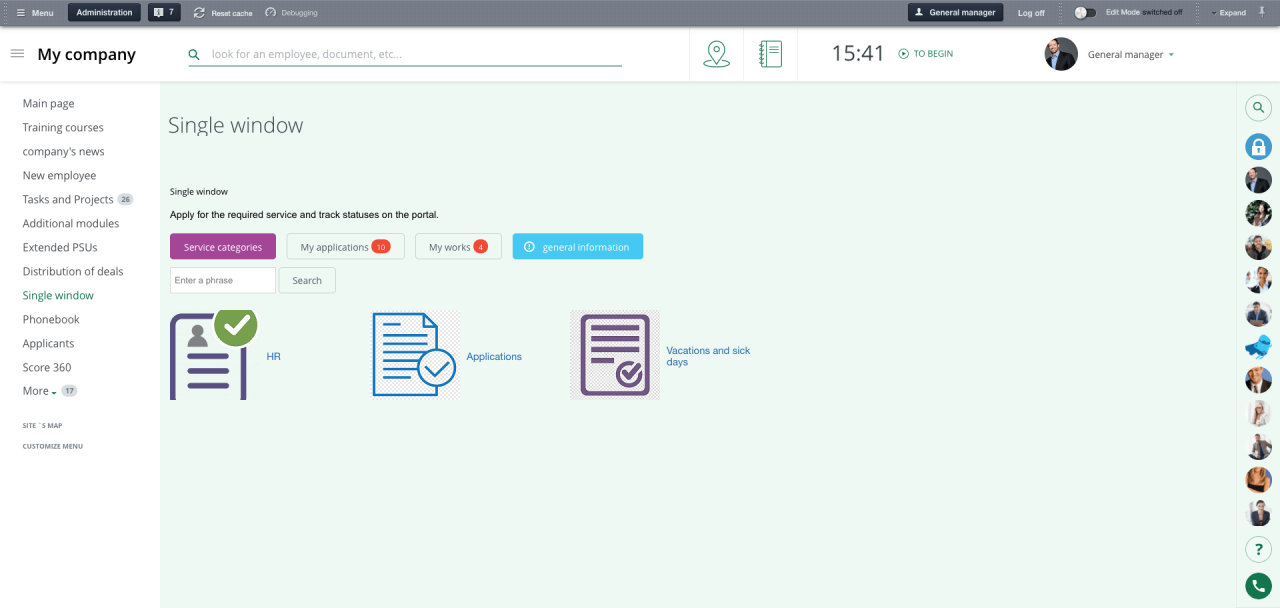 Step 1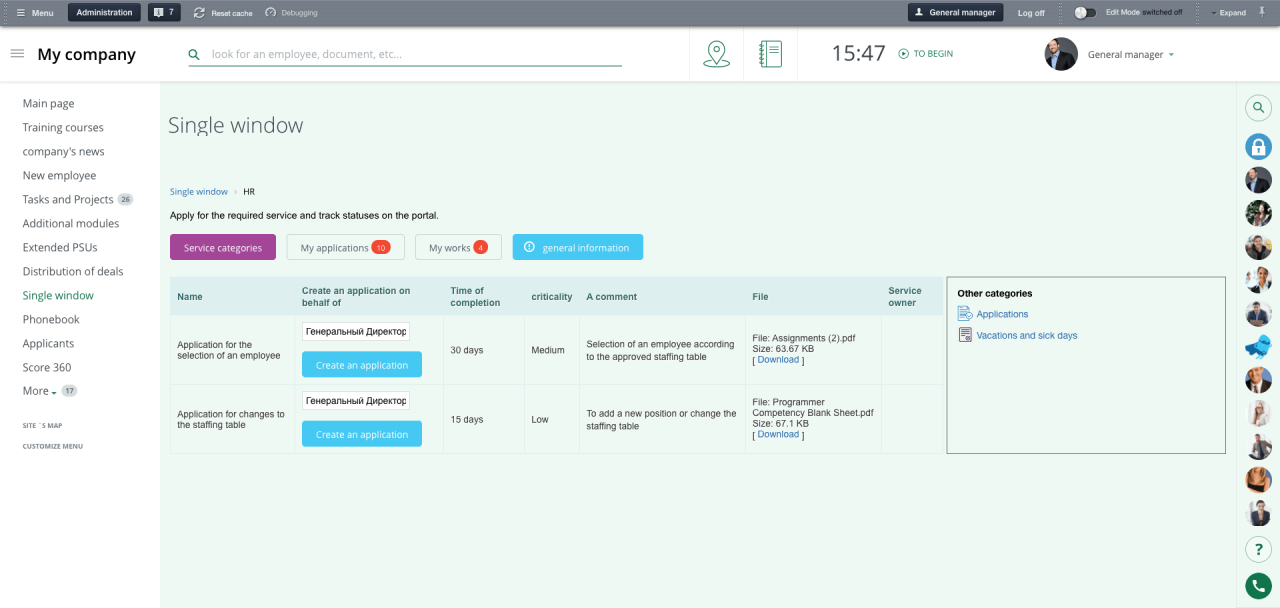 Step 2
Step 3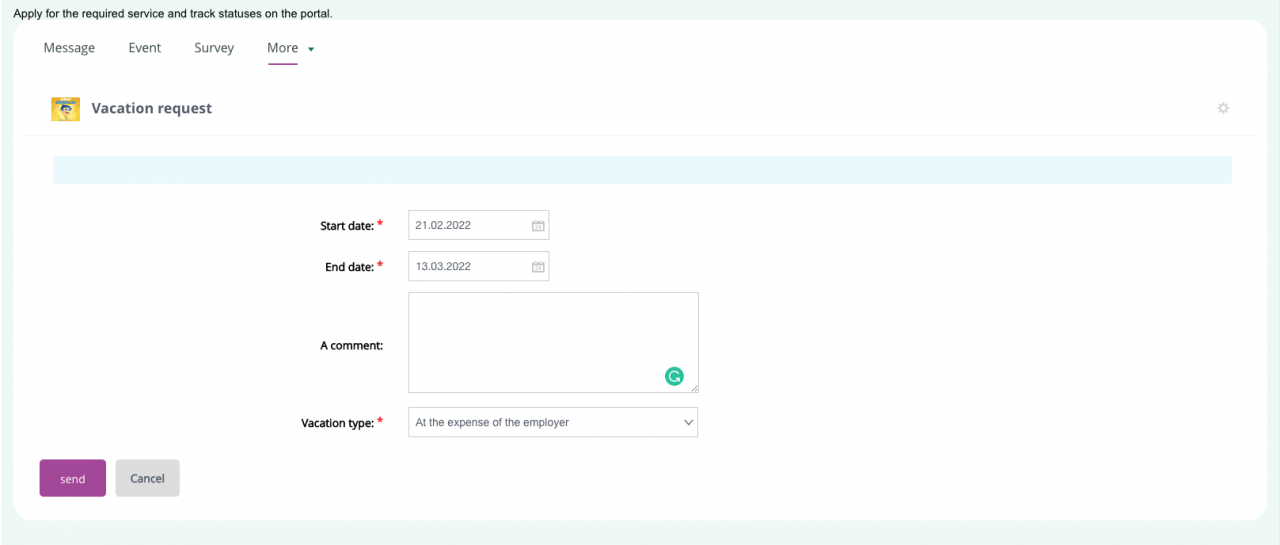 Step 4


Communications
Digitalization is cool, but it is important not to forget that a person is a social being and communication is important for him. Difficulties in communication can lead to errors, disruption in business relationships, conflicts and pose a risk to the company's reputation.
How can you deal with employee emotions and burnout? Large companies take care of the well-being, mental and psychological health of their employees in certain ways. For example:
providing them with internet resources for effective work;

advanced training courses;

monthly gifts, rewards;

providing a budget for home office equipment;

informal video calls;

involvement in eco-friendly activities;

Keeping the company's online library updated with new books.
The more enthusiastic an employee is, the more engaged they are in their work.
The corporate portal has a standard set of communication tools: Feed, chat, calendars, mail.
Feed (previously called "Live feed"), is an analog of social network feeds. This section includes a chronology of events from the life of the company, achievements, reminders, workflows, birthdays, informal meetings, etc.




How much does it cost to implement an HR portal in Bitrix24?
Our ready-made complete
HR platform for Bitrix24 - RAE
automates recruiting, Adaptation (Onboarding) and Education( staff training and development).
It can also be customized according to your needs and more features added with time
Cost - $2500

This is a one-time payment for lifetime access to the platform.

How to apply for the development of an HR portal?
Having a corporate portal is the main HR trend of 2022. The specific tasks to be solved with the portal depend on the company's activities and priorities in personnel policy. Our company has extensive experience in launching HR portals. Here are some examples
Not sure what exactly needs to be implemented in your portal? How to automate existing business processes? How to implement a portal without wasting money?
The INTERVOLGA team is in the TOP-15 teams in the world for major implementations. HR portals are our speciality. We know how to automate business processes, configure integrations and choose the best IT tools for your tasks.
Leave a request for the development of a corporate portal, we will answer any questions. A consultation with us will save you time.
21.01.2022

Lolita Lutsenko

Anton Kolodnitskiy