Bitrix24 + Twilio integration: incoming SMS within Bitrix24
Bitrix24 is widely used by self-employed specialists: trainers, tutors, consultants and lawyers.
The Task management, Open Channels and CRM features are very useful due to their simplicity and easy-to-understand interface.
At the same time, most Bitrix24 users have some unmet expectations of what should be included in the default functionality. In some cases, it is possible to extend (i.e, add more functionality to) the standard features with external applications and third-party-service APIs.
Here is a narration of such a case:
One of our customers, an Australian coach uses the free cloud version Bitrix24 for managing trainings. He communicates with his clients via Twilio (https://www.twilio.com/), an SMS provider integrated in Bitrix24 using a virtual SMS number.
Twilio sends messages successfully, customers read them, but cannot reply.
The problem is that Bitrix24 does not receive messages from Twilio. A two-way SMS communication is impossible. Incoming SMSes are can be viewed in the user's Personal Twilio Account.
Our Twilio-Bitrix24 integration module helps to receive messages from Twilio into Bitrix24.
Useful links:
1. The page with specifications: https://intervolgaru.com/twilio-module/
2. Bitrix24 marketplace page with installing links and manuals.
3. Subscribing form (FREE 7-day trial)
Project description and results
We implemented 2-way SMS communication between Bitrix24 and Twilio.
Bitrix24 now receives SMSes from Twilio and displays them on the CRM "lead card" page. If the sender is an existing client, the standard Bitrix24 notification is sent to the person responsible for them. If the client isn't represented in Bitrix24, it means that the client is new. In that case, the SMS notification is shown to all Bitrix24 users.
This coach is now able to communicate with ALL his clients effectively through a convenient SMS channel, without leaving Bitrix24.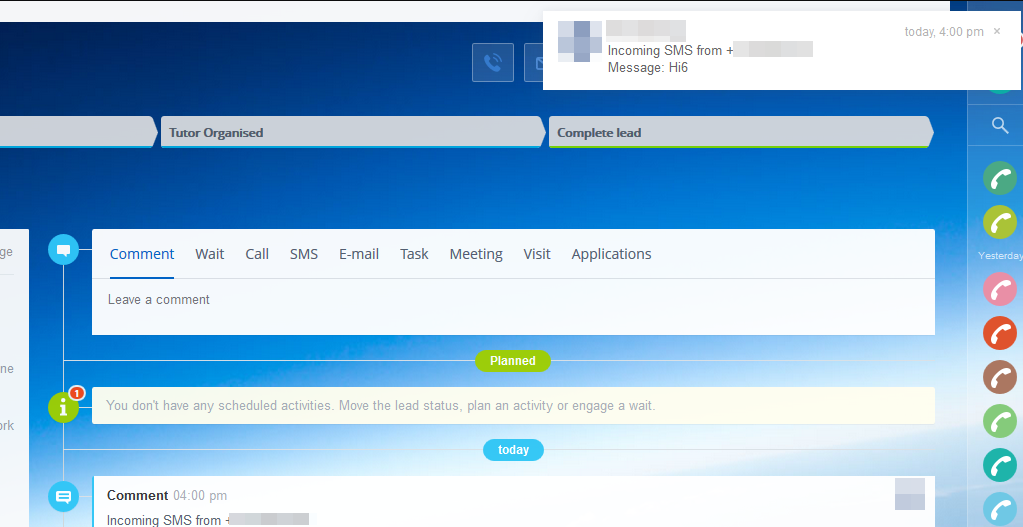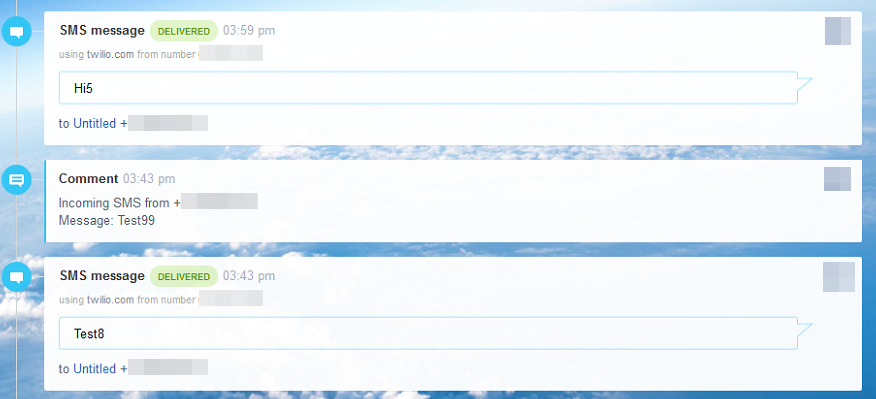 Technical details. Solving the problem
We made use of an existing web hook for incoming SMSes at Twilio. Our PHP script in the server receives the web hooks, looks for telephone numbers in the CRM and send notifications from the server via REST API in Bitrix24.
Deployment diagram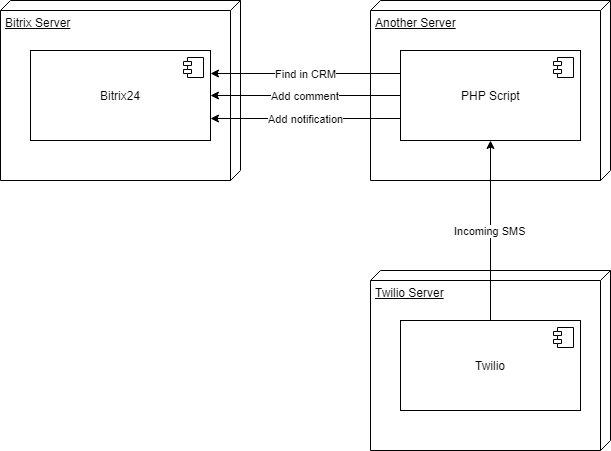 You can INSTALL INCOMING SMS HERE. We offer a ONE WEEK FREE trial period, during which you have access to try out ALL the features of the module.
We also recently expanded the module's TWILIO MULTIPLAYER FEATURE, to make it even more convenient for users with multiple Twilio numbers.
To find out more about «Bitrix24 to CRM» module, or to make enquiries about similar features/ integrations in Bitrix24, send us a message below or fill the subscription form.
We have a wide range of Bitrix24 competencies.
18.12.2020

Anatoly Erofeev

Elena Fedianova