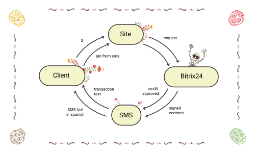 BITRIX24 INTEGRATION FOR PRESTALATINO
Prestalatino gives out micro loans in Mexico. This company successfully operates in Russia and enters the market of several developing countries. Below we will discuss the entry into the market of Latin America - the Prestalatino project.

The client invests in automation and business processes. To be faster and more efficient, they actively use online databases and services. Starting with the bailiffs' database and ending with the automatic transfer of the debtor's case to court.