Bitrix Inc. certifies that we possess 

ALL 

Bitrix24 

competencies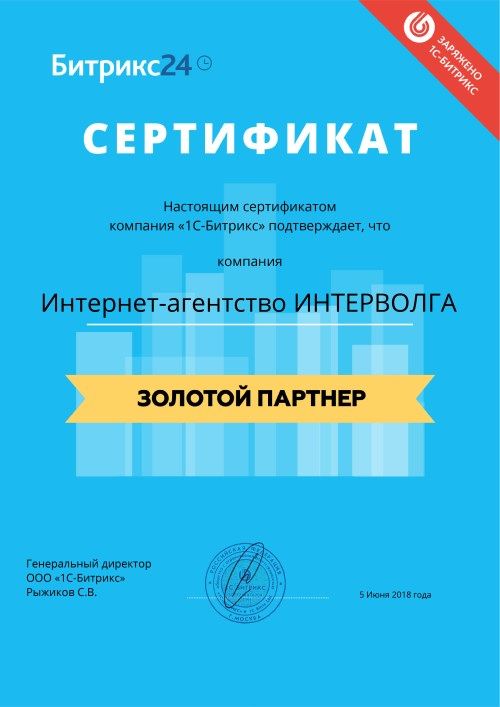 Gold Partner of Bitrix Inc.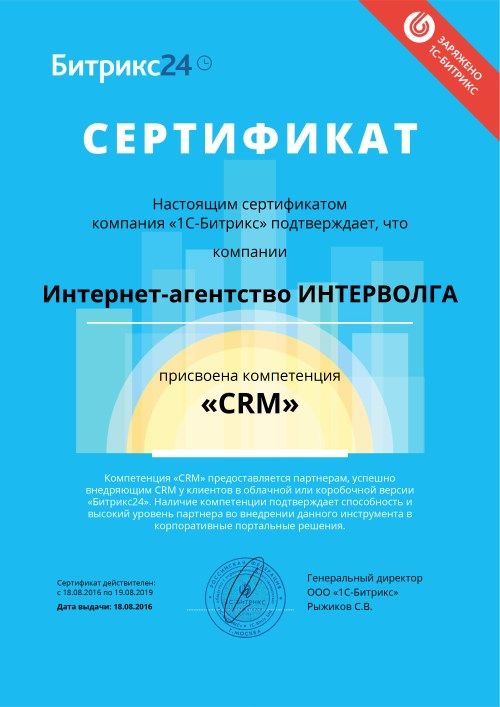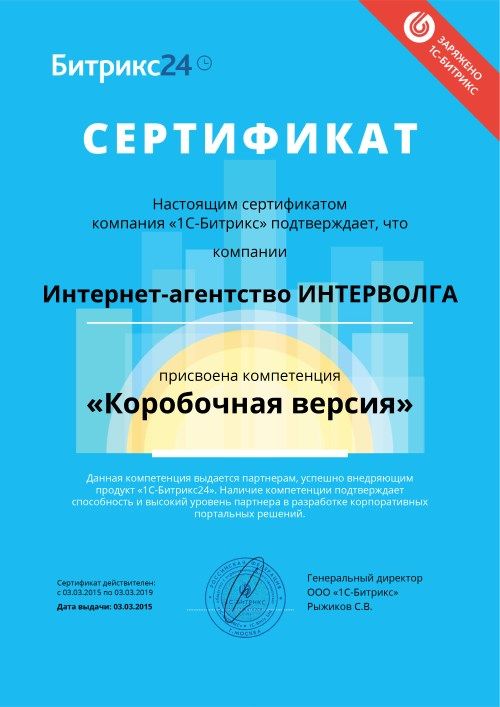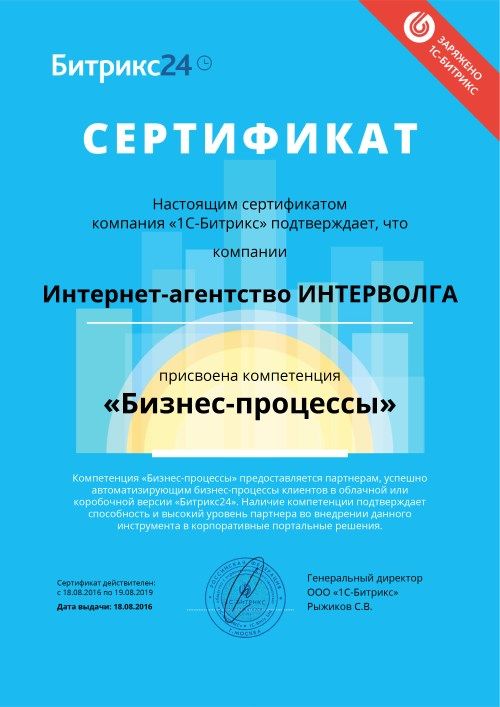 Business Processes competence
top Bitrix TEAMS IN THE WORLD!
There are hundreds of Bitrix24 partners in the world.
Of these, only 16 have required competencies for Large enterprise implementations.
These are teams with the highest competencies in Bitrix24.

We are among them.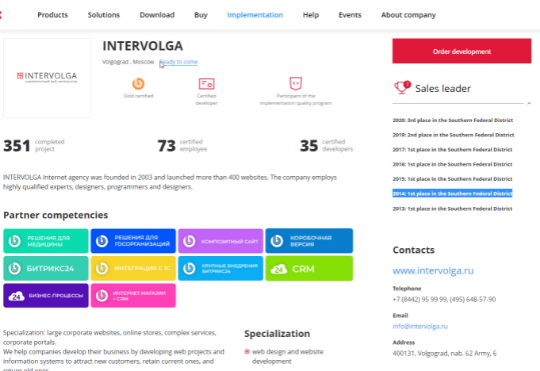 Complex implementation of Bitrix24 entails integration with many other systems
We can integrate Bitrix24 with
AD and NTLM

with modifications to the standard exchange;

Accounting and personnel management systems

with a new exchange or modifications to the standard exchange;

Microsoft

- Outlook, Exchange and other products, standard exchange, exchange refinement;

Youtrack, Naumen and other systems for managing tasks and projects

- We can develop an exchange from scratch;

Terrasoft

;

Internal corporate systems;

Document management systems;

Message queuing services

like RabbitMQ, ActiveMQ and others;

Electronic signature of documents;

State databases.
We create exchanges with the necessary "bindings" - log, error handling, re-sending, forwarding, etc.
A corporate portal in a large company is a tool for communicating  culture and values ​​of the company to its employees.
We understand the importance of portal design change in large corporations especially to modify the appearance of the portal to suit the corporate style and objectives.
We can take on the task of redesigning from scratch, or we can integrate an already developed design.
We do not redesign only "colors and buttons", but also the composition of the elements, and their work logic .
For example, instead of a live feed, we can display company news, company events and birthdays.

Below are some examples of such redesign projects.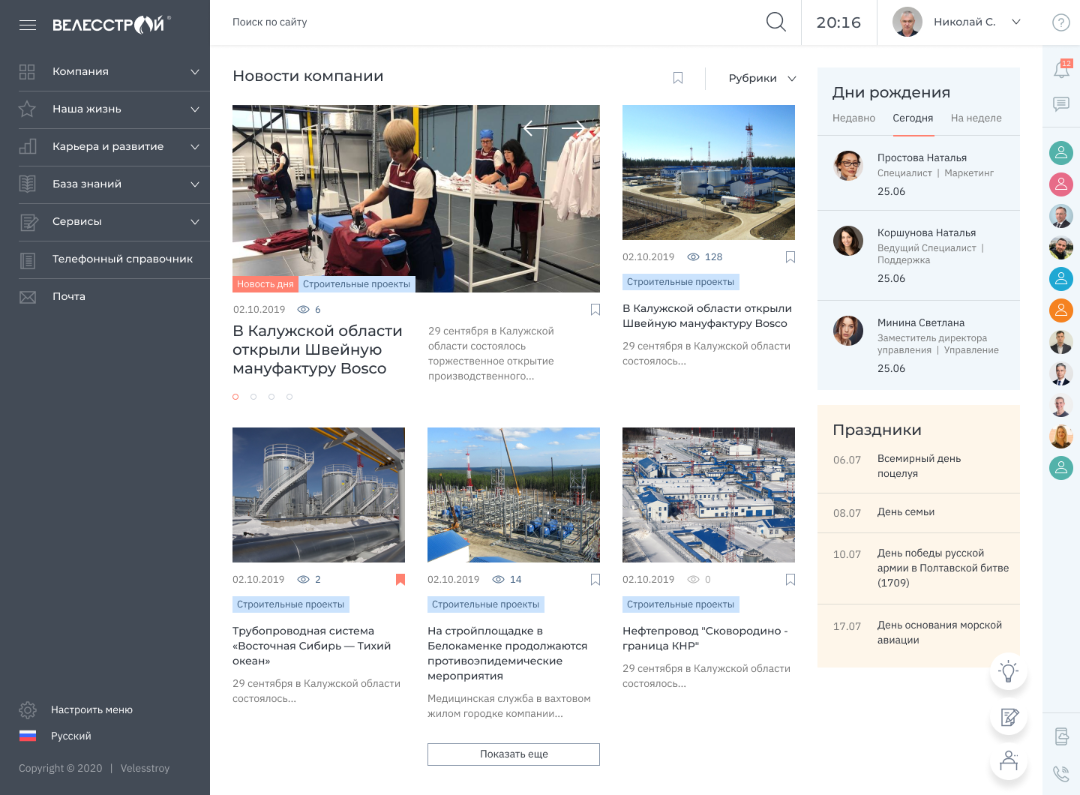 Redesign for a construction company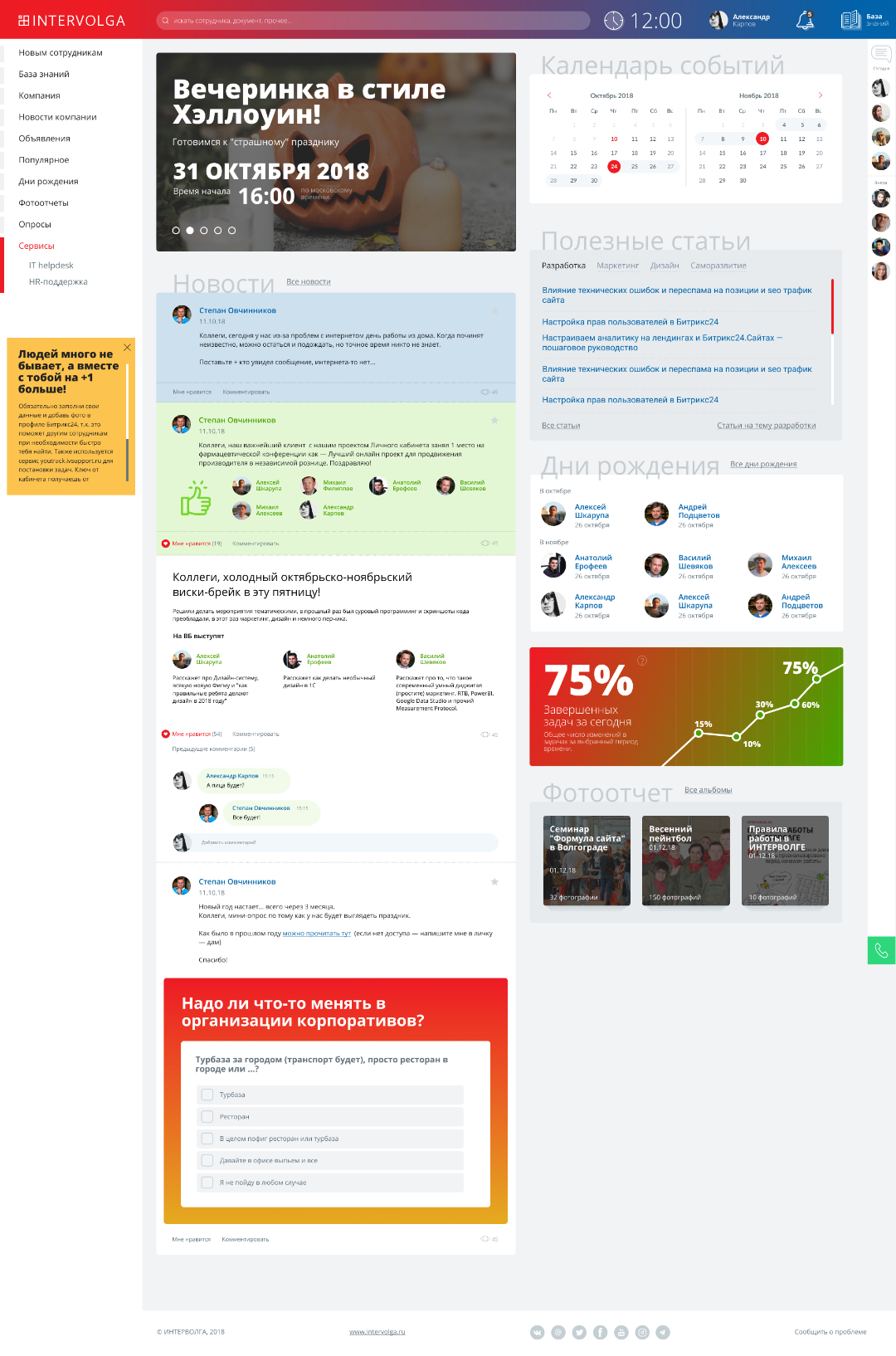 Redesign for an IT company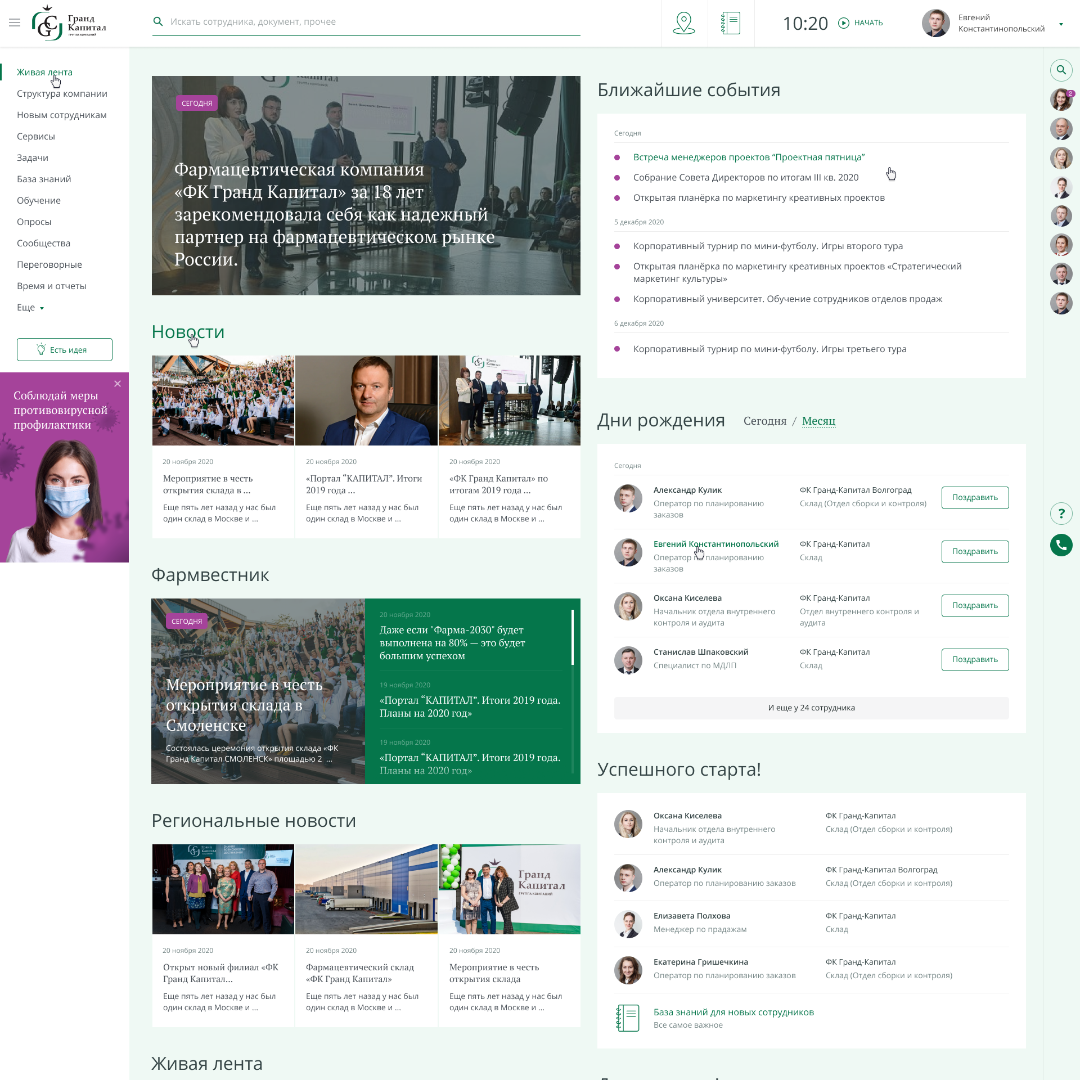 Redesign for a pharmaceutical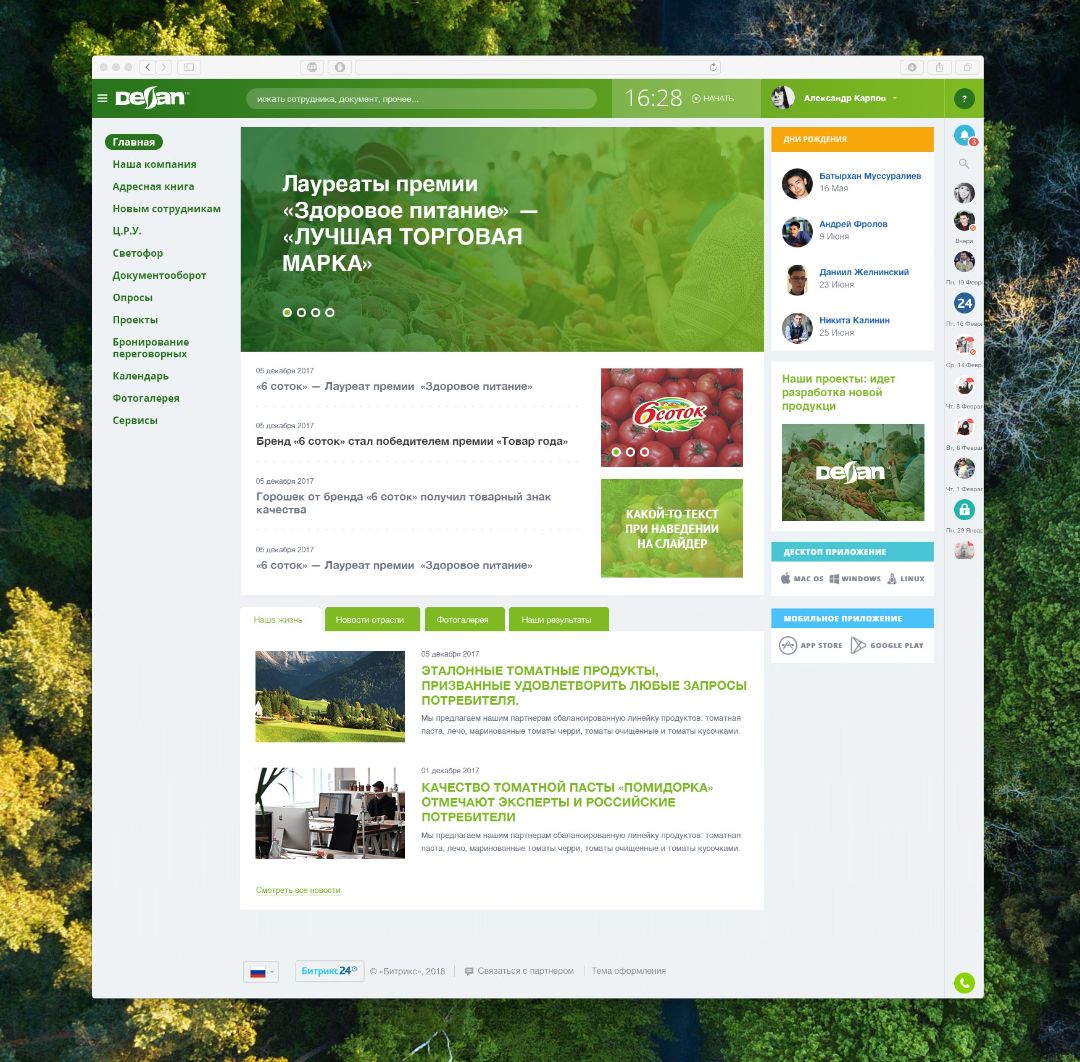 Redesign for a food production company
Complex changes to Bitrix24 logic
When changing settings cannot complete the job, we
Add new entities to the CRM or system - for example, a handbook of construction objects;
Create a custom business process step - for example, request for the status of a document in another management software and return to Bitrix24;
Make a easy-to-understand, aesthetic reports with diagrams, pulling data from external systems;
Create a subsystem for receiving and sending payments through Bitrix24;
Develop a configurator;
Add new buttons and logic to tasks;
Change the mechanism for saving emails in the CRM;
Develop a subsystem for document approval.
Etc.
The possibilities for what is achievable in B24 is limited only by imagination,  time and budget.
Modifying Bitrix24 while maintaining updateability
There are two main ways of modifying Bitrix24:

Modifying modules and components - 

 This is a risky method, in that with any update, the changes made will be lost. This method should not be used if you would like to receive updates.
We recommend installing updates, as they do not contain only new features, but also bug fixes.



Copy the module or component to be modified - 

In this case, when updating, the changes will not be lost, but you will not receive new features (and bug fixes). This method is recommended by Bitrix and is used by everyone.
We developed our own way of modifying Bitrix24 by releasing a separate module "INTERVOLGA Injections".
Our approach involves adding extension points to the standard modules, which leaves them unchanged, but also makes it possible to add new functions.
As a result, You can still receive portal updates, even with a large amount of modifications. 
One of our clients has over 1000 development hours invested in the portal , while retaining the possibility to update.
Industry expertise
We have implemented
over 1000 projects in Bitrix24
. Many of them have from hundreds to thousands of hours of code.
We have accumulated experience in individual industries, allowing us to offer the best practices. 
We teach others how to customize Bitrix24
The platform vendor, Bitrix Inc.  hires us to create training materials for other partners:
We create training programs on  

Bitrix24 business processes;
End-to-end analytics;
The right way to modify the boxed version of Bitrix24.

We are well known and respected among Bitrix24 partners.
We have a good reputation even among our competitors.

Bitrix24 ready-made solutions
Some tasks are repeated from client to client with minimal variations. For them, we use our ready-made modules. This speeds up time and reduces the cost of implementation. We have the following ready-made solutions:
Locating employees

Control of accounts receivable

Budget approval
The price of these ready-made solutions for our clients is much lower than when developing from scratch. An added advantage is that you can always watch a demo before buying, which you can't do with custom development.
Our most priced asset is our team.


We have a 

department dedicated to Bitrix24.
All our employees have Bitrix Inc. certificates to prove their competencies.
Stable team - the average service length in INTERVOLGARU is about two years.
Reliable staff
How we work in complex Bitrix24 implementation projects
We will not describe platitudes such as analytics, agile and standard methodologies, writing terms of reference, etc. Let's highlight important practical techniques:


Iterations;
Short pre-project surveys;
Integration first principle;
GIT development and deployment procedure;
Test cases;
Autotests;
Modular approach;
User training.