Why implement Bitrix24 in the sales department?

You need to implement and configure a Sales CRM if:
It's difficult to understand the status of deals without the help of the responsible 

person;

Sales personnel constantly forget to carry out activities that will move deals forward;

There is no comprehensive history of correspondence between sales personnel and customers;

There is no standard work procedure or guideline for sales personnel;

Managers spend a lot of time on routine tasks - on sending emails, on manual creation of proposals and documents needed by sales personnel;

The Marketing department doesn't have information to help plan marketing activities.
Ultimately, without a Sales CRM implementation, it's impossible to scale sales.
If the goal of your company is growth, digitalizing your sales department is a
NECESSITY
.
Approaches to 
Bitrix24 implementation for the sales department?
We have two approaches to Bitrix24 implementation for Sales departments
Creating a Sales department from Scratch
In this approach, we first carry out an analysis. We survey of business customers, setting functional requirements, and studying the company's IT infrastructure
You share your business problem with us, and we will offer professional advice on which tools to use.
Aside implementation of the sales department, this method could also include integrations with external systems and staff training

We are in the top Bitrix24 TEAMS IN THE WORLD!
We possess all existing Bitrix24 competencies
We have a lot of experience - 300+ Bitrix24 projects
We are in the top 15 teams in the world with Large-scale implementations competencies
Complex integrations (1C, AD, ERPs, queue services, etc.)
Complex improvements while maintaining updatability
Strong industry expertise (construction , finance, logistics, pharmaceutical industry)
We teach others to how to customize Bitrix24
We develop Ready-made solutions
We are recommended by other Bitrix24 partners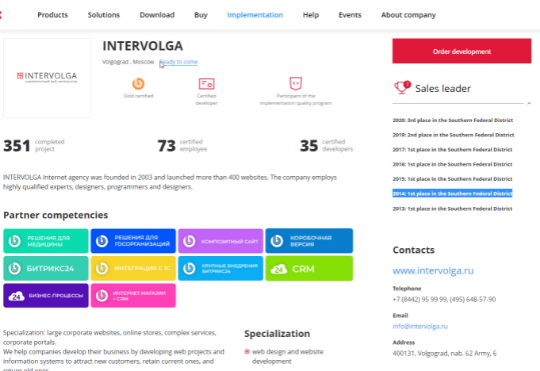 Bitrix Inc. certifies that we possess 

ALL 

Bitrix24 

competencies
Some cases on Bitrix24 implementation for the Sales department